Retailers
Fleur Floral Studio is a New Full-Service Floral Shop in Rountree
Rose Cochran used her eye for creative floral design to build a floral studio in Springfield's charming Pickwick and Cherry neighborhood.
by Megan Dollar
Mar 2021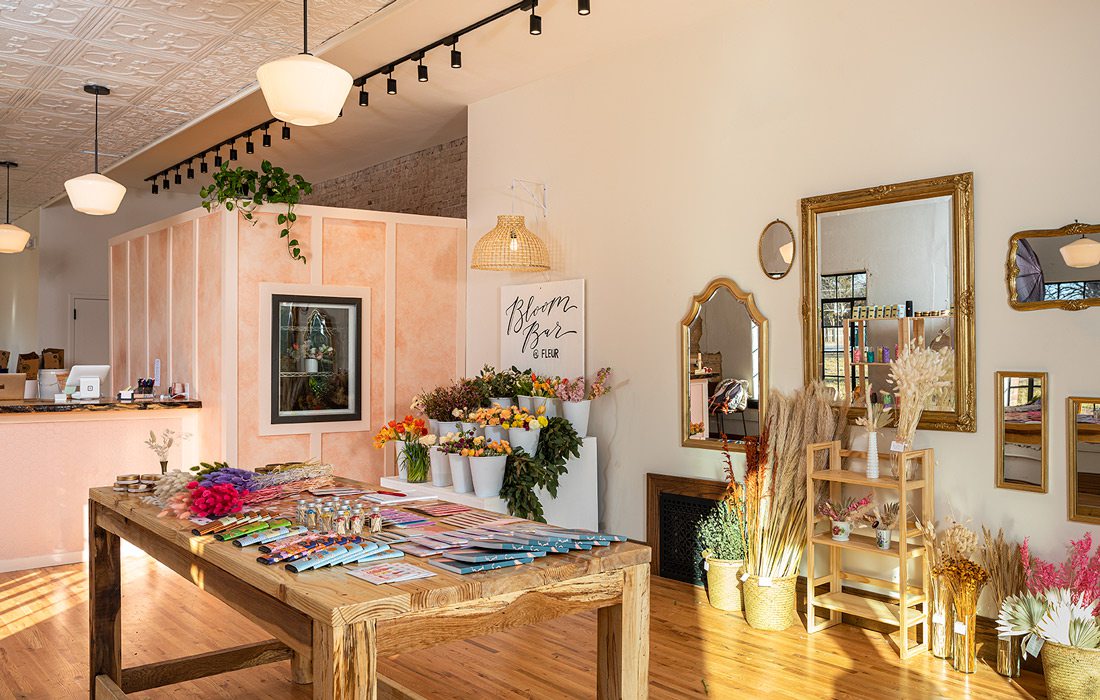 Some things are meant to bloom. Rose Cochran is one of them. Cochran and her husband, Garrett, opened Fleur Floral Studio (1423 E. Cherry St., Suite 101, 417-771-5857) on February 1 with the intention to create event florals for the 417 community. By the end of that first day, Cochran was nearly out of stock. "The hardest part was, and still is, trying to convince ourselves we're not crazy," Cochran says.
After graduating from Missouri State University in December 2019, Cochran, a St. Louis native, relocated to northern Arkansas and began organizing events for 21c Museum Hotel in Bentonville. But, like many things in the year 2020, that didn't last long. Just a couple of months after Cochran began her role as an event manager, she was furloughed due to the COVID-19 pandemic. She stayed in Bentonville until early this year. But during her furloughed weeks in Bentonville, she picked up a side gig at a local floral shop.
During the eight weeks she worked at that shop, she discovered a passion for floral design and realized her desire to create community. She also started to miss Springfield.


So, in September 2020, Cochran began to venture into the floral business on her own, working out of her home and garage to design for regional weddings. When she started, her goal was to do seven weddings per year. Since launching her venture in late September, Cochran has booked 30 weddings. With this success, even while feeling a little insane, Cochran knew she wanted to keep pushing forward to create whatever it is she had started. "We have a lot of desire to create something and build it from the ground up," she says. So, together as newlyweds, the Cochrans purchased retail space at the intersection of Cherry Street and Pickwick Avenue, next door to Artistree Pottery.
In addition to adding a fresh face to the Springfield floral scene, Cochran also aims to create a space where everyone is welcome and where people can connect. When customers visit Fleur Floral Studio, they can expect to get a few cuddles from the sweet shop dog and to get their hands dirty at the Bloom Bar: Cochran's interactive creation that allows customers to build their own arrangement.
Fleur Floral Studio is a full-service floral shop that offers customizable gifts and event florals as well as everyday, fresh and dried arrangements. The bright, airy shop also offers a selection of gifts, like candles and chocolate bars, and gift-wrapping.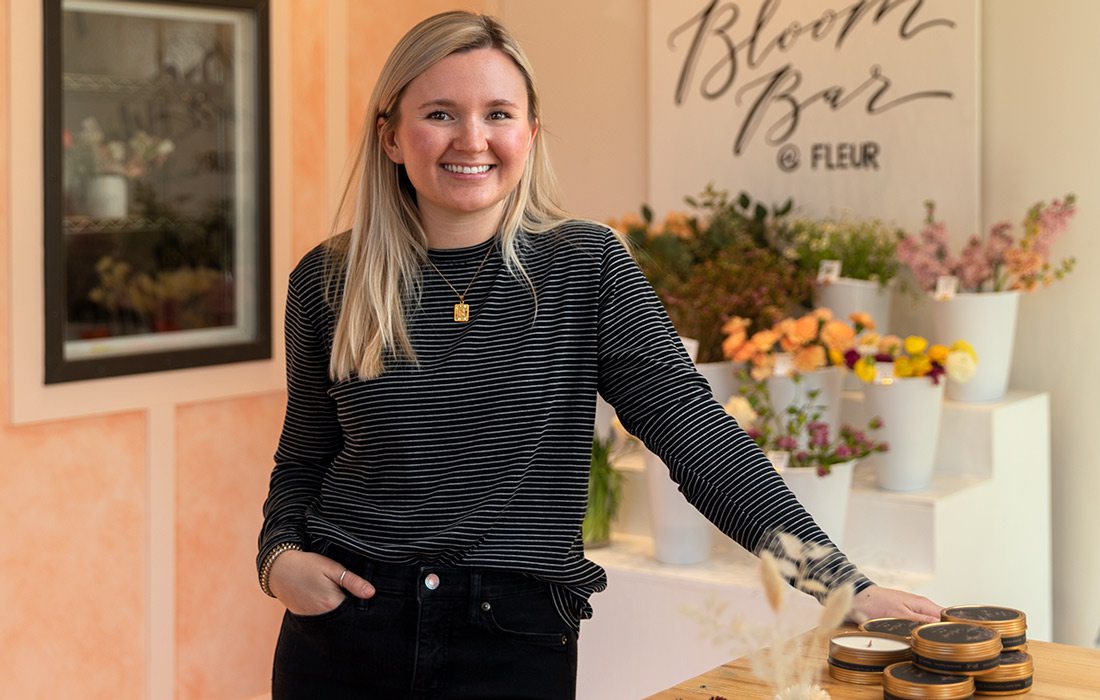 Q&A with Owner Rose Cochran
How did you come up with the idea to open a floral shop?
My whole life I have been surrounded by creative entrepreneurs  and hard workers, so all I've ever known is art, business and people skills. Anyone who knows me could have seen something like this coming—I was always looking for a way to be creative and make it a profession: opening up random Etsy shops and always painting or decorating. I also knew I loved the event industry, and after losing my job as the event manager at 21c Museum Hotel when COVID-19 hit, it was just  a domino effect leading me to what I know I was meant to do—own a business, be creative and build relationships. And flowers bring all these things together!
What are you hoping to accomplish as a boutique floral vendor in Springfield?
I hope to set our business apart in every way. We have a very updated style, love to keep up with trends and buck against the old floral design ways that only use red roses, baby's breath and leatherleaf. We really want to make flowers fun and lively and interactive! Instead of just ordering flowers from a website that has a formula so precise that there is no room for creativity, we love to mix things up, use flowers that are in season, customize and even let guests come in and make their own bouquet of blooms! There is not another business like ours anywhere around!
What can customers expect to find when they visit your store?
In our store we will always have a fun, seasonal window display, gift merchandise that complements our floral arrangements, a cooler with arrangements ready for pickup, our custom balloon garland "balloon bar," our signature "Bloom Bar" where people can come in and pick out each stem to design their own wrapped bouquet anytime, and the smiling faces of our employees who are happy to help! Oh, and our bumbling shop dog Waylon.
What do you enjoy most about working with florals? Why?
I love how flowers are pretty much always appropriate. If you think about it, there are very few times that bringing  someone flowers would be offensive or odd. Flowers celebrate, commemorate, mourn, communicate and make people feel seen and loved. How many other things can do all that? Yes, they die and don't last a very long time, but I think there's actually a really special message there—the beauty of a moment. It's special and it doesn't last, so enjoy it while it's here.