Trends
Incorporating Pantone's 2020 Color of the Year Into Your Home
As a resurgence of traditional style is being embraced in the interior design scene, there's no denying that classic blue continues to be a favorite hue.
By Heather Kane
Mar 2020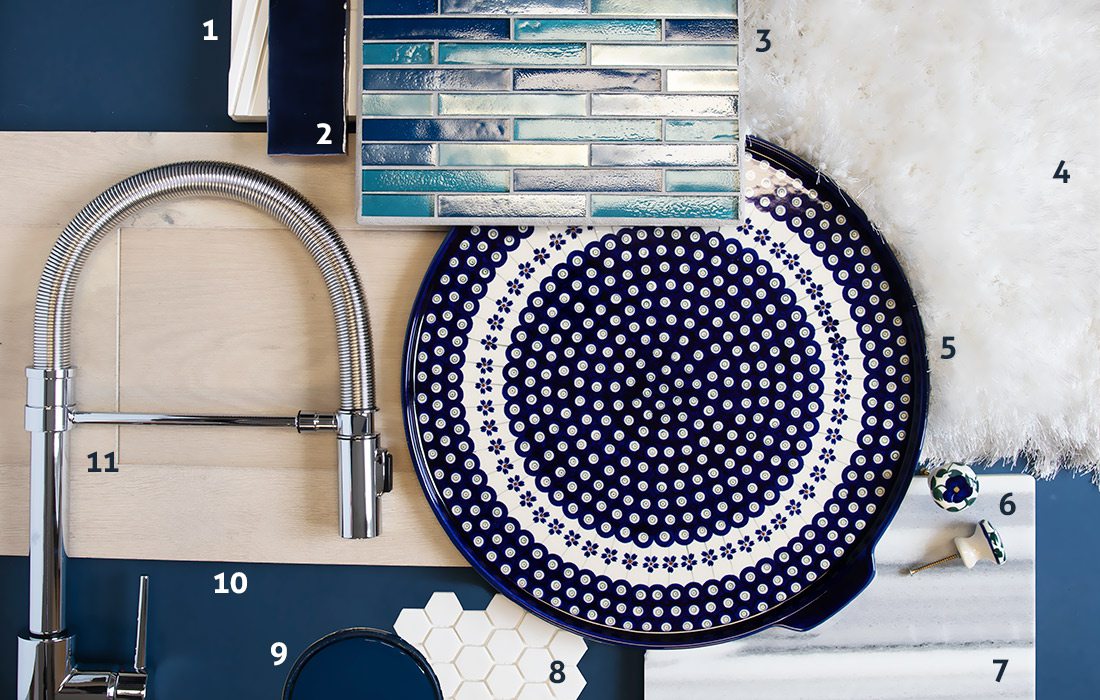 1. Walker Zanger Studio Moderne tile, $56.65 per square foot at Unique Tile 2. Lapis Cosmo tile by Winchester Tile Company at Missouri Tile, price available upon request 3. Oceanside Vibrato sapphire blend tile, $45.08 per square foot at Unique Tile 4. PGI Bella rug in Bianco white, pricing varies based on size, at Mouery's Flooring 5. Floral peacock pizza pan, $104 from The Polish Pottery Shoppe 6. Ceramic drawer pulls, $10 each from The Polish Pottery Shoppe 7. Silver leaf marble countertop, $80 per square foot at Unique Tile 8. Onix hexagon recycled natureglass tile, $29.20 per piece at Unique Tile 9. Infinity paint in Naval available at Sherwin-Williams, pricing varies 10. Raintree white oak flooring in Laguna Vibes, $5.75 per square foot at Mouery's Flooring 11. Delta Trinsic Pro single handle pull down with spring spout, $375 from Edge Supply
---
Blue hues have gained mom-entum this year with the help of Pantone and several other  brands naming their colors of the year a shade of classic blue. Sherwin-Williams named "Naval" number one, PPG Paints named "Chinese Porcelain" its leading color and Valspar chose "Utterly Blue" as one of its top 12. This popular blue spectrum begins somewhere at a dark navy, flows into an inky, moody cobalt and finishes at a powdery blue. The overall mood is the same no matter what shade you land on—tranquility. Blue offers a feeling of escapism in today's technologically driven society and seems to call out to tradition and history in a way that feels classic but still fresh. The colors work well on walls, cabinets and tile and in wallpapers, lending a beautiful backdrop for modern and traditional decor alike. Pair your moody blues with crisp white, terra cotta, cork and chrome for a new take on an age-old traditional hue.