Trends
Linen is This Season's Must-Have Fabric
Love the look of natural linen but not sure how to handle it? We've got you covered on how to wash, blend, and where to buy linen in Springfield MO in order to make the most of this spring trend!
By Ana Elliot
Mar 2019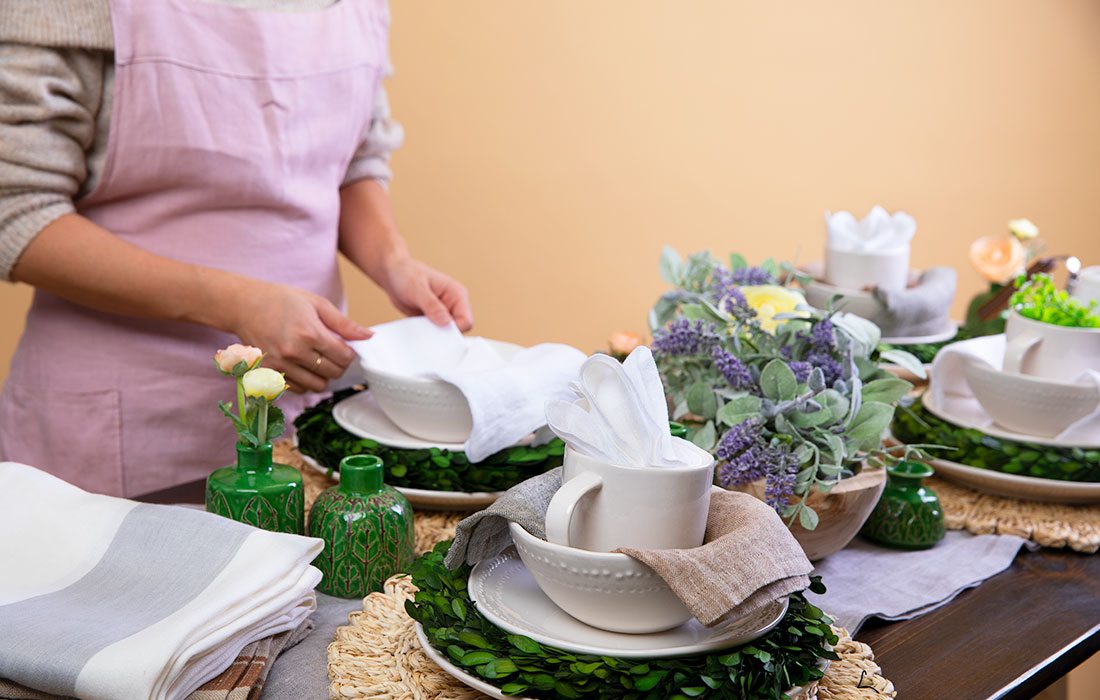 If we had to pick a singular home trend as evidence that everything old becomes new again, linen would be a strong contender. The gauzy material is created from the flax plant and considered to be one of the oldest textiles known to man, dating as far back as 8000 B.C. Praised for its hypoallergenic, antibacterial properties and breathability, linen has gotten some play over the years as a summer fabric. But as you'll come to find, the material has a multitude of uses beyond Eileen Fisher–style separates. Linen has now entered homes in every capacity from lampshades to drapes, and in our current society where sustainability is key, the fabric is gaining even more attention. The organic cloth retains its shape well, as the fibers don't naturally stretch on their own. With a nubby feel and clean, desaturated tones, it manages to feel both lived-in and luxe. Whether it's used for clothing, bedding, bags or more, linen is sure to be the material you're reaching for over and over again as it retains its quality for the long haul. 

Washing and Caring for Linen
"One way to care for linen is to use a specialty detergent," says Michaela Satterfield, intern at James Décor (1324 E. Republic Road, Springfield). "We carry one that was created to protect the fibers as it cleans them. It leaves out bleach, phosphates and a slew of other harsh chemicals." "We recommend storing linen in a cool, dry area and to iron it before putting it away," adds Lillie Davis, interior designer at James Décor. "To avoid color fading, store out of direct sunlight."

Blends and More
"If you're a purist, 100-percent linen would be the way to go," says Cathy Cooley, store manager of The Market (2628 S. Glenstone Ave., Springfield). "But when you're talking about bedding, it's a whole different decision," she admits. "Sometimes a blend can make linen feel softer to the touch and even add a nice sheen. A lot of interior designers gravitate toward linen bedding; it's a great way to bring a different texture into the home."

Linen, Linen, Everywhere
"Linen can be used in nearly every room of the house," suggests Molly Brown, owner of Springfield Mercantile Co (326 E. Commercial St., Springfield). "The fiber is actually hollow, which allows it to absorb moisture into its core where it can then evaporate, keeping you cool. This is also what makes linen an ideal kitchen towel for drying wet surfaces or hands. Other uses include linen napkins, tablecloths and bath towels, to name a few."


Where to Buy
Table setting styled using products from boutiques in Springfield and Ozark.
Springfield Mercantile Co.
326 E. Commercial St., Springfield
417-831-8131
Fjord washed linen napkin in white, $29; Feldhaus linen napkin in beige, $28; Long island linen table runner in white, $56; Grainhai linen placement in beige, $26; Fjord washed linen table runner in ash gray, $78; Custom linen apron, price upon request.
Nest Interiors + Design
5221 N 17th St. Ozark
417-485-4044
Woven Straw place mat, $12; Peyton dinner plate, $16; Preserved Boxwood wreath, $15; Peyton salad plate, $11.50; Peyton bowl, $12.50; Peyton mug, $9; Embossed vases, from $3; Lavender and Lambs bar bush, $12; Artificial Ramuricula, $7.50