Inspiration
This Downtown Rooftop Terrace Hosts Gatherings with Heart
Retired interior designer Melissa Scott and her husband, Dan, an architect, have curated a stunning rooftop terrace.
By Melissa Scott
Mar 2019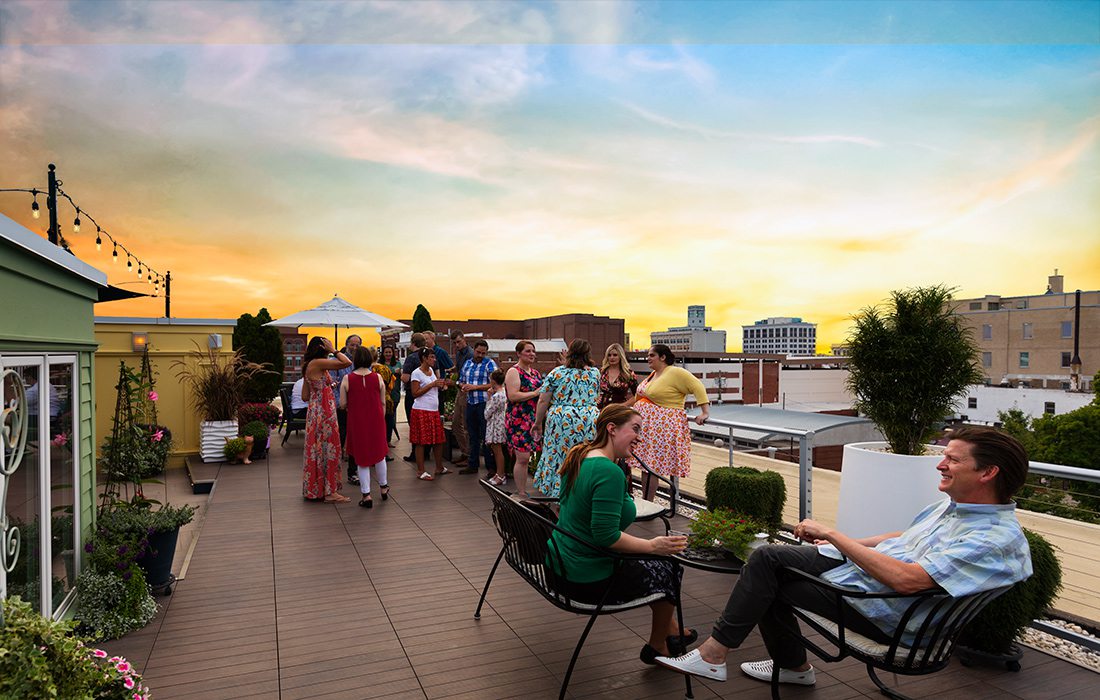 Dan and I love entertaining and sharing our home and rooftop terrace. Over the years, we've hosted events for a regional architectural conference, Southeast Rotary, politicians and various arts organizations, including Springfield Chamber Chorus, Messiah Project, MSU Choral Studies, and Missouri Choral Artists. We also had the honor of hosting the wedding of my nephew and our new niece. In fact, this past fall, we had the opportunity to host a kick-off mixer for Springfield Chamber Chorus's 2018–2019 season. The mood was festive and happy, with some guests lingering late into the night. Having been apart for the summer, it was a great way to catch up with each other and meet new members. Many in our chorus are music educators, so it also served as a last summer hurrah for them. 
There are always plenty of photo postings on social media at our events, as everyone seems to love being four stories high taking in the sights of our garden and the expansive views of downtown Springfield. 
Unfortunately, rooftop terrace parties are not less stressful than indoor parties due to the unpredictability of Mother Nature and having to plan around extreme heat or potential rains. Although our roof terrace is much easier to clean up than an indoor room, it adds 1000 square feet of space to our apartment that we must get ready for an event. 
Our favorite feature is an aluminum-framed, glass greenhouse that protects plants from the extreme elements year-round. For many years, we've been able to enjoy flowering plants all winter long due to the protection the greenhouse provides. Our favorite flowers are Lipstick Pink Mandevillas that love the rooftop heat, several evergreens that provide color in winter and switchgrass that sways wonderfully in the wind. 
Another favorite feature of ours is the porcelain ceramic floating terrace tiles and illuminated railings we installed (mostly) ourselves on leveling pedestals over an existing sloping roof. Our favorite furniture comes from Woodard Furniture and predates our marriage. We love for our guests to have the opportunity to relax and enjoy each other's company in a unique setting.
Hostess Tips from Melissa Scott
1. Hire a Caterer
Set your budget, let the caterer do their job, and you will have one less detail to manage. B+B Boulangerie catered this featured party. Owner Katie Kring, who is also a singer with Springfield Chamber Chorus, did a fantastic job, even preparing beautiful roll cakes and cookies designed from photo images of our napkins. The Aviary Café, conveniently located in our building, also caters events for us.
2. Comfort is Key
We've created a comfortable and casual atmosphere that puts our guests at ease. However, it is also a flexible space, so we see all modes of dress from more casual to more formal.  
3. Remember the Reason
Parties celebrate the bringing together of people for an enjoyable event. We like the element of surprise when people come to one of our parties who have never been to our apartment. It literally changes their perspective of what our downtown has become. Hosting parties also allows us to share our unique slice of life with others and enriches our lives as we get to know the people who attend our parties.