Real Parties
Sage Rage Party at Culture Flock
A new wave of obscure and unique pop-up parties have gained a strong following in Springfield, MO and we have the scoop.
by Heather Kane
Jan 27 2020 at 8 a.m.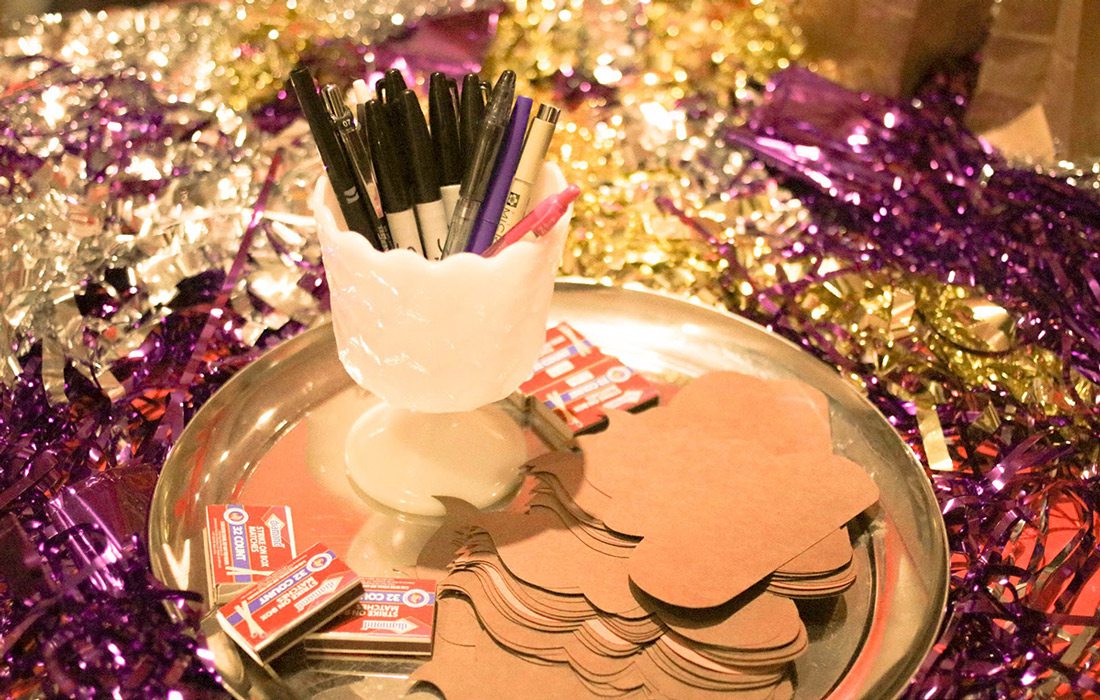 How can one not click "interested" on a Facebook event called, "Don't Be Tardy Party" or "Weird Candle Party"? The names alone pique my curiosity and force me to read on. The mastermind behind these clever and sometimes strange gatherings is 417-land local Christina Pike. Her latest event, titled "Sage Rage," was held on January 8 at Culture Flock (3938 S. Lone Pine Ave., #102, Springfield) and I was lucky enough to be on the guest list. The Facebook page described the event as an evening of gentle self-discovery. The guests were plentiful, ranging in age and personality types. As guests arrived through the front door, Culture Flock's art director, Wesley Hamilton greeted us by asking a question: "Are you feeling like an angel, a devil or both this evening?" I chose the devil, but only because the sparkly red pipe cleaners given to make devil headbands matched my outfit.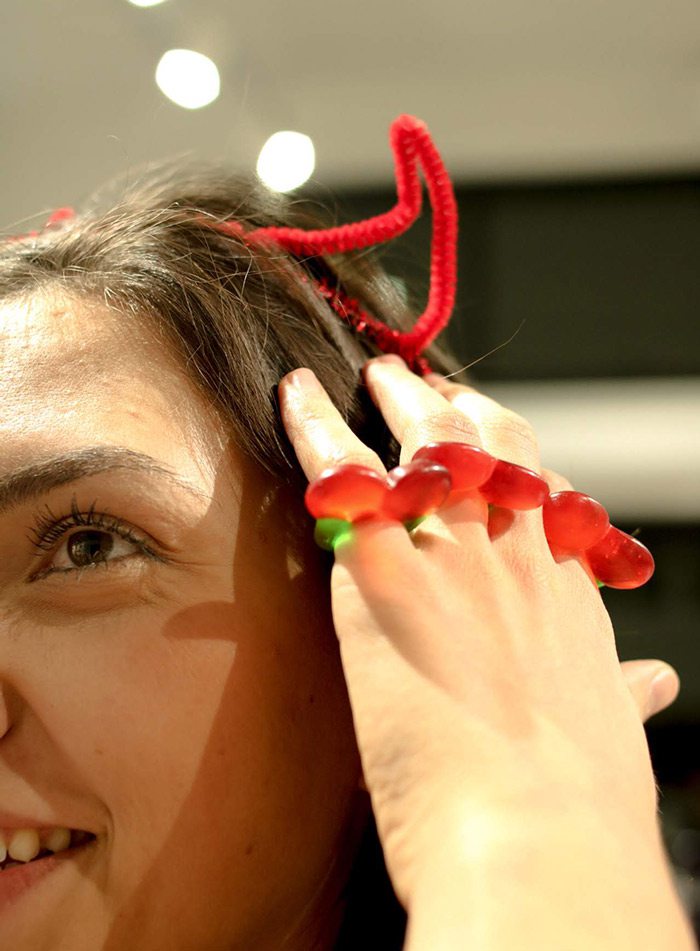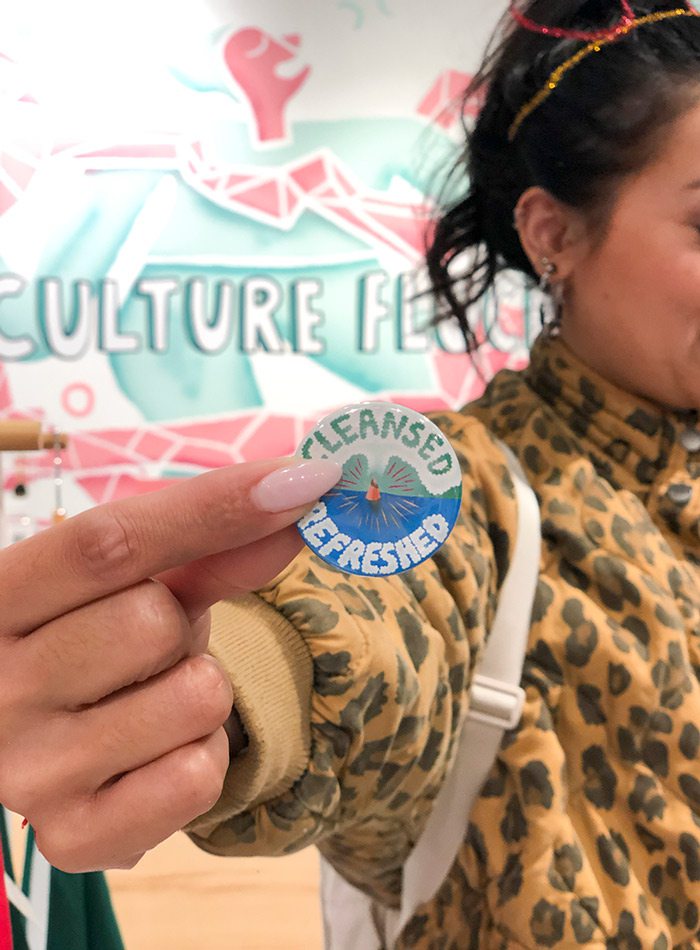 Photos by Savannah Snowden Party-goers adorn themselves with halos, devil horns and buttons.
Once we were properly accessorized, we were led to the back half of Culture Flock where the decor seemed to be a blend of leftover metallic tinsel from New Year's Eve and Mardi Gras. Snacks were laid before us with one side of the table stocked with vodka and veggies sticks, and the other with water and sour gummies. A smorgasbord of snacks that seemed a little naughty and a little nice.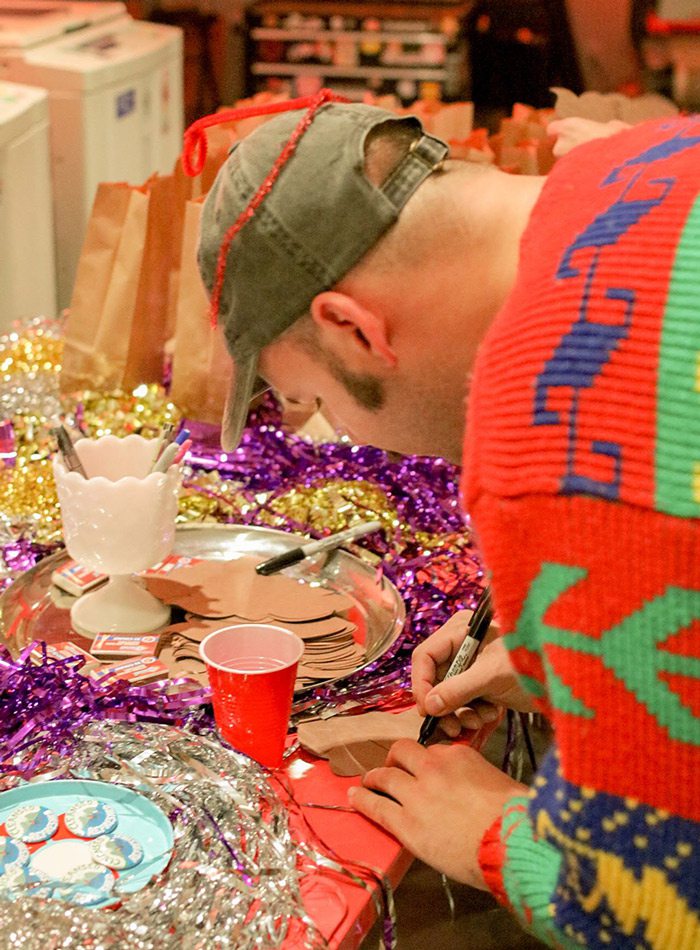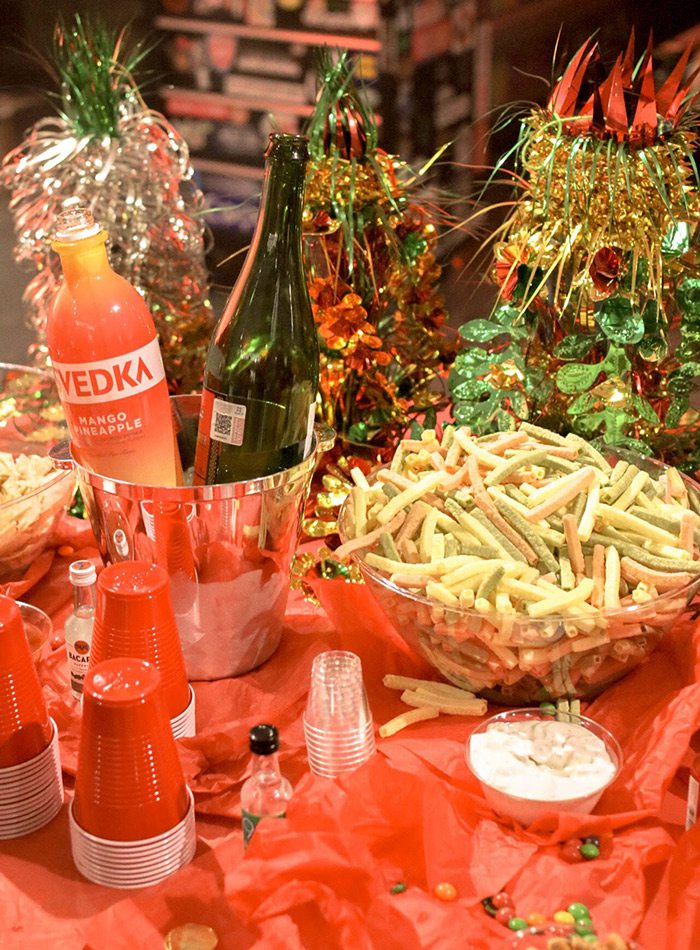 Photos by Savannah Snowden Guests wrote down something they wanted to leave behind them and placed them in paper bags. Snacks and drinks were available throughout the event.
"Let the first ritual begin," I heard someone say, as we were then prompted to write down something we either wanted to forget or to forgive ourselves for. We used poop emoji-shaped brown paper, and put that in a brown paper bag to crumble up. As I was finishing mine, Clay Richard, dance enthusiast, walked in the room. He was there to lead us in a few minutes of freestyle dancing. The music was turned up and everyone began dancing, brown paper bags in hands, swaying above our heads. It was actually quite freeing, as it's hard to take yourself seriously when you're a dancing devil rocking around to a song called "Fun" by Kaskade.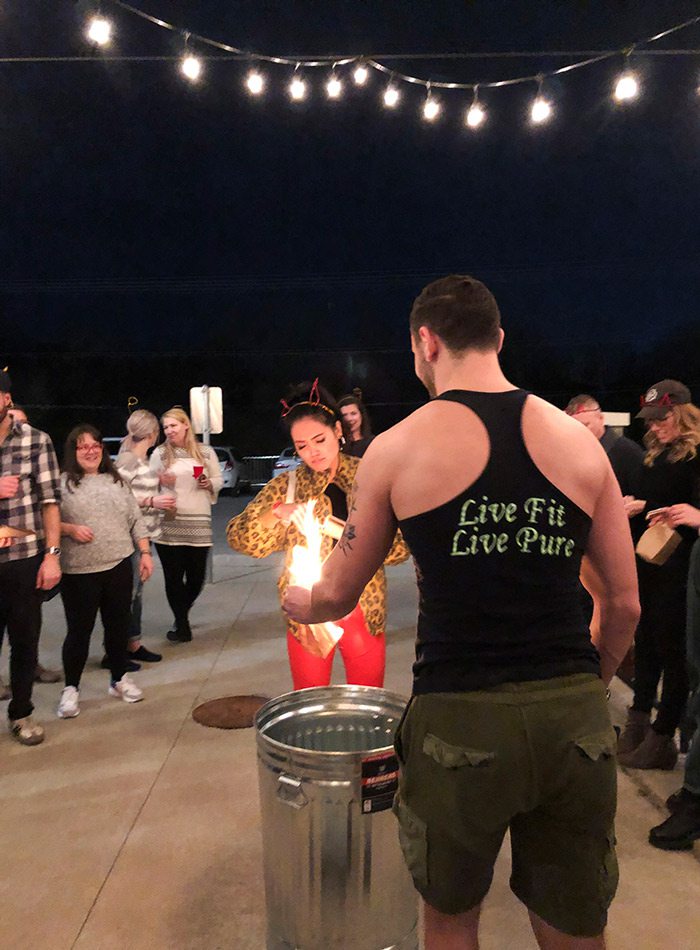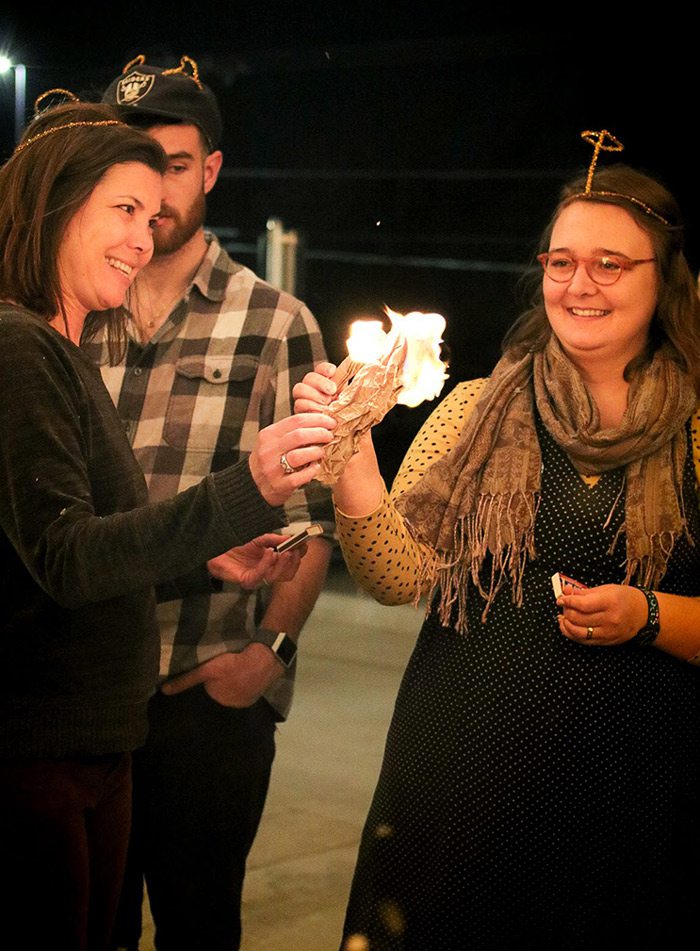 Photos by Savannah Snowden Party goers light their emotional baggage aflame.
Once the music subsided and everyone tired out, we headed outside to where a metal trash can awaited us. Matches were handed out and brown paper bags lit up like the Fourth of July. The can became the catchall for several flaming poop bags, and the fire was roaring. It's hard to tell if we were all just playing out some slight pyro fantasy or actually letting go of something in a metaphysical way. Either way, I was entertained.
We marched back into Culture Flock where one of the party participants, Melisa Creemer, awaited us. She had changed into a powder blue robe. I couldn't even imagine what was in store for us next. Creemer had us gather in a circle and taught us to "om." I think this was the part of the evening that really surprised me. Here I was, with people I've never met, and we're all "om-ing" in sync like we had been doing it all our lives.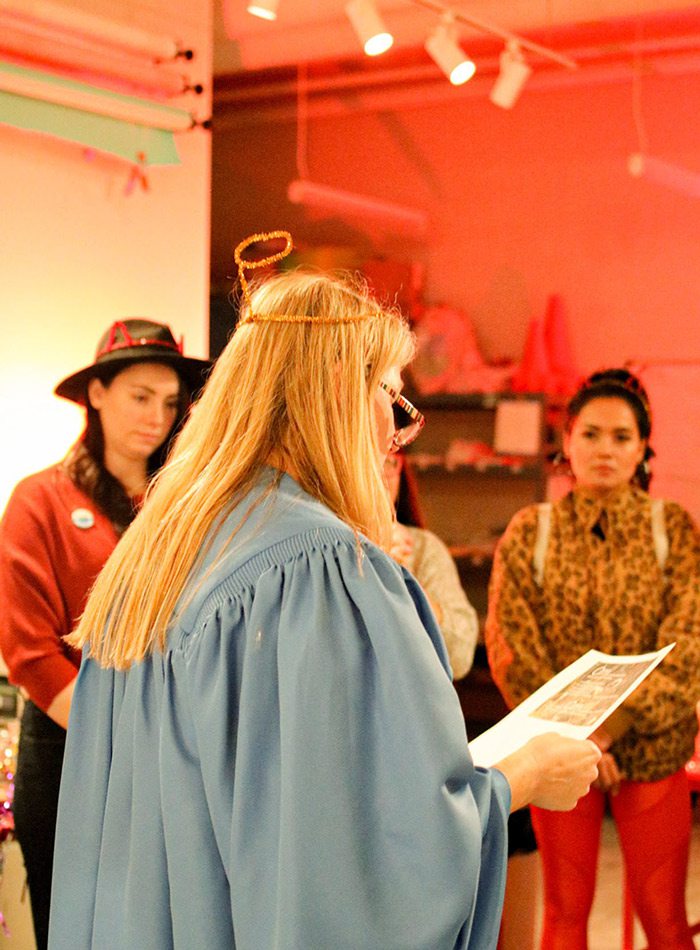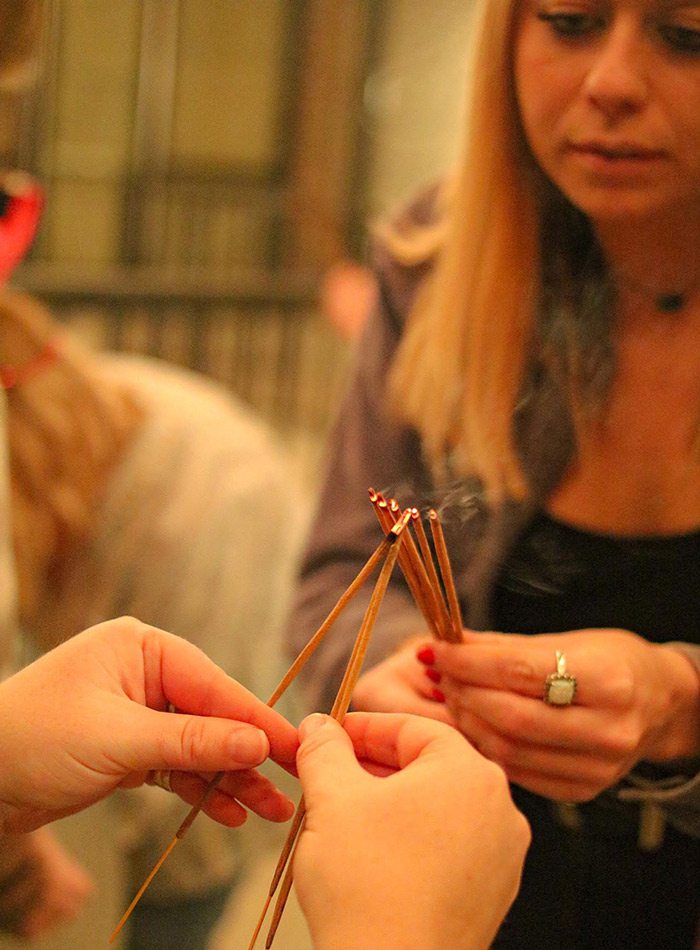 Photos by Savannah Snowden Melisa Creemer leads the group in a chanting circle.
As the evening began to wind down, sage incense was handed out to burn. Paper bags with crystals, courtesy of Kim Jenne from Iron Works, were dispersed as party favors. I can truly say I've never been to an event like this one and I will likely click "going" to more of Pike's curated shindigs in the future. What will she think of next? Bring your cat to breakfast at midnight? I just made that one up, but stay tuned for her soon to be released March event at Culture Flock, "Honey I Shrunk the Kids."