Featured Homes
A Custom Kitchen Serves as the Heart of this Modern Southwest Missouri Home
Kansas City-based Hufft builds a southwest Missouri family a stunning custom kitchen. Peek inside for the unique materials, fixtures and even a custom made piece of art for the ceiling.
By Jenna deJong
Dec 2019
Matthew Hufft, co-founder of Hufft (3612 Karnes Blvd., Kansas City; 816-531-0200), a design and fabrication studio based out of Kansas City, built a rapport with a local family before building them a modern, 6,500-square-foot house within the city limits of Springfield. Four years earlier, he had created them a lakeside retreat, so when the family of five wanted an upgrade in their full-time home to fit their active lifestyle, they gave Hufft a large margin of creative license to invent something special just for them.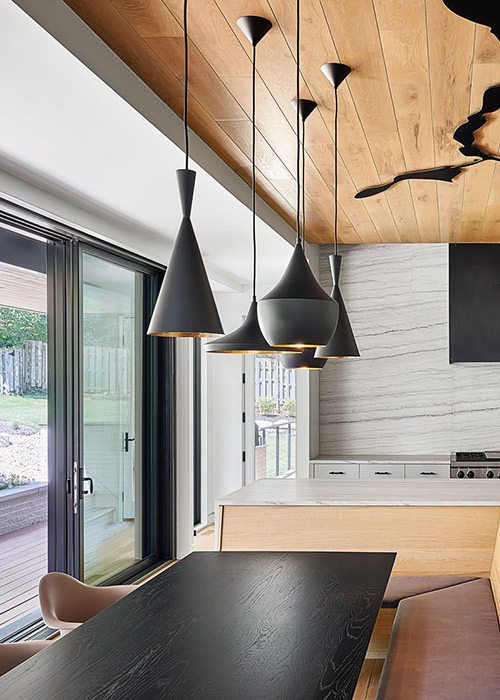 The kitchen has a modern feel to it, which was intentionally executed—the cabinets conceal appliances and cookware, which was a specific wish of the active family during the building process.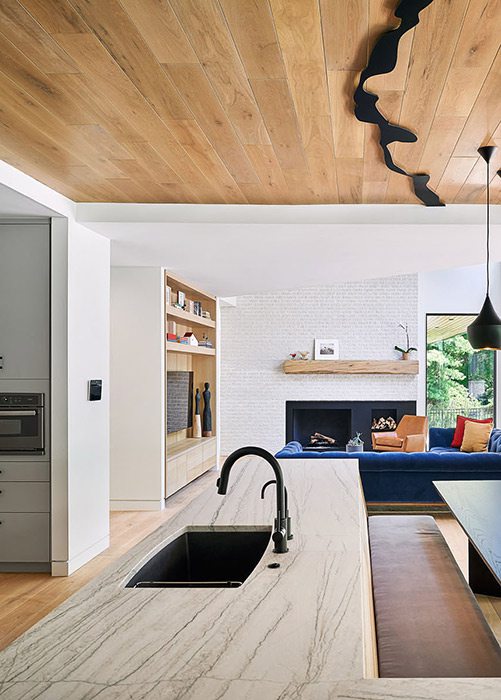 Mathew Hufft used the property as inspiration for the house. For the kitchen, he decided to include a laser-cut piece of steel to hang from the ceiling. The decoration is the same shape as the watershed of the creek near the house.
Photos courtesy Hufft, Michael Robinson Photography
When Hufft began designing the house, he wanted to call out the grassy knoll and sloping hill leading to a beautiful stream. He started with the kitchen and knew it needed to have an open floor plan. In fact, it's so open that it's difficult to tell where the kitchen stops and where the dining room, breakfast nook and living room start. Hufft says this was intentional: During the casual hours of the day, like when the family is getting ready for work or school, the five naturally congregate in these areas. Because of the open floor plan, there are no physical barriers to separate the spaces as the family moves about. With a few finishing touches, like the built-in cabinetry and a custom metal ceiling piece in the shape of the stream located on the property, the space still feels intimate and custom—like it was made for them and only them.