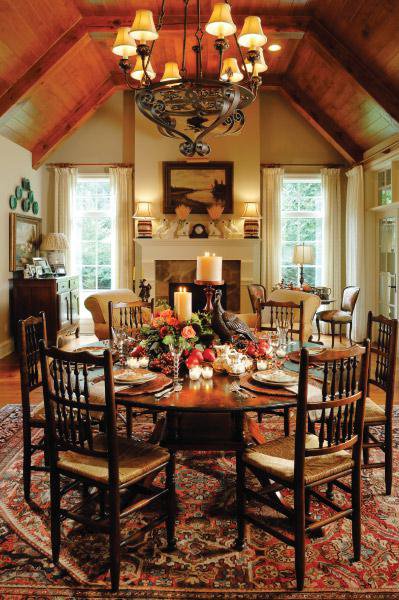 Front and Center: Pair fresh, richly colored flowers  with candles and seasonal-inspired décor to create the perfect Thanksgiving centerpiece. 
Styled by Mary Douglas, Bringing it Together Events; shot on location at the home of Robert and Fran Johnson; flowers courtesy The Thicket/The Nest
In Good Taste: If any of your table décor features a decorative print, start with that item and then carefully choose your accent pieces.
This china adds detail to the table, and the solid-colored place mats provide a muted backdrop. 
Tradition Change-Up: Rather than putting guests on the spot, Douglas suggests asking them what they're thankful for ahead of time, typing up, printing and framing their answers and displaying them around the house. 
In Living Color: Floral arrangements in non-traditional Thanksgiving colors (i.e., orange) provide a fresh feel.
Host-It Tips:
1. Consider accenting flowers with fruit or berries to fit the season, as Douglas did in this table centerpiece.
2. Go natural with your décor by adding items such as sticks and fall leaves.
3. Make decorating quick and easy by combining cranberries and a tea light.
Click through to the next page for our web exclusive sample Thanksgiving Day menu.
Sample Menu (by Worman House)
Herb-roasted turkey

Celery root gratin
Garlic-cream collard greens
Spinach, sausage and roasted onion stuffing
Toasted brioche roasted sweet potatoes
Cinnamon-roasted carrots with maple thyme butter
Mashed potatoes and classic giblet gravy
Pumpkin pie
Pecan pie
Cinnamon-roasted carrots with maple thyme butter:
Ingredients:
24 baby carrots (tops attached)
1 cinnamon stick 
3 tablespoons pure maple syrup 
1 tablespoon chopped thyme
4 tablespoons unsalted butter, softened
1 tablespoon red wine vinegar 
Extra virgin olive oil
Salt and pepper
To prepare: 
Trim all but ½ an inch from the green top of the carrots. Peel, rinse, and dry. Toss carrots with 1–2 tablespoons of extra virgin olive oil, a pinch of salt and the cinnamon stick broken in half, then place on a sheet pan. Roast in a pre-heated oven at 400°F until just tender, about 15–20 minutes. While the carrots are roasting, combine the butter, maple syrup, vinegar and thyme with a small pinch of salt. Remove the carrots from the oven, toss with the flavored butter and a good pinch of pepper and return to the oven for 4–5 minutes, or until the carrots are fully cooked and browned. 
Signature Drink: 
The Worman House Ginger Snap
Ingredients: 
2 ½ ounces Absolut Orient Apple
½ teaspoon finely grated fresh ginger
1 ounce honey
1 ounce fresh lemon juice 
6 ounces hot water
Cinnamon stick 
To prepare: 
Muddle together the first four ingredients. Add hot water, and stir with cinnamon. Strain into an Irish coffee glass, and garnish with the cinnamon stick and a thin piece of lemon peel.