DIY
A Mantel in the Making
Installing a fireplace mantel can be a tricky task, even with a mantel kit. Just in time for cooling temperatures, we talked to a local expert for tips on doing the job yourself.
By Tanja Kern
Sep 2012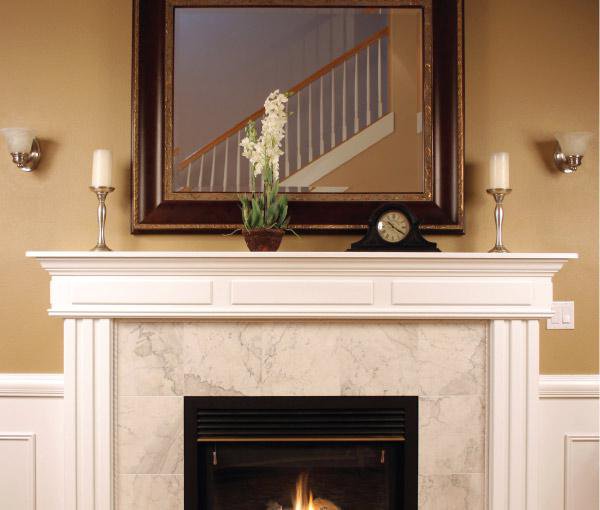 Come fall, many of us 417-landers are ready to nestle in front of a crackling fireplace with a hot cup of cocoa or a glass of wine in hand. If your fireplace leaves you less than inspired, it might be time for a mantel makeover. There are a plethora of stores in 417-land that specialize in new mantels. And the experts that work there are here to help transform your bland, outdated fireplace into something visually warm and inviting. 
Wood mantels are an admired and long-established choice for many homeowners. "Here in the Ozarks, traditional styles are very popular," says Charlie Wormek, owner of HMI Fireplace Shops in Nixa. "Everybody still likes oak mantels, although maple is also rising in popularity." In addition to mantels and fireplace accessories, HMI offers a variety of fireplaces including wood, corn, and pellet-burning stoves; gas and electric fireplaces; glass doors; and cultured stone. 
If you're looking for something a little different, visit Vesta Precast in Springfield, which sells concrete mantels to suit any décor style. "We have a showroom that provides homeowners with design inspiration, but all of our pieces are custom made to suit any project," says Amy Hoover, Vesta's office manager. 
Although nothing replaces the advice and experience of a seasoned professional contractor who knows building codes and proper installation methods, Wormek says handy homeowners can sometimes tackle a mantel replacement themselves, and he shared a supply list and a step-by-step guide on how to do it. Are you ready for a new place to relax this fall? Hit up the hardware store, and get busy.  
Fire Man: Charlie Wormek, owner of HMI Fireplace Shops in Nixa, shares tips on installing your own mantel.
1. You should order a mantel that's sized appropriately for your fireplace, and your best bet is to order one from a local fireplace store with experts who can help you measure appropriately and offer advice on size and materials. 
2. Once you get the mantel, first finish the wood with your desired stain, paint or lacquer. You'll be able to more easily apply smooth, even coats of paint or stain before the mantel is installed—and without messing up the stone or tile around the fireplace opening. 
3. There are two major safety concerns when dealing with a new wood mantel: making sure that it isn't too close to the fire and attaching it securely so that it doesn't fall off the wall. Because wood is a combustible material, you first have to determine the height at which you need to place the mantel. Each mantel comes with its own specifications, but Wormek recommends a minimum of 18 inches above the firebox opening. Gas fireplaces may have different requirements.
4. Mantels often come in a few pieces that you need to attach together before installing on the wall. (Installing the mantel securely is all about using proper hardware, and each mantel manufacturer will include the right hardware with your mantel kit.)
5. Dryfit the mantel against the wall by centering it above the fireplace at the recommended height. Use the level, and sketch a line with the pencil to mark where you will install the mantel shelf.
6. Using the stud finder, find the studs and mark their location on the line. 
7. From here, follow the directions included in your mantel kit. Most kits will have you drill bolts or brackets into the studs to attach a backboard, then the mantel shelf. 
8.    As you install each mantel piece, use a level to ensure they're even.