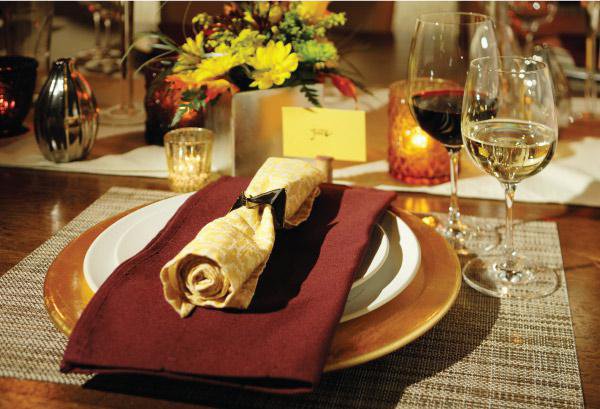 Mix it up: Consider using a variety of cloth napkins, including some with patterns, to help add color and interest to your table. 
If you're looking to host a truly top-notch affair, a wine and cheese party is a safe bet. We talked to local event planners Megan White and Becca Murdaugh of Social Graces and Chef Chadwick Isom of Hy-Vee to ensure your guests will be wowed with both elegant décor and a variety of delicious gourmet cheeses and fine wines from around the globe. —Savannah Waszczuk

Set the Mood: Break tapered candles and fit them in the tops of wine bottles to create an easy D.I.Y. table centerpiece. Also, consider placing wine corks in a cake stand or decorative bowl to help carry out your theme.
Styled by Becca Murdaugh and Megan White, Social Graces; shot on location at the Vesta Room; flowers by Hy-Vee; napkin rings courtesy Provence; wine and cheese courtesy Brown Derby International Wine Center.

Fresh and Formal: Consider dressing your table with short flower bouquets in rich colors, such as dark eggplant, dark pink and raspberry plum.  
Activity Suggestions by Social Graces
• Educate your guests. Invite a local winery, such as OOVVDA Winery (5448 N. Berry Ln., Springfield, 417-833-4896, oovvda.com) to give a lesson on the wine-making process. 
• Have a tasting contest. Blindfold guests and ask them to determine what wines and cheeses they're tasting.
•  Travel the globe. Set up stations based on regional wines and cheeses, and have guests vote for their favorite region.

Perfect Pair: Looking for tasty wine and cheese combos? Consider Rusack savignon blanc with Spanish Manchengo cheese or Cune Rioja with Purple Haze cheese, all from Brown Derby International Wine Center.
Host-It Tips:
1. Event planners at Social Graces suggest using wine corks to create cheese name cards. 
2. Chef Chadwick Isom of Hy-Vee says to pair like items when pairing wines and cheeses. "Matching cheese and wine is like dressing for the weather," he says. Start with the food and determine how heavy its flavor is, then match it with a wine hat can either keep up or tone down. 
3. Isom also suggests serving six to 10 cheeses at your party, including some warm, some cold and some at room temperature, and he notes to  have a piece de resistance, which is a centerpiece cheese made by a master cheese maker.
Head to the next page for 417HomeMag.com exclusive recipes from Chef 

Chadwick Isom of Hy-Vee.
SAVORY SERVER
Chef Chadwick Isom of Hy-Vee provided a sample menu of cheeses to serve, plus a handful of tasty dishes to try. 
Wine and Cheese Sample Menu (by Hy-Vee):
Humboldt Fog, a soft-ripened goat cheese

Rougette, a soft-ripened double cream cheese

Champignon, a soft-ripened cheese with 

mushrooms
Fruitwood smoked bleu cheese
Ricotta, for dipping
Aged cheddar
Stouts, a firm Irish cheddar
Aged Reserve, a firm Irish cheddar
Baked brie 
Accompanying wines
Vegetable crudité 
Wine and Cheese Recipes:
Baked Brie in Puff Pastry
Ingredients:
1–2 pounds soft ripened cheese (such as brie)
1 package frozen puff pastry dough, thawed
1 jar fig preserves
2 tablespoons flour
1 egg, beaten
To prepare: 
On a cutting board, unfold the puff pastry dough and dust with flour on the top and bottom to keep from sticking. With a rolling pin, roll the dough out slightly just to make it a little thinner and a larger size. Cut the dough into a round shape twice as big as the cheese you plan to use. A plate or platter can work as a cutting guide if you need one. Now place 1/2 scoop of preserves in the middle of the cut pastry. Place the cheese on top of the preserves, then brush all around the edge of the pastry with the beaten egg (this is the glue). Fold the edges of the pastry up and over the cheese onto each other to make a seal, then press gently. Place the pastry seam-side down on a greased tray. Cut a decoration of your choice with the leftover puff pastry, and glue it to the top with egg. Brush the entire top of the pastry with egg, then bake in a 375°F oven for 35–45 minutes. The pastry will be golden brown when done. Let it rest at least an hour then transfer to a serving platter. Garnish with fresh figs and serve with premium crackers and toasted French bread slices. 
Note: If your cheese is more than 1 inch thick, you can split it down the middle to make two small baked bries, just use ¼ cup preserves for each.
Hummus Dip
Ingredients: 
15 ounce can of chick peas or garbanzo beans, drained (save juice)
¼ cup Tahini (toasted sesame seed paste)
1/3 juice from the canned peas
1 teaspoon cumin powder
2 cloves fresh garlic 
½ teaspoon salt
1/8 teaspoon Red pepper (spicy) or white pepper (mild)
1–2 tablespoons olive oil
1–2 teaspoons lemon juice (about one whole fresh lemon squeezed) 
To prepare: 
First puree the drained chick peas until finely chopped. Then place all the rest ingredients besides the olive oil in a food processor and puree smooth. You may have to scrape down with rubber spatula to get all of it pureed well. With the processer running drizzle the oil in slowly, it will give it a good texture. 
Taziki Sauce
Ingredients:
1 medium cucumber peeled, seeded, and diced
1 cup vegan sour cream
1 teaspoon fresh garlic puree 
¼ cup diced onions
1 teaspoon dried dill or 1 T. fresh chopped
1 teaspoon mint dried or 1 T. fresh chopped
½ teaspoon salt
To prepare:
Place cucumber and onion in food processor, then puree and place in strainer to let go of its water. Mix puree with all other ingredients until combined.
Babaganoush
Ingredients:
1 large eggplant (about 1 lb.), peeled and diced
½ sweet onion, diced
1 teaspoon salt
2 tablespoons olive oil
6 cloves garlic
3 tablespoons tahini
1 tablespoon lemon juice
½ cup parsley leaves
Chef Tip - color peppers and tomatoes can be added also just dice them and roast them.
To prepare:
Put the eggplant in a mixing bowl and mix with the salt, tossing to coat evenly. Let the eggplant sit for an hour in a strainer to purge water. Next, toss the eggplant, onion and garlic in the olive oil. Next roast it on a sheet tray at 450 degrees for 25-30 minutes until cooked tender and brown a bit. Next put in a food processor with the rest of the ingredients and puree then season with salt and pepper.  
Cabernet Punch:
Ingredients:
¼ cup cabernet
¼ cup cranberry juice
¼ cup pineapple juice
2 tablespoons sugar
lemon lime soda
To prepare: 
Combine the first four ingredients. Stir. Finish with lemon-lime soda, and serve on the rocks.