Something Old, Something New
Sharon Taylor and Will Lampe own Pickwick House, a boutique design firm/studio that sells both new and refinished home furnishings and accessories.
By Kim Swain
Sep 2012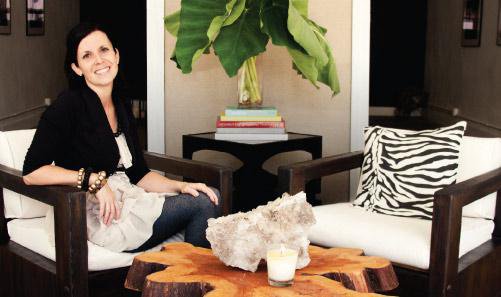 CREATIVE GETAWAY:
Sharon Taylor and Will Lampe turned an old drug store into their ideal creative space.
The Store
Pickwick House, 611 S. Pickwick Ave, Springfield, 417-459-8988, sharontaylordesigns.com, and Sharon Taylor Designs on Pinterest. By appointment or by chance (Chances are, they are working in the back office Tuesday–Saturday from 12–5 p.m.)
The Setting
Just steps from where she grew up in the center of the trendy, revitalized Rountree neighborhood, Sharon Taylor found a home for her boutique design firm/studio, Pickwick House. "I love this neighborhood," Taylor says. "It's a hip area with great shops, and I wanted to restore this particular space." Nestled between Homegrown Foods and Tea Bar and Bites, Pickwick House was once an old drug store. It was in a dilapidated condition before Taylor and partner, Will Lampe, restored it. They discovered high windows that look out to the brick building next door and peeled up the linoleum to expose the concrete floor. They kept the original wood floor beam that once held soda fountain stools in place, and now the building has a modern, industrial feel that fits the pair who enjoy fixing up old things (and old spaces) and making them into something new.Pickwick House is an uncluttered space where Taylor can meet with her clients—both brides and homeowners—at her oversized mahogany carved dining table, which seats ten. Books are located in various vignettes with award-winning ideas and vendor products to enhance every home and event style.
The Staff
Owners Taylor and Lampe are a complementary team. Taylor assists clients with interior design, decorating or wedding planning while Lampe is primarily a designer and landscaper who also specializes in ambient lighting. A fresh crop of interior design students from MSU rotate through about every six months to learn the business, and Taylor has a secret design team made up of other consultants, contractors, installers, upholsters, painters and other vendors that she works with regularly.

REPURPOSED:
Sharon Taylor has a knack for finding vintage housewares and giving them a modern twist. 
The Stuff
Pickwick House sells new furnishings and accessories, as well as refinished pieces. Taylor and Lampe take a few road trips each year to visit favorite shops and flea markets. They also shop on eBay for vintage furnishings that they can update. They specialize in tablescaping, entertainment areas and lighting. Taylor displays only a few pieces of her huge collection of furniture, pillows, accessories, rugs, throws and lamps at any given time. 
The Summary
Pickwick House offers popular furnishings and accessories as well as one-of-a-kind pieces that have been lovingly transformed. Taylor's knack of blending new with antique, and vintage with modern, appeals to almost every decorating style. Her inventory is constantly changing, so plan to stop in whenever you are enjoying the hot spots in the Rountree neighborhood.