It's the Great Pumpkin
Fall is almost here, and it's time for pumpkins! Find a few growing tips, and learn tasty recipes you can prepare with the seasonal treat.
By Harrison Keegan
Sep 2012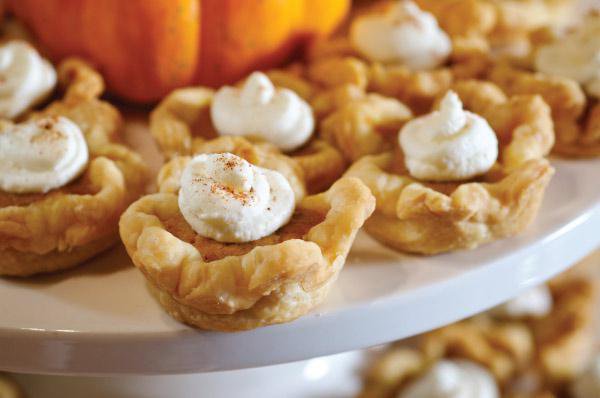 Pumpkins are your garden's equivalent of marathon athletes: They take a long time to finish, they consume a lot of water and they're runners.
That doesn't mean you need to plant them on a track, but Melissa Millsap, co-owner of Urban Roots Farm (823 W. State St., Springfield, 417-597-4858, urbanrootsfarm.com) says pumpkins take anywhere from 90 to 110 days to grow. They should be watered twice a day in the summer, and they grow horizontally, so it's important to pick up their new stems and put them back in the pot or flower bed every few days.
Millsap says it's hard to give specific advice on growing pumpkins because there are so many varieties, but in general, pumpkins should be planted in late June and early July in full sunlight, and there are a few ways of telling when they are ready to be picked.
"There are lots of different wives' tales about picking melons," Millsap says. "But one of them I like to go with is looking for the first leaf from the melon stem, and when that starts to dry up a little bit and the melon looks like it's ready to go, then it's usually ready to go."
---
Pumpkin Soup with Sage Croutons,
Bacon and Gruyère Cheese
Serves 4

Ingredients:

½ cup melted butter, divided
1 cup onions, chopped
¼ cup carrots, diced
1 teaspoon garlic, minced
¼ cup dry white wine (optional)
3 cups chicken broth
2 cups pumpkin puree (roasted or canned)
1 tablespoon brown sugar
2 tablespoons heavy cream
¼ teaspoon each: salt, black pepper,
nutmeg and dried thyme
1 teaspoon fresh sage leaves, chopped
¼ teaspoon each: garlic, pepper and salt
6 cups cubed French bread (about ½ large 
     French roll)
1 tablespoon Parmesan cheese, grated
½ cup crumbled bacon, cooked crisp
½ cup Gruyère (or Swiss) cheese, 
     shredded

To Prepare: 
Heat ¼ cup butter in heavy pot. Add onions, carrots and garlic. Sauté over medium-low heat for 5 minutes or until tender. Stir frequently. Add wine, and simmer for 2 to 3 minutes, or until liquid has reduced. Add chicken broth, pumpkin puree and brown sugar, simmer for 5 to 8 minutes. Remove from heat. Working in several smaller batches, add mixture to food processor. Puree until smooth. Return to pot. Add heavy cream, salt, black pepper, nutmeg and thyme. Simmer for 2 to 3 minutes. Keep warm.

To make croutons: Combine ¼ cup melted butter, sage, garlic pepper and salt in a large skillet. Add cubed bread. Toss to blend. Heat over medium-low heat for 3 to 4 minutes, or until golden. Stir frequently. Remove croutons from heat. Add Parmesan cheese. Stir to blend.

To serve: Ladle soup into bowls. Top each with croutons, bacon and shredded cheese.
---
Mini Pumpkin Tarts
Serves 16

Ingredients:

1 cup canned pumpkin
1 package refrigerated pie dough
¾ cup heavy cream
1 large egg, beaten
¼ cup dark brown sugar
4 tablespoons pure maple syrup
1 teaspoon ground cinnamon
¼ teaspoon ground ginger
¼ teaspoon ground nutmeg
¼ teaspoon salt

For Whipped Cream Topping:

½ cup cream
1¼ tablespoons sugar
¼ teaspoon vanilla
½ tablespoon rum
¼ teaspoon nutmeg

To Prepare: 
Preheat oven to 425°F. Unfold refrigerated pie dough. Let rest for 20 minutes. Combine remaining ingredients. Mix well. Cut out 8 rounds from each pie dough using a 3" biscuit cutter. Press onto bottom and sides of un-greased mini muffin pan. Prick bottoms of tarts with a fork. Bake for 15 minutes or until lightly golden. Fill each tart with 1-2 teaspoons of pumpkin mixture. Bake 15 minutes, but watch carefully as they are much smaller and can darken easily. Cool slightly in the muffin pan. Remove to a wire rack to cool completely. Place whipping cream mixture into a large plastic baggie. Clip a very small tip off of one of the corners. Squeeze a small circle on top of each tart. Sprinkle with nutmeg. Serve.

For the Whipped Topping: Put your beaters and the bowl you'll be using to make the whipped cream topping into the freezer for 30–45 minutes to make sure they are cold. Pour cream in the bowl, and beat until the cream starts forming. Add remaining ingredients. Beat until peaks form.
Click through to the next page for a web exclusive Pumpkin Cheesecake with Bourbon Sauce recipe, and learn what veggies you can plant and enjoy during the next few months. 
Pumpkin Cheesecake with Bourbon Sauce
Serves 12
Prep Time: 40 minutes
Cook Time: 2 hours
Ingredients:
3 8-ounce packages cream cheese, room temperature
1 15-ounce can pure pumpkin
For Crust:
1 1/2 cups pecans, toasted, cooled
3 tablespoons golden brown sugar
3 tablespoons unsalted butter, melted
1/4 teaspoon ground cinnamon
For Filling:
1 1/4 cups sugar
1 teaspoon finely grated lemon peel
6 large eggs, room temperature
1/2 cup sour cream
2 tablespoons all purpose flour
2 teaspoons vanilla extract
1 teaspoon ground cinnamon
3/4 teaspoon ground ginger
1/4 teaspoon ground nutmeg
1/4 teaspoon ground cloves
Large pinch of salt
For Sauce:
1 cup packed dark brown sugar
1/2 cup whipping cream
6 tablespoons unsalted butter (3/4 stick)
1/4 cup dark corn syrup
1/2 teaspoon salt
3 tablespoons bourbon
1 1/2 cups pecans, toasted, cooled
To Prepare: 
For Crust: Preheat oven to 350°F with a rack in the center. Assemble a 9-inch spring form pan. Combine pecans, brown sugar, butter and cinnamon in a food processor fitted with a steel blade. Pulse until nut mixture sticks together. Press firmly into bottom of pan. Bake crust until golden, about 10-12 minutes.
For Filling: Beat cream cheese, sugar, and lemon peel with an electric mixer until smooth. Add eggs one at a time, then add pumpkin, sour cream, flour, vanilla, spices and salt. Mix until smooth. Place spring form pan on a rimmed baking sheet. Pour filling into spring form. Smooth the top gently. Bake 2 hours. Take out of oven. Let cool 30 minutes. Refrigerate in spring form pan until cold, about 4 hours. Unmold, cover and chill.
For Sauce: Combine sugar, whipping cream, butter, corn syrup, and salt in a medium saucepan. Whisk until sugar dissolves. Bring to a boil. Reduce heat to medium. Boil one minute without stirring. Remove from heat. Stir in bourbon and pecans. Cool.
Plan Your Garden
Temperatures may be cooling, but that doesn't mean you can't continue enjoying your Harvest! Millsap says plants grown in September should be transplanted and not planted as seeds while plants grown in October and November should be covered.
September
Broccoli
Cauliflower
October
Greens
Kale
Carrots
November
Lettuce
Garlic