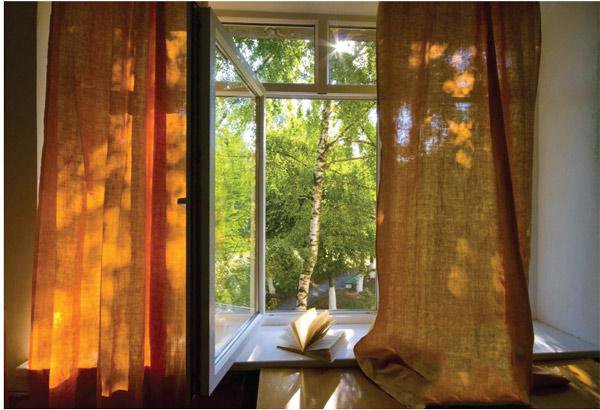 Windows often serve as central elements of a room, and their impact and appeal can be much improved with the proper adornment. Whether you have tall windows spanning an entire wall or a small window behind the kitchen sink, Nola Shivers, owner of Decorating Den Interiors in Nixa, and Lee Haik, owner of James Décor in Springfield, have shared some insights about choosing the best window treatment for your space.
Long Drapery Panels
The most common form of window treatment is floor-length draperies. Having panels on either side of a standard window will add interest and sophistication to your space. Shivers recommends having the draperies either "kiss" the floor or stop about half of an inch above the floor.
Short Drapery Panels 
Draperies that fall just below the window are not often used in modern décor. If, however, you have large air vents, a shelf or some sort of obstruction below your window, Shivers suggests this type of treatment. Haik says a shorter panel is a good choice for a casual look, especially with cottage décor. 
Valence
A valence is a great choice for rooms such as the kitchen and bathroom, where long panels could be damaged by moisture and space for a window treatment is limited. If you want a cost-effective custom look, Haik says a valance alone can achieve a finished look with minimal fabric and labor. You may, however, choose a look that incorporates draperies and a valence. "This is a good choice to use on a very large window to pull it together," Shivers says. "The valence will cover the rod used for the panels." 
Sheer Panels
If the view through your window is not the best, Shivers and Haik recommend opting for sheer panels that can be drawn while still letting the natural light in. Haik also recommends using sheers in conjunction with opaque panels for a layered, opulent look.  
No Window Treatment 
While window treatments can improve almost any look, if you have windows with an unusual shape or architecturally enhanced molding, you may want to avoid a window treatment and let the window speak for itself.
Drapery Quick Tips
These few notes will help you make the most out of your window treatment:
❶ If you don't want to obstruct the view through your window with drapery panels, Shivers says to use the "window times 1.5 trick." Calculate the width of your window and multiply it by 1.5 to give you the length your rod should be to allow the panels to hang on either side of the window. 
❷ When hanging window treatments, your rod should be installed approximately four inches above the top molding of the window. This may be increased based on ceiling height. 
❸ To make a window look taller, hang the rod closer to the ceiling and use long draperies.