All Buttered Up
We talked with a farmer and local chef about everyone's favorite fall veggie—the butternut squash—to stock up on tips for growing, harvesting and enjoying the hearty staple.
By Ettie Berneking | Photos by Kevin O'Riley
Sep 2013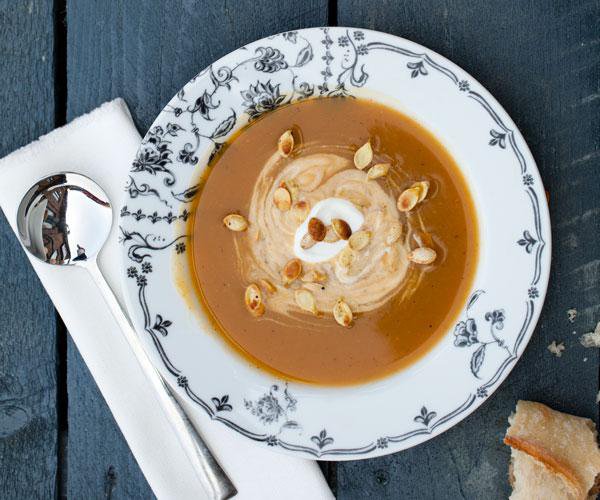 Sweet and savory and oh-so-delicious, the butternut squash is one of those hearty vegetables that should be on everyone's grocery list. Roasted, pureed, sautéed or diced, this mouth-watering squash is as versatile as it is tasty. With a tempting stock of butternut squash recipes already in tow, we talked with Lee and Lee Ann Worman, owners of Mockingbird Gardens, for some tips and tricks on growing our own butternut squash.
A slow grower, the butternut squash should be planted at the same time as those supple summer squash varieties. Once the last frost of the season has passed, it's time to plant those seeds. "Butternut takes about 85 to 100 days from seed to fruit before it's ready to pick," Lee says. One way to tell if the squash is ready to harvest is to push on its shell with your thumbnail. You shouldn't be able to break the skin. Another telltale sign is if the squash's stem is starting to dry and wither. At that point, the golden beauty is ready to come off the vine. With its thick skin, the butternut is an excellent storage squash. In fact, those extra few weeks in the pantry help the squash sweeten up. "One trick to a tasty butternut squash—never put it in the fridge," says Lee. "That will cause a cooling injury. You want to store it in a warm place that has some airflow." A good rule of thumb according to Lee is to let the squash sit for at least two weeks after being harvested. Stick to that, and you should be enjoying savory butternut squash dishes all winter long. Read on for enticing butternut squash recipes from our very own editorial team, chef Nicola Gilardi, The Food Channel and the squash pros at Mockingbird Gardens.
Butternut Squash Mac & Cheese
by Ettie Berneking
Ingredients:
1 butternut squash
1 tablespoon olive oil
12 ounces small shell pasta
2 cups cheddar cheese, shredded
1 stick butter cut into chunks (reserve 2 tablespoons for the topping)
1 quart half and half
1 sleeve Ritz crackers
Salt and pepper to taste
To Prepare:
1. Preheat the oven to 350°F.
2. Cut the squash in half lengthwise, and drizzle meat with olive oil. Place meat-side down on a cookie sheet, and bake until barely tender, about 25 minutes.
3. Remove from the oven and let cool. Peel skin from the squash, and cut the squash into small chunks. Set aside. 
4. In a medium size pot, cook the pasta until al dente. Drain and set aside.
5. Using a 9-by-13-inch pan, pour half of the noodles onto the bottom. Spread evenly, then sprinkle on 1 cup of cheese. Scatter half of the butter over the cheese followed by half of the squash chunks. Repeat until all ingredients are used.
6. Season with salt and pepper.
7. Pour the half and half over the dish until the pasta is barely peeking through.
8. In a small bowl, melt the remaining 2 tablespoons of butter, and crumble the crackers into the butter. Stir to combine, then cover the dish with cracker mixture.
9. Bake for 45 minutes to an hour. The crust should start to turn golden brown. 
10. Let set for five minutes, then serve.
Butternut Squash Ravioli
from Nicola's Ristorante
Ingredients:
3 cups all-purpose flour
1 teaspoon salt
4 eggs, plus 1 egg yolk for egg wash
2 tablespoons olive oil
8 tablespoons butter, divided
â…" cup shallots, minced
1 teaspoon salt
1 cup roasted butternut squash puree
1 cup heavy cream
½ cup feta cheese
pinch ground nutmeg
½ cup Parmesan cheese, grated
Salt and pepper to taste
6 fresh sage leaves
Fresh parsley, chopped
To Prepare:
1. To make the pasta dough, mix first four ingredients. Roll out the dough to â…›-inch thick, and sprinkle with flour so it won't stick.
2. Sauté 4 tablespoons butter, shallots and salt on medium heat. Add butternut puree and cream. Simmer 2 to 4 minutes. Remove from heat, and add cheese, nutmeg and salt and pepper to taste.
3. Using a ravioli stamp, mark pasta squares.
4. Place 2 tablespoons of filling in the center of each pasta square. Bring one corner of the square to the other and wet the edge to seal.  Place sealed ravioli in salted boiling water for 2 to 3 minutes until pasta floats. Drain and set aside.
5. In a sauté pan, brown the remaining 4 tablespoons of butter. Add sage. Cook sauce for 1 minute, then plate. Garnish with Parmesan cheese, salt to taste and a sprinkling of parsley. 
Spicy Squash Soup
with toasted squash seeds
by Katie Pollock Estes
Ingredients for Squash Soup:
1 butternut squash, quartered and seeded
1 acorn squash, quartered and seeded
1 Granny Smith apple, peeled, seeded and cut in half
½ yellow onion, quartered
1 tablespoon olive oil
2 cups low-sodium vegetable broth
1 teaspoon Madras curry powder
½ teaspoon garam masala
â…› teaspoon cayenne pepper
½ teaspoon black pepper
2 14-ounce cans of low-sodium vegetable broth
Salt to taste
6 tablespoons Greek yogurt
6 teaspoons honey
Toasted squash seeds
To Prepare:
1. Preheat oven to 450°F.
2. Brush butternut squash, acorn squash, apple and onion pieces lightly with olive oil. Place veggies on a baking sheet. Roast for 10 minutes, then turn. Roast for 10 to 20 more minutes, turning every five minutes until the veggies are tender.
3. Let veggies cool. Then scoop the butternut and acorn squash from their skin. Throw away the skin.
4. Place veggies, 2 cups vegetable broth, Madras curry powder, garam masala and cayenne pepper in a large mixing bowl. Blend with an immersion blender until smooth.
5. Transfer blended mixture to a large pot. Heat at medium heat, and stir in the rest of the vegetable broth. Bring to a boil, and cook for 10 minutes. Stir occasionally. Add salt to taste.
6. Just before serving, mix yogurt and honey.
7. Serve soup topped with a dollop of the yogurt mixture, and sprinkle with toasted seeds and cilantro.
Ingredients for Toasted Squash Seeds:
Seeds from one butternut squash
Seeds from one acorn squash
1 teaspoon olive oil
½ teaspoon salt
â…› teaspoon coriander
â…› teaspoon cumin
â…› teaspoon black pepper
To Prepare:
❶ Preheat oven to 350°F.
❷ Quarter the butternut and acorn squashes, and scoop out the seeds and pulp. 
❸ Reserve the seeds and rinse them. Pat them dry.
❹ Toss seeds with olive oil, salt, coriander, cumin and pepper, and spread out on a baking sheet.
❺ Bake, stirring every three minutes until the seeds are golden brown and crunchy. (Approximately 10 to 12 minutes total.)
Savory Butternut Pie
with Moroccan Spices
from Mockingbird Gardens
Ingredients:
1½ to 2 pounds butternut squash
2 medium onions
1 teaspoon salt
¼ teaspoon black pepper
1 teaspoon cumin
1 teaspoon ginger
¼ teaspoon cinnamon
1 pound spinach
â…" cup raisins
2 sheets puff pastry, thawed if frozen
1 egg, beaten
Directions:  
1. Preheat the oven to 425°F.
2. Pierce the rind of the squash with a sturdy fork. Microwave for 2 minutes. Press the rind to see if it has started to soften. If not, microwave for another 30 seconds, and check again. Continue to do this until the rind becomes pliable but the flesh is still uncooked.
3. Slice off the stem end, and peel the squash with a vegetable peeler. Once peeled, cut it in half, de-seed, and cut the squash into 1-inch cubes. 
4. Peel the onion and slice into half-inch-thick pieces. 
5. In a large bowl, combine the squash and onion. Drizzle with olive oil, sprinkle with salt, pepper, cumin, ginger, cinnamon, and toss to coat.
6. Roast the mixture for 30 to 40 minutes until tender. 
7. Remove the vegetables from the oven, and reduce the heat to 375°F.
8.While veggies are roasting, chop the spinach into small pieces and wilt in a pan with olive oil & salt to taste.
9. Roll out thawed pastry sheets to fit a 9-by-13 baking dish, and press one sheet into the dish for the bottom crust. 
10. Combine the roasted squash and onions with the spinach and raisins, tossing to distribute everything somewhat evenly. 
11. Pour filling into crust, but don't overfill. If you have more than the crust can accommodate, reserve it to serve as a side dish. 
⓬ Cover with the second sheet of puff pastry and pinch or overlap the top and bottom crusts to seal. Brush the top crust with the beaten egg, and bake until the crust is golden brown, about 30 minutes. 
â"­ Let stand for 10–15 minutes before cutting.
Roasted Cranberry-Glazed Butternut Squash
from The Food Channel
Ingredients:
½ cup unsalted butter, melted, plus extra for buttering pan
2 tablespoons cranberry juice
2 tablespoons pure maple syrup
1 garlic clove, minced 
2 pounds butternut squash, diced
2 cups Granny Smith apples, peeled, cored, and diced
½ cup dried cranberries
½ cup pecans, chopped
½ teaspoon cinnamon
½ teaspoon nutmeg
½ teaspoon salt
Fresh sage sprigs, as needed
 
Directions:
1. Preheat oven to 425° F.
2. Grease a 10-by-13-inch baking dish with butter.
3. In a small bowl, combine the butter, cranberry juice, maple syrup and garlic.
4. In a large bowl, combine squash, apples, cranberries, pecans, cinnamon, nutmeg and salt.
5. Bake for 25 to 30 minutes or until squash is tender. Stir mixture one time during the cooking process.
6. Garnish with sage sprigs.
Butternut Ravioli with Garlic-Parmesan cream sauce
from Mockingbird Gardens
Ingredients for the filling:
1 1/2  to 2 pounds butternut squash
1/2 cup Parmesan cheese
1/8 teaspoon nutmeg
salt and white pepper to taste
Ingredients for the dough:
2 cups flour
3 eggs
1/2 teaspoon salt
1 tablespoon olive oil
Ingredients for the garlic-Parmesan cream sauce:
2 tablespoons butter
2 tablespoons olive oil
2 large garlic cloves, minced
1 pinch red pepper flakes
2 tablespoons flour
1 cup chicken broth
1 cup milk, 1/2 & 1/2, or cream, depending on how rich you want it
1 to 1 1/2 cups Parmesan cheese, shredded
1 dash of nutmeg
Salt and white pepper to taste
Directions:
1. Preheat the oven to 350°F.
2. Cut and deseed the squash. Roast until tender, about an hour.
3. Let the squash cool enough to handle. Use a spoon to scoop out the squash flesh, and toss the shell. If the squash flesh is giving off a lot of liquid, pop it back into the oven and let the liquid evaporate. You want your squash to be moist, but not wet. Damp filling will keep your ravioli from sealing properly.
4. In a large bowl, mash the squash into a smooth consistency.
5. Add the Parmesan, nutmeg, salt and pepper. Taste to see if it needs more salt or more nutmeg. Once the filling is where you want it, set it aside.
6. In a large bowl, make a hill out of the flour, and make a well in the middle for the eggs, salt and olive oil.
7. Beat the eggs with a fork, which will pull flour into the eggs causing the dough to begin to form. Stir until all the flour is incorporated. If the dough is a little dry, add a few drops of water. If it's a little wet, sprinkle in some flour. Whatever you add, just keep kneading it to make sure it's well combined and behaves like a good dough should: kind of bouncy and springy with no globs sticking to the board. This takes about 5-10 minutes.
8. Let the dough rest for about an hour on the counter.
9. Once the dough is ready, divide it in half and roll both halves out super-thin.
10. On one of the sheets of dough, place one tablespoon of filling three inches apart.
11. Brush a little water onto the dough between the filling balls so that the top pasta sheet will have something to grab when laid on top.
12. Lay the second sheet of dough on top of the first, and gingerly press the dough together to start forming the ravioli. At this point, you can use a ravioli cutter, biscuit cutter, cookie cutter, drinking glass, or just a knife to start cutting out the ravioli. Use your fingers to crimp the sides so that they are all secure.
13. In a medium pan, bring water to a boil. Toss in the ravioli, and cook until the filling is warmed through.
14. To make the cream sauce, heat the olive oil over medium heat until it starts to shimmer. Add the butter and let it melt and foam. When foaming stops, add the garlic and red pepper flakes, sauté for about 30 seconds.
15. Add the flour and sauté for another 30 seconds.
16. Using a wire whisk, start adding chicken broth a little at a time, whisking constantly. Once broth and flour are incorporated and smooth, whisk in the dairy. Start whisking in the Parmesan. Taste the sauce and adjust seasoning with salt, white pepper and nutmeg.
17. Serve sauce over hot ravioli.