DIY
Center Staged
Hosting a seasonal party or Thanksgiving dinner for the family? Wow your guests with this simple-yet-elegant tablescape designed by local crafty queens Barbara Yocum and LaTisha Wooten.
By Ettie Berneking | Photos by Kevin O'Riley
Sep 2013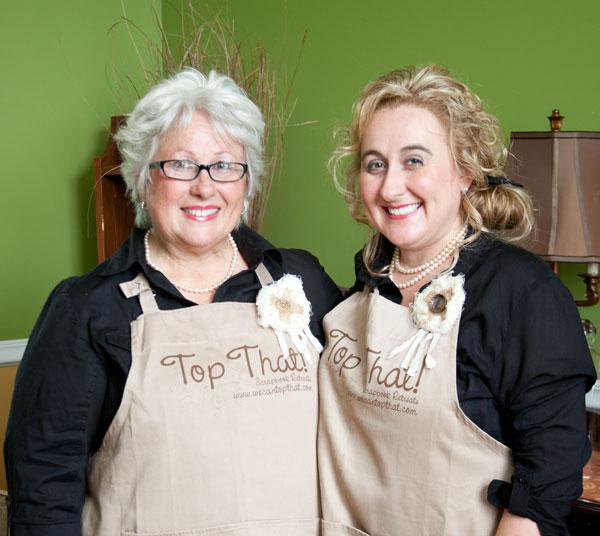 D.I.Y. Delight: This seasonal centerpiece can be created with many pieces you already have around your house. Consider painting old ceramic pumpkins white for a new look.
Food is often the main attraction at get togethers, but that doesn't mean decorative touches have to fall by the wayside. This fall, take some pointers from LaTisha Wooten and her mom Barbara Yocum, two creative décor whizzes of Top That! Scrapbook Retreats who have made a career out of their ability to host fabulously themed parties without breaking the bank. Their secrets—D.I.Y. pieces, and doing a little pre-décor shopping in their own home.
Preparing for Thanksgiving, we asked Wooten to throw together a simple-but-stunning holiday tablescape that would be the perfect centerpiece for the next dinner party or family event. "We enjoyed incorporating rich colors of ivory, brown and copper along with burlap and pearls for elegance," Wooten says. "This spread is an easy D.I.Y. project your guests will envy."
When decorating, Wooten first picks a theme or idea then builds around it. "I love white pumpkins," she says. "That was my base for this project." From there, she takes a tour around her house and looks for items she can repurpose. "You don't have to spend a ton of money on decorations," she says. "So often you can paint something you already have or give it a new use. No one will know you're upcycling."
With a theme and supply list in hand, Wooten sets to work filling out the rest of her decorations. Wooten makes sure to not overwhelm herself with ideas. "Don't waste your time or money on things you can't do or don't have time for," she says. Most important, remember your guests are there to see you, not the decorations. If something doesn't turn out, don't fret—no one but you will know. Now have fun, and get crafting!
Want to tackle the project? Here's what you need to make your own tablescape:
• 3 black pedestals
• 3 ceramic pumpkins of varying sizes
• 3 black candlesticks
• 3 candles
• 1 large roll of Deco Mesh ribbon
• 2 yards of burlap
• 20 corsage pins with pearl heads
• 10 handmade silk or similar style flowers (You can make them or purchase them at a local hobby store) • 5 burlap flowers
• Pearl beads for pumpkins
• Strings of pearls
• Pretty brads (for centers of silk and burlap flowers)
• Drawer pulls for each place setting
• Paper
• Hot glue gun
• Scissors
• Napkins and napkin rings
Instructions for centerpiece:
1| If you are painting your pumpkins, paint on the new color and set aside. Let them dry overnight.
2| Measure your Deco Mesh ribbon to the length of your table and add an extra foot, then cut it. On each end, gather up a small section, tie it off and twist down to form a loose flower. Gather up five or six inches in the middle of the ribbon and do the same. Secure all three flowers with pearl corsage pins.
3| Once the pumpkins have dried, use a hot glue gun to apply the pearl beads around the top of each pumpkin. Place the pumpkins on top of the pedestals. 
4| Cut three strips of burlap, approximately 3-feet-by-8-inches for the large pumpkin and 3-feet-by-4-inches for smaller pumpkins. Reserve any stray burlap. For added texture, knot the whole piece of burlap prior to twisting and wrapping it around the base of the pumpkins. Then use corsage pins to secure the burlap. 
5| Tie a few strands of frayed burlap around the candlesticks. Secure a few pearl beads on the strands to add a little glam.
6| Lay the mesh in the center of the table, and place the pumpkin-topped pedestals around it. Fill in space with candlesticks, wire balls, strings of pearls and any other elements of your choosing. Play around with your creations until you're happy. Then set up each place setting as you desire.  
Instructions for place card holder:
1| Cut a small piece of burlap to go behind the drawer pull.
2| Secure the burlap with pearl brads. 
3| Type or write out guests' names on paper, and cut paper to appropriate size. 
4| Slip the paper in between the drawer pull and the burlap. 
5| Fray the edges of burlap for added flair. 
Call a Pro
Aren't feeling crafty? These pros are more than willing to assemble a festive and fabulous tablescape for you.
Top That! Scrapbook Retreat
417-848-8224, wecantopthat.com
Social Graces
417-893-0333, eventsbysocialgraces.com
Pickwick House
611 S. Pickwick Ave., Springfield
417-459-8988, sharontaylordesigns.com