DIY
Design By Numbers
By Kelsey Berry
Sep 2013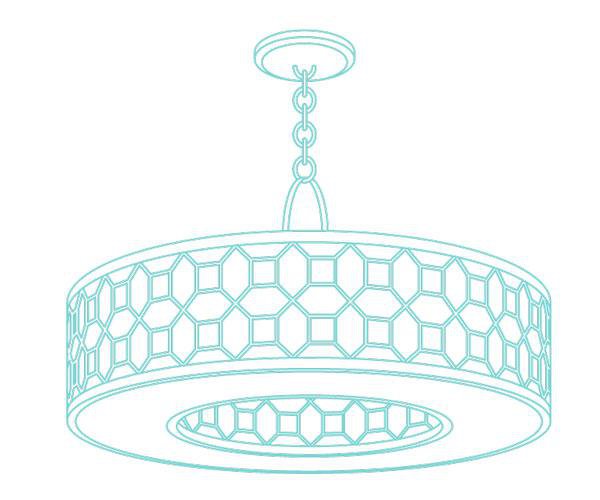 Moving into a new space, or remodeling the one you're in? Kathe Bruton of Bruton Design Studios, LLC (Springfield, 417-522-6739) and Julie Durand of Inspired Design by Julie, LLC (Springfield, 417-720-1082) help you navigate the designing ins and outs of home and office decorating with a few simple mathematical tips. Since each home is one-of-a-kind, it's okay to break the rules sometimes, but these numbers can act as a general guide. 
• There should be 44 inches between a dining room chair and the wall.
• An odd number of artwork or décor on a wall is more appealing than an even number.
• There should be 18–20 inches between countertops and the bottom of upper cabinets.
• A chandelier should hang about 30 inches above a dining room table.
• Drapery should be just touching the floor or a half-inch above the floor. For a more modern look, curtains should have 1 to 6 inches pooled on the floor.
• To determine the best size light fixture to buy, add together the length and width of the room (in feet). The sum (in inches) is the ideal diameter of the fixture for the room.
• A 48-inch round dining table can seat four to six people. A 60-inch round dining table seats six to eight.
• Feature one to three colors in one room. More than five feature colors will overpower the room.
• About 18 inches is an ideal amount of floor space to be showing around a rug after it is put down. For smaller rooms, 10 inches is best.
• Hanging light fixtures that people will walk under should hang 7 or more feet from the floor.
• One gallon of paint covers about 400 square feet.
• When hanging art, the center of the image should be 58 to 60 inches from the floor.
• Drapery rods should extend 3 to 6 inches past the window frame, depending on the room and finial size.
• A rug should be at least 24 inches bigger than the dining table it sits under, from all sides.
• To create a more romantic or peaceful ambiance in a room, install 40-watt lightbulbs.
• A bed should sit approximately two inches away from a night stand.
• A coffee table should be placed approximately 18 inches from the sofa.
• If you are hanging multiple pieces of artwork together, they should be about two inches apart.