DIY
Old is New Again
A local shares how you can create your dream vanity out of an old piece of furniture.
By Kathryn Cardin | Photo by Kevin O'Riley
Sep 2013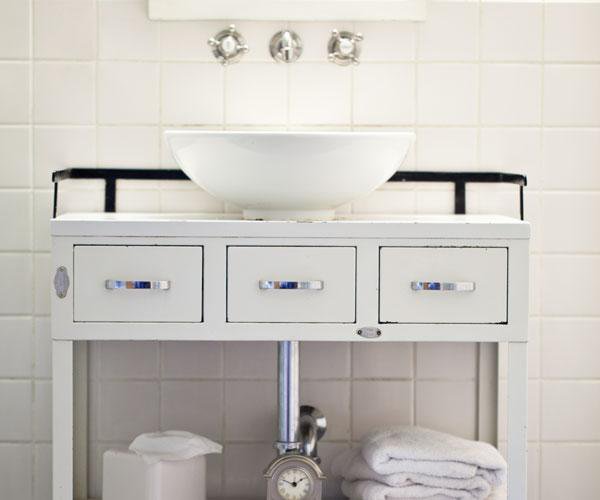 Living in what was once an old barn that they renovated into a beautiful home, Kelly and Ashlea Cardin are experts in creative home décor. The Cardins' home is filled with several pieces Kelly made by repurposing old furniture and trinkets. Now he shares his step-by-step directions for transforming old furniture into a bathroom vanity, just as he did in his home.
Steps before the labor:
1. Choose your theme. Because Ashlea is an occupational therapist, the couple decided to incorporate a medical theme in the bathroom, so they decorated with vintage medical supplies. To make their vanity, the couple brought in an old medical cabinet that had been used at a Missouri mental institution. 
2. Take your measurements and have patience. Measure your space so you know what size vanity it could accommodate. Kelly says he kept the measurements on him at all times in case he ran into something he thought might work. 
3. Think about the big picture. To go along with your vanity, you need a sink basin and faucet. Whether your faucet is mounted on the wall or mounted on the vanity itself, choose the faucet that fits best with your theme and vision. Then pick a basin or bowl that will act as your sink on top of your vanity. 
To make your vanity: 
1. Strip, sand, paint, etc. Do whatever you need to do to your piece to make it ready to act as the perfect vanity.
2. Measure the basin or bowl drain, and cut a hole in the top of your vanity. 
3. Reroute your plumbing to the drain of the basin to make it sink-ready. 
4. Route your plumbing to your faucet, whether it be on your wall or on your vanity. If it is on your vanity, additional holes in the piece will need to be made. 
5. Place your mirror, extra cabinetry, towel rack, lighting and accessories around your vanity to finish the project.