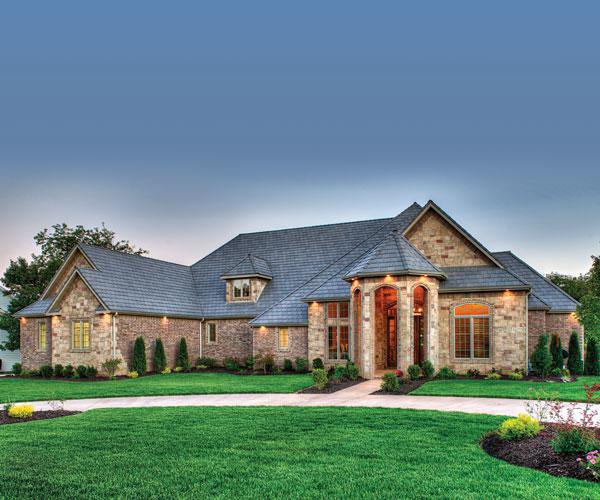 Exterior: 
When planning their new home, William and Susie Brown knew they wanted plenty of windows to let in as much natural light as possible. To add an extra design element to the addition of the windows, builder Sam Clifton of Millstone Homes framed the windows in brick. "It adds some contrast and design to the exterior stone," William says.
When William Brown and his wife, Susie, decided to build a house in the Springfield area, they had years of experience in their favor. Over the years, thanks in part to William's travel-heavy work schedule, the Browns have built several houses. Their trick: They bought spec homes already under construction.
The two have had three homes in St. Louis; one in Chicago; one in Florence, South Carolina; one in Columbus, Ohio; three on the Lake of the Ozarks; three in Houston; one in Kansas City; and now this one in Springfield. When it came time to build this Springfield home, they knew exactly what they wanted and, more importantly, what they didn't want.  
When they teamed up with Sam Clifton, owner of Millstone Homes, they told him exactly what they were looking for in their new home. "We wanted an open floor plan and lots of glass," William says. "We had seen a house in 417-land that Sam had built, so we used that house as the base for this one."
So by adding in bits of their Houston homes and a dash of their St. Louis home to the mix, the Browns were able to work with Clifton to design and build a home that had all the comfort and openness they were after. "Everything went really smoothly," William says. "One thing Sam did was he married construction experience with formal project planning, so we knew up front what we were going to get."
Entryway: To give the Brown family the modern and traditional mix they were looking for, Sam Clifton's wife, Michelle, helped with the design and added Terrazzo flooring in the home's entryway. A faux-painted ceiling adds contrast and warmth to the space.
Living Room: When designing their new home, the Browns knew they wanted to make the main floor as open as possible, so they worked with Clifton to design a floor plan that flowed between each space. The result is a kitchen, living room and great room that act as one cohesive space.
Dining Room: One idea the Browns brought with them from their Texas home was the idea for a popup ceiling. They used this treatment throughout the home to give a sense of extra height and style to each room.
Kitchen: The expansive kitchen is one of Susie's favorite rooms. The granite-topped island serves as a gathering place when family and friends are over and doubles as the couple's dinner table. The red cabinet that houses a collection of china was one of the design elements William and Susie fell in love with in one of Clifton's 417-land homes. A breakfast nook sits just off the kitchen and provides additional seating. 
Master Bedroom: The master bedroom has what the Browns call a Tommy Bahama vibe. All the windows have pull-down blinds that don't detract from the light and openness of the room when they're up, and they can also be used to provide plenty of privacy.
Study: One design feature the Browns wanted to bring to their new home was molding. Very prevalent in the study, this small but powerful detail adds an extra pop of style and drama. The rustic wooden beams along the study's ceiling help add the finishing touch to the otherwise simple space.