Farm to Table Fare
Farmers Market of the Ozarks welcomed the summer season with a farm-to-table dinner at Millsap Farms.
By Ettie Berneking | Photographed by Jamie Kalil
Sep 2014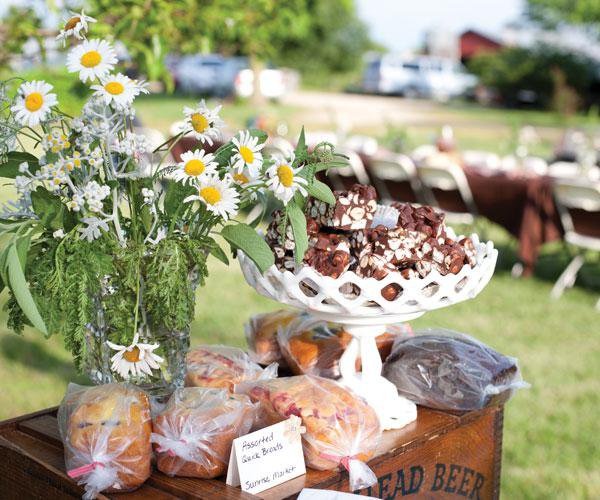 When it comes to hosting a dinner party for more than 100 people, few do it better than the  pros at Farmers Market of the Ozarks (FMO). Live music, terrific food and a night under the stars is the perfect recipe for a great dinner party, and it can all be found at Farmers Market of the Ozarks' Farm to Table Dinner.
This year, FMO hosted its kick-off dinner party on June 21 at Millsap Farms. The foodie event aims at uniting market shoppers with the vendors they buy from. "Our farm-to-table dinner is meant to bring families, friends and the community together to celebrate local foods in the Ozarks region," says Lane McConnell, general manager of FMO. "This allows us to highlight the talents in our region from farmers and chefs to breweries and wineries." 
The first year, FMO welcomed 88 dinner guests, but this year the guest list jumped to 127. As guests mingled in the open field that had been transformed into an informal dining room complete with long tables set with fresh flowers, chickens and fowl clucked in the background, and live folk music buzzed overhead. 
In the background, tucked into a small grove of trees, vendors dished out plates of pizza, soup and salad and tall glasses of cold beer and wine. The brick pizza oven that calls Millsap Farms home was burning hot all night as fresh pies were shoveled in at a regular pace. After seconds and even thirds, guests found their way to the dessert stations where hand pies, gelato, cakes and cookies beckoned.
With a night full of good food and good times, it wasn't just the attendees who left happy. Proceeds from the dinner were given back to FMO to help cover the cost of market upkeep and educational programs.
Now that another year has passed, it's time to start prepping for more food-filled events and load up on even more sugary-sweet homemade treats. 
FMO is hosting its fall Farm to Table dinner on October 10, and the next summer dinner is June 20, 2015. Learn more info at loveyourfarmer.com.
Eat, Drink and Be Merry: 
After spending a sunny afternoon touring three 417-land farms, guests of FMO's Farm to Table Dinner arrived at Millsap Farms for a delicious three-course dinner complete with salad, soup, endless pizza and an impressive dessert spread. Everything from the food to the plates and utensils was donated by FMO vendors. In between courses, guests could wander around the farm and greenhouses.  
A field at Millsap Farms was transformed into a dining room complete with cloth-covered tables set with fresh wildflowers.  
Culinary students from Ozarks Technical Community College served bowls of savory soup during the meal as guests mingled and filled up on local eats. 
Folding tables and picnic tables were hauled to the main dining area to create a woodsy and laid-back atmosphere. Wildflowers and Mason jars served as centerpieces. 
Two dessert tables were covered with an assortment of sweets including Benissimo! Gelato, hand pies from A Little Smitten Pies,  a variety of cookies, quick breads, cupcakes and much more. The impressive sweets setup made guests eagerly await dessert.