Homegrown Food Springfield MO
Homegrown Food's abundance of locally grown and produced food, one-of-a-kind gift items and unmatchable charm make it a must-visit shopping destination on Pickwick Avenue.
By Savannah Waszczuk | Photos by Brandon Alms
Sep 2014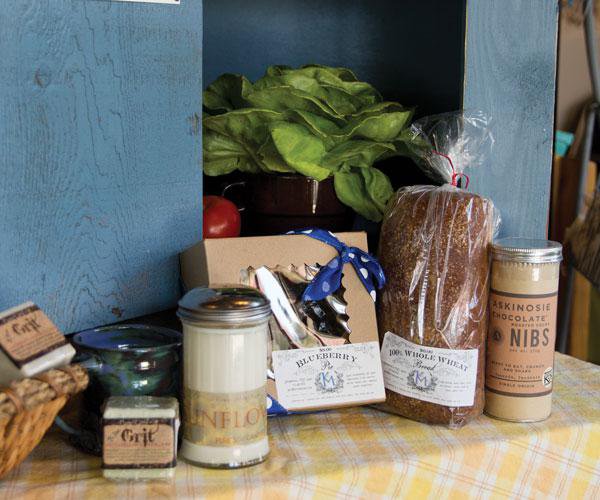 1. Flower Child Grit exfoliating soap, $5.70, 2. J. Rae pottery mug, $15 3. Flower Child pure soy candle in sunflower, $13.50 4. KatieMade blueberry pie, $8 5. KatieMade whole wheat bread, $6 6. Askinosie Chocolate roasted cocoa nibs, $10.50
The Shop
Homegrown Food
607 S. Pickwick Ave., Springfield,
417-868-7004; Open Monday—Saturday
10 a.m.—7 p.m. and Sunday 11 a.m.—6 p.m.
THE SETTING
Homegrown Food isn't anything like a big chain grocery store. The little shop is tucked away on Pickwick Avenue among other popular restaurants and stores. Inside, you'll find a small bakery area loaded with locally made breads, cookies and treats. Continue walking around the store, and you'll find everything from locally produced beers and wines to fresh vegetables and fruits. The key word here is local. Many of these products are grown, harvested or produced right here in southwest Missouri.
As you shop for your goodies, you might come across several surprises, such as an acorn squash wearing a plastic disguise set complete with black shades and a nose or a potato wearing a set of googly-eye stickers. "We try to let this type of work be a reflection of our character," says store owner Brad Nelson. These fun touches are sprinkled throughout the store to make it a fun, friendly place to shop. "I just try to treat people the way I think I would like to be treated," Nelson says. "Sometimes, Homegrown Food is more about what we're not than what we are."
THE OWNER
Homegrown Food first opened several years ago. "The former owners were ready to move on and do other things in the community," Nelson says. "I found myself in a position to pick up where they left off." Nelson now balances his time between the store and his career with the fire department. And he's expanded the inventory. The store used to be stocked with strictly local food, and inventory was a bit limited, but since Nelson took over, he's added nearly 6,000 new items. "We still order and sell as much local food as we can, but we try to fill items we can't get locally with other natural foods from companies with similar products and similar operating beliefs," he says.  
THE STUFF FOR SALE
Homegrown Food sells a plethora of food. You'll find freshly baked breads, locally grown fruits and veggies and locally produced meats and cheeses. You'll also find locally made pasta sauce, date syrup, blended spices, beers and wines and pasta. 
While you're here, you'll also come across gift-like items including hand-made pottery, seeds from Baker Creek Heirloom Seeds and a line of locally made soaps. Nelson works to fill the store with a variety of items to interest all his shoppers. "Small businesses help anchor cities and neighborhoods," Nelson says. "I wanted to keep this small business in business to help anchor this community here." 
THE SUMMARY
Fresh food is the best food, and because Homegrown Food sells items made and produced locally, nearly everything here is guaranteed to be at its peak of freshness. Plus, there are fun perks like finding faces on potatoes, and if you walk or bike there, you get five percent off your purchase!