Junior League of Springfield's Tour of Kitchens
The Junior League of Springfield's first Tour of Kitchens offers guests a glimpse of gorgeous 417-land kitchens, plus interactive cooking demos, live music, hors d'oeuvres and much more.
By Alissa Robertson | Photos by Brandon Alms
Sep 2014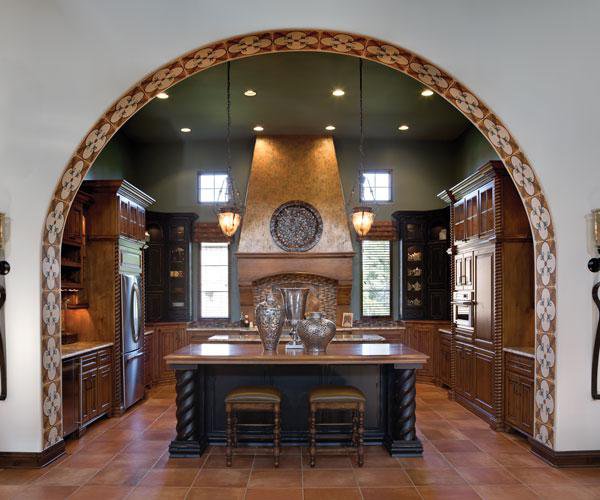 As a quiet spot for coffee, a gathering place for family dinners and the ultimate hub any time you play host, the kitchen truly is the heart of the house. To help highlight this most-used room and offer up ideas for entertaining within your own space, the Junior League of Springfield is hosting its very first Tour of Kitchens fundraiser. For the tour, six beautiful kitchens located in homes throughout Springfield and Ozark are on display, and they all have something fabulous to offer guests. The spaces are all in homes owned by sustaining members of the Junior League of Springfield, and they are being brought to life with cooking demonstrations, live music, custom cocktails, hors d'oeuvres and much more. That means that in addition to getting a glimpse of gorgeous granite, custom cabinetry, top-of-the-line appliances and tons of other bells and whistles that make these kitchens dazzle, guests will learn about healthful eating, cooking with local ingredients, English tea time and more. They'll also get to watch some of 417-land's best chefs (including Chef Tony Garcia of Avanzare Italian Dining, Johnson Tan of Ocean Zen and Nicola Gilardi of Nicola's) in action. And it's all for a cause—proceeds benefit the Junior League of Springfield's projects and its signature project, Isabel's House, the Crisis Nursery of the Ozarks. Get a sneak peek at the spaces, then join in on the fun with the tour October 4.
The Schwab Kitchen
Ken and Teresa Schwab love to grill and eat out on their patio, but all the magic happens in the kitchen first. Their Spanish colonial-style kitchen is a rare find in 417-land with terracotta-like tile floors, 14-foot ceilings and a hand-painted archway designed to look like colorful Mexican tiles. The double islands are another unique factor in this kitchen—one for utility and the other for entertainment. The Schwabs custom built their home and chose knotty alder cabinets to give their kitchen space a more rustic tone to go along with the Spanish colonial theme. There are many more beautiful features here, too, including a fabulous walk-in pantry.
The Gaska Kitchen
When you walk into Dr. Walter and Martha Gaskas' Normandy-style kitchen, you take a step back in time to a different place. The kitchen and dining areas are inside a windowed turret with five sides offering views in three directions. The kitchen opens up into a large hearth room with vaulted ceilings and a museum replica fireplace from a French chateau. The custom-made cabinets boast an English small bone design made of pine with a distressed finish. There is also a built-in Chinese wok (the Gaskas love Asian food), and Chef Johnson Tan of Ocean Zen will be using it for a cooking demonstration during the tour. From the large open feel to the utensils hanging from the custom-made pot rack, everything in this kitchen is user-friendly and easy-to-reach. As a bonus, a kitchen garden and herb beds are located right outside, and they help give each season a fresh taste. 
The Raidel Kitchen
If there was one word to describe John and Beth Raidel's kitchen, it would be eclectic. Along with very strong Mediterranean elements, you can see bamboo shoots carved into the woodwork and circular tiles placed throughout the space. These designs are for more than just beauty—the bamboo symbolizes good luck, and the circles represent love and the circle of life. As you look around the kitchen, your eyes just keep moving. You will find cherry-stained cabinets, a pot filler above the stove and even a hidden step near the sink, which the couple's granddaughter uses to help wash the dishes. While you're here, make sure to take a peek inside the spice drawer where the Raidels keep fun seasonings, including the secret ingredient in Beth's chili.
The Ross Kitchen
Kenny and Mary Kay Ross have a dreamy-worthy kitchen that is sure to impress. There are no upper cabinets on the wall facing the backyard—only windows. These windows look out on the pool, a field and beyond. Inside the kitchen, a dark chocolate brown wallpaper with a muted gold, red, blue and green floral print sets the tone, and Brazilian walnut floors bring a cozy warmth. The bottom cabinets are a honey color with a tan glaze that complements the vesper granite countertops. With a wine cooler in the island, an ice machine in the pantry and a gas range stove with warming drawer, the Ross family is fully prepared to make a traditional home-cooked meal.
The Lockhart Kitchen
At Alan and Camille Lockhart's house, everything seems to happen in the kitchen. With two sons and a daughter, the Lockharts have a lot of fun—especially making pancakes on Saturday mornings. The fun for this family is accented with large open windows and a beautiful Old World traditional theme. Light stone floors with oriental carpets and dark knotty cherry cabinets keep the kitchen warm and inviting. Camille's favorite features are the island and stacked stone backsplash, and Alan's is the ice maker. With Ralph Lauren fabric and Camille's great grandmother's century-old buffet, this kitchen is beautifully furnished. When you're here, try to find the picture of Grandpa holding a jar of peanut butter—it's a fun memory for the family!
The McAllister Kitchen
Colin and Linda McAllister love inviting a bunch of friends and family to gather in their kitchen and great room, and now that their home is a part of the Junior League of Springfield's kitchen tour, you can join in on the fun. With antique-white cabinets and top-of-the-line Viking appliances, this kitchen is dressed to impress. It's perfect for the McAllisters, who love to cook together and describe their kitchen as a nice practical cook's kitchen. There are four ovens on one side and a stove on the other, ensuring the bakers can stay out of the other cooks' way. Come see why socializing in the kitchen is the thing to do at the McAllister home. 
Wanna Go?
What: Junior League of Springfield Tour of Kitchens
When: 10 a.m.–3 p.m. on Saturday, October 4
Where: Various homes in Springfield and Ozark
Price:Tickets are $30 in advance (available at jlspringfield.org or a variety of retail locations; find a list of outlets online), or $35 the day of the tour. The ticket price includes a free copy of the Women Who Can Dish It Out cookbook.
More info: Find a full schedule of events, tour maps and more online at jlspringfield.com