Kitchen Investments Worth Making
They say kitchens sell houses, right? Tyler Rhoads of Rhoads Real Estate and Jeremiah Lee with Rock Solid Renovations suggest five kitchen upgrades that will increase a home's resale value or help it sell.
By Jennifer Adamson
Sep 2014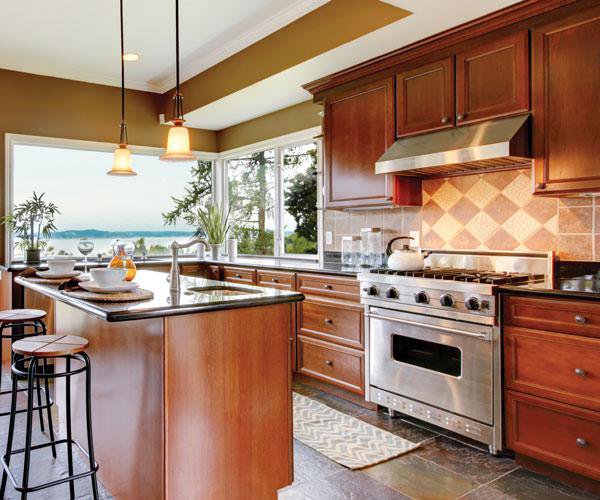 1. Custom Cabinetry 
"Cabinetry is usually one of the biggest expenses in a kitchen remodel, but it's not a place to skimp," says Lee. There are several levels of renovation. You can replace all your cabinets, change out only the fronts or just install new hardware, suggests Rhoads. Soft-close door hinges that prevent slamming are a popular option.
2. Flooring
Natural stone, wood and tile are all viable options for kitchen flooring. The key is to stick with simple patterns in neutral colors, says Rhoads. He also cautions that while wood-like laminate is attractive, buyers will be able to tell the difference if traditional hardwood runs throughout the rest of your home.
3. Quartz Countertops
More durable than granite, quartz is nonporous, so it resists stains and scratches, and it never needs to be sealed. "It's a true no-maintenance product," says Lee. Another plus is that quartz is denser than granite, allowing for larger overhangs on islands and breakfast bars.
4. Appliances
If you've made improvements to your kitchen without considering your appliances, you may have outdated them by default. When replacing them, make sure they match each other and the quality of the other upgrades. "If they don't, it might distract buyers from focusing on a part of the house that would push them over the top to buy it," says Rhoads.
5. Task Lighting
If your kitchen doesn't get a lot of natural light, this investment is a great way to illuminate your prep spaces. Task lighting is most commonly installed under cabinets but can also be placed above sinks and islands. "This is a great wow feature that can make all the difference when working in the kitchen," says Lee.