Roast the Perfect Thanksgiving Turkey
Let the bird take center stage this Thanksgiving with fail-proof instructions from Big Cedar Lodge's executive chef Mike Halbert. Thanks to this tasty recipe and his step-by-step directions, you no longer have to stress about getting a drool-worthy turkey
By Jessica Covert | Photos by Brandon Alms
Sep 2014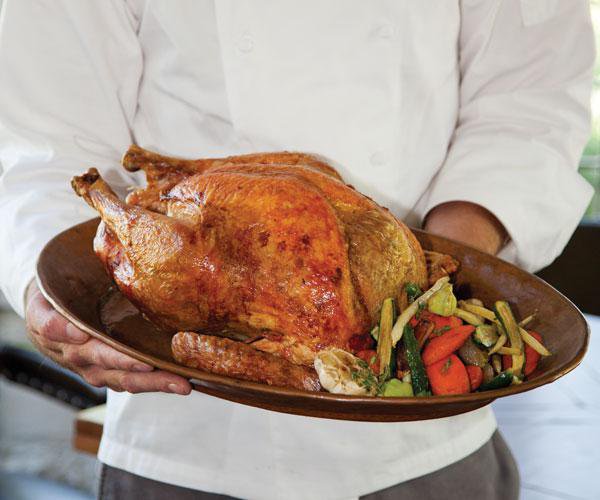 Ingredients:
For the brine: 
3 gallons water
2½ cups kosher salt
1 cup brown sugar
1 bunch thyme
1 bunch sage
1 bunch parsley
5 bay leaves
1 onion, roasted
1 carrot, roasted
2 celery stalks, roasted
1 bulb of garlic, halved
For the turkey: 
1 10–12 pound turkey
1 onion, chopped
2 carrots, coarsely chopped
2 celery stalks, chopped
1 tablespoon sage, chopped
1 tablespoon thyme, chopped
1 pound herb butter (ingredients below)
2 cups water, divided
2 tablespoons flour
2 quarts turkey stock
For the herb butter: 
1 pound unsalted 
butter, softened
1 tablespoon thyme, chopped
1 tablespoon sage, chopped
1 tablespoon salt
1 teaspoon pepper
1 tablespoon maple syrup
Other supplies:
Food probe thermometer
Strainer
Large roasting pan (Halbert suggests a heavy-duty pan that won't collapse under the weight of your bird.)
Directions
1. Halbert says one quality of a perfectly roasted turkey is moist breast meat. Lock in moisture by soaking your turkey in brine. To prepare your brine, boil 3 gallons of water and stir in additional brine ingredients. 
2. Once the brine is cool, pour it in a large container, and add the bird. Soak the turkey for 24 hours, then pat it dry with paper towels. Put chopped onion, carrots, celery stalks, sage and thyme in a roasting pan with the sage and thyme. Put the turkey on top of the vegetables, then put the pan in the refrigerator overnight. This allows its skin to air dry, which helps it get crispy and golden.
3. Preheat your oven to 350ºF, and prepare the herb butter by combining all ingredients in a bowl. Work the butter under the skin of the turkey breast to keep the meat moist. Add 1 cup of water to the pan, and bake for 2 hours.
4. After 2 hours, remove the bird, baste it with drippings from the pan, add another cup of water and cook for an additional 30 minutes. 
5. Check the temperature of the bird by putting a thermometer in the thigh joint. Cook to 160ºF. If your turkey isn't at 160ºF, baste it with drippings, and return it to the oven. Check the temperature every 15 minutes until done. 
6. Let the turkey rest in the pan for 15 minutes before putting it on a carving board to rest for 30 more minutes.
7. While the turkey cools, make gravy by placing the pan on the stove on medium high heat. Spoon off and discard half the fat, then stir in flour. Scrape away the caramelized pieces stuck to the bottom, Halbert says, because they add flavors to the gravy. 
8. Once the flour has browned slightly, add 1/3 of the turkey stock and scrape the pan again. Once the stock is incorporated, add remaining stock, lower the heat, simmer for 15 to 20 minutes, then strain and serve. 
TURKEY 
TIME SAVERS
If you're not up for the challenge of roasting your own perfect turkey and you won't be staying at Big Cedar Lodge to enjoy their meal services, leave it to the experts. The following restaurants offer prepared roasted and smoked turkeys:
Get it Roasted: 
@1201 
1201 E. 32nd St., Joplin, 417-626-0032, club609.com
Hy-Vee
1720 W. Battlefield, Springfield, 417-881-1950, hy-vee.com
Price Cutter Plus
Multiple 417-land locations, pricecutteronline.com
Get It Smoked:
Buckingham Smokehouse & Bar
Multiple 417-land locations, 417-831-7427, buckinghambbq.com
Danna's Bar-B-Que
963 Missouri 165, Branson, 417-337-5527; 15 Hope Way, Branson West, 417-272-1945; Dannasbbq.com 
Pappy's Place 
943 N. Main Ave., Springfield, 417-866-8744 
Crosstown Barbecue 
1331 E. Division St., Springfield, 417-862-4656