Southern Food Recipes
In the South, cornbread is a dinnertime staple, grits are creamy and dreamy and fried chicken comes tastier than your wildest dreams. With a goal of filling bellies and warming hearts, we asked some of 417-land's best chefs to create these tried-and-true
By Savannah Waszczuk Photographed by Kevin O'riley & Brandon Alms | Styled by Abby Gust
Sep 2014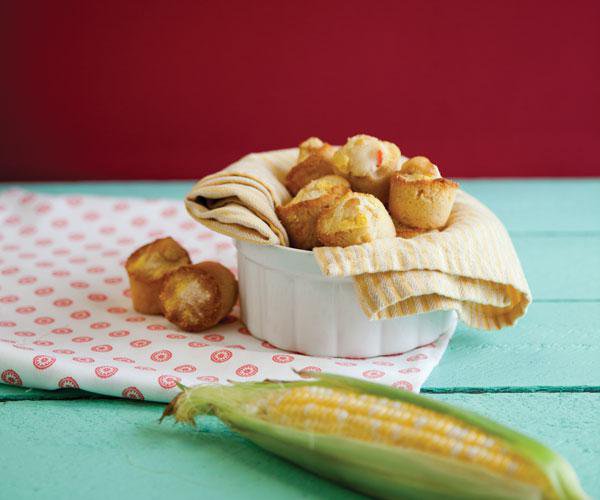 Cornbread Muffins
Flame Steakhouse and Wine Bar jazzed up the traditional Southern cornbread recipe while making these mini muffins, which are just a teensy bit sweet and catch a little heat from Tabasco sauce and jalapeños. 
Ingredients:
2 cups flour
1 egg
1 cup water
¼ cup canola oil 
¼ cup brown sugar
1 teaspoon Tabasco sauce
1 cup corn
¼ cup cornmeal
½ red pepper, diced
1 jalapeño pepper, diced
1 tablespoon honey
To prepare:  
Combine all ingredients. Pour into a prepared miniature muffin tin, and  bake at 350°F for 10 to 15 minutes.
Millwood Fried Chicken
Each piece of this crispy fried chicken is dredged in a savory breading of flour, paprika, black pepper and celery salt before it's cooked. 
Ingredients:
1/3 cup iodized salt
3½ teaspoons granulated sugar
3 cups all-purpose flour
1/8 cupa table-ground black pepper
1½ teaspoons cornstarch
1½ teaspoons celery salt
1 tablespoon smoked paprika
1½ teaspoons onion powder
1 teaspoon garlic powder
1 teaspoon ground turmeric
1/8 teaspoon cayenne pepper
8 to 10 pieces of mixed chicken
Vegetable oil for frying
To prepare:
Grind salt and sugar into a fine powder using a spice grinder or a food processor. Mix in the remaining ingredients minus the chicken and vegetable oil. Pack the seasoned flour mixture onto the chicken, using force while applying to the skin and raw surface to ensure a nice crisp breading. Heat vegetable oil to 350°F in a deep fryer or large pan. Carefully place chicken in oil. Fry breasts and thighs for approximately 16 to 17 minutes and wings and legs for approximately 9 to 11 minutes (all chicken must be cooked until it reaches an internal temperature of 165°F). Rest chicken pieces on a rack or paper towel quickly, then serve. 
Chef John's Shrimp 
and Cheesy Grits
A splash of lemon juice and a few slices of bacon add an extra pop of flavor to these savory grits, and jalapeño pepper and Cajun seasoning add some heat. Recipe by Aviary Cafe and Creperie
Ingredients:
4¼ cups water, divided
2 tablespoons butter 
1 teaspoon salt, plus more to taste
1 cup white grits 
½ cup cheddar jack cheese, shredded 
4 slices bacon, cut into 1/4-inch pieces 
2 tablespoons heavy whipping cream 
1 dash Worcestershire sauce 
2 teaspoons lemon juice 
1 pound 31–40 count shrimp, peeled and deveined
½ teaspoon Cajun seasoning 
¼ teaspoon ground black pepper 
1 pinch cayenne pepper 
1 tablespoon jalapeño pepper, minced 
3 cloves garlic, minced 
2 tablespoons shallot, minced 
1 tablespoon fresh parsley, chopped
To prepare:
Bring 4 cups of water, butter and salt to a boil. Whisk in the grits, and cook on low for about 20 minutes. Whisk in the cheddar jack cheese, and set aside. Place bacon in a skillet, and render on low-medium heat for 7 to 10 minutes or until bacon is crispy. Remove the bacon, and save the rendered fat in the skillet. Mix ¼ cup water, heavy cream, Worcestershire sauce and lemon juice, and set aside.
Toss the shrimp in the Cajun spice, salt, pepper and cayenne. 
Saute the seasoned shrimp in the rendered bacon fat for about 3 minutes. Add jalapeño, garlic and shallot, and sweat for 2 minutes. Add remaining wet ingredients, and reduce by half. Place cheesy grits in a bowl, and top with shrimp and sauce. Garnish with chopped parsley, and serve.