Wooden Wonders
Handcrafted wooden rolling pins and noodle cutters from Silver Dollar City top our list of desirable kitchen tools.
By Jessica Covert | Photos courtesy Silver Dollar City
Sep 2014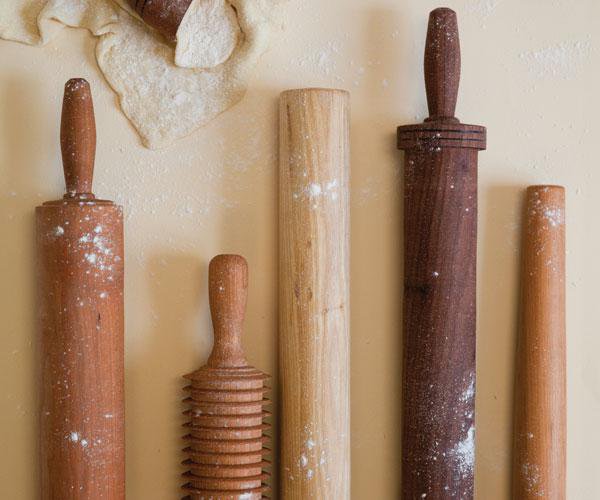 Cooks crave quality kitchen gadgets and tools, and there are places in 417-land to find beautiful, handcrafted ones. Silver Dollar City is one of those places. There you can find John Williams working at the lathe to create quality, one-of-a-kind wooden kitchen tools.
These gadgets start out as rough blocks of wood. Williams uses a variety of types of wood, including Osage orange, walnut, maple, ash and cherry. He then puts a piece of black walnut in the lathe, steps on the power pedal and uses a roofing gouge to carve away the corners and edges. 
After carefully measuring and marking the center, it only takes Williams about 10 minutes to whittle wood away and create a French rolling pin that tapers toward each end.
Before stepping behind a lathe, Williams made engineering and foundry patterns in Yorkshire, England. At 15, he started working as an apprentice and picked up skills that became applicable when he started working with a lathe. Williams eventually moved to the United States and made patterns and parts for automotive and other industries. 
Williams is joined by a talented team of craftsmen at Silver Dollar City, and all of them specialize in creating a variety of handmade works of art. As for the kitchen gadgets, each piece takes 10 to 40 minutes to make, and you can even have custom pieces made while you trek through the park. Make sure to check out the one-of-a-kind tools and handcrafted cookware on your next trip to Silver Dollar City.
Kitchen Craftsman: 
John Williams, a lathe craftsman at 
Silver Dollar City, crafts rolling pins and other tools used in the kitchen.