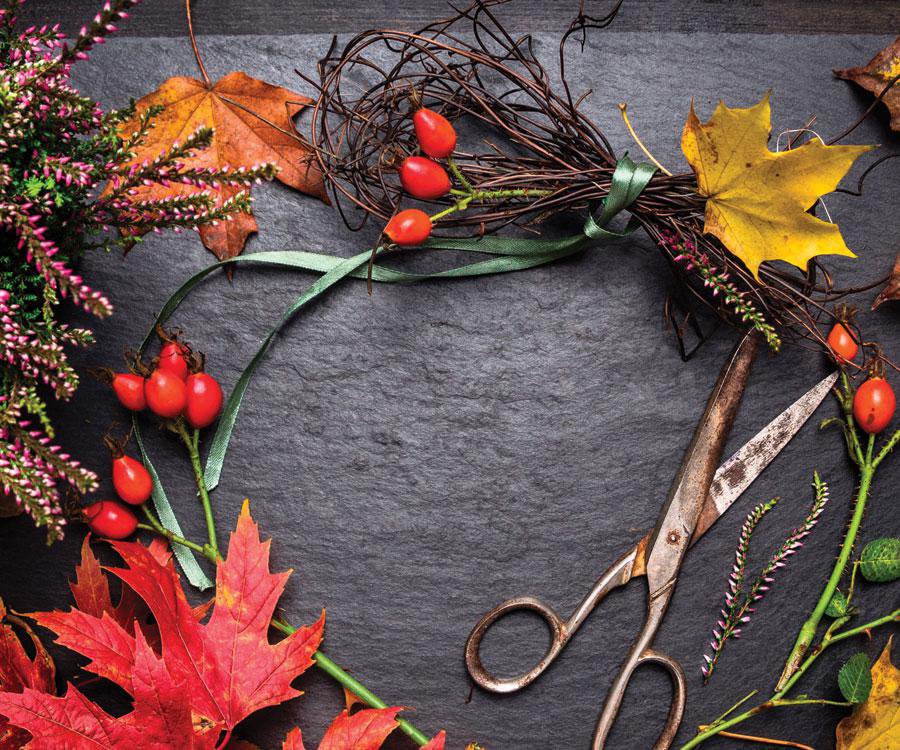 Bay bales. Corn stalks. Pumpkins. Maybe a witch flying into a tree. That's fall decorating for a lot of us. Turns out, there are simple and more tasteful ways to add fall curb appeal besides setting up a scarecrow. Who knew?
1. Make Flowers Festive
Instead of a pot of mums, Erica Lea Hendrix of Erica Lea Design Studios encourages people to create their own flower arrangements using existing flowerpots or buckets. Use a wire base (try an upside-down tomato cage) for height, and wrap different types of foliage around it. Attach corn, gourds and flowers.
2. Add Seasonal Color
Add a pop of color to existing patio furniture with fall cushions or seasonal throw pillows. If you really want a change, paint your front door a spunky color and include that color in your outdoor planters.
3. Stick With Neutrals
Gina McMurtrey, owner of Gina McMurtrey Interiors, advises against Halloween-specific decorations. "I keep it general so it lasts longer." Use owls, pinecones, various sizes of gourds and vibrant berries. 
4 Get Vertical
Wreaths can be expensive. Instead of a traditional wreath, try a vertical arrangement. Experiment with unique items like antlers, feathers, spray-gilded nuts and a burlap bow.
5. Dress Your Mailbox
Pay some attention to your mailbox. Wind a long swag around the post. Add an oversized seasonal bow at the top (almost like a bustle) and accent with berries, feathers, pinecones or flowers. Get creative!
6. Think Natural
A trip into the woods might be just what's needed, according to Kim Wood, owner of Kim Wood Designs. "Walk through your yard and clip off stuff that looks interesting… hollyhocks and evergreens, pieces of wood, berries, colorful leaves." Fill window boxes with your findings or use a galvanized bucket or apple basket.
7. Replace Your Mulch
Fresh mulch is an instant makeover. "It's a dark and rich color, and it covers up the old, faded mulch," Wood says. Also plant fall blooms, like mums or pansies.