A Tree-Top Getaway
Janet and Mike Rand's versatile screened-in porch allows them to enjoy nature from the comfort of their home.
By Vivian Wheeler | Photo by Brandon Alms
Sep 2015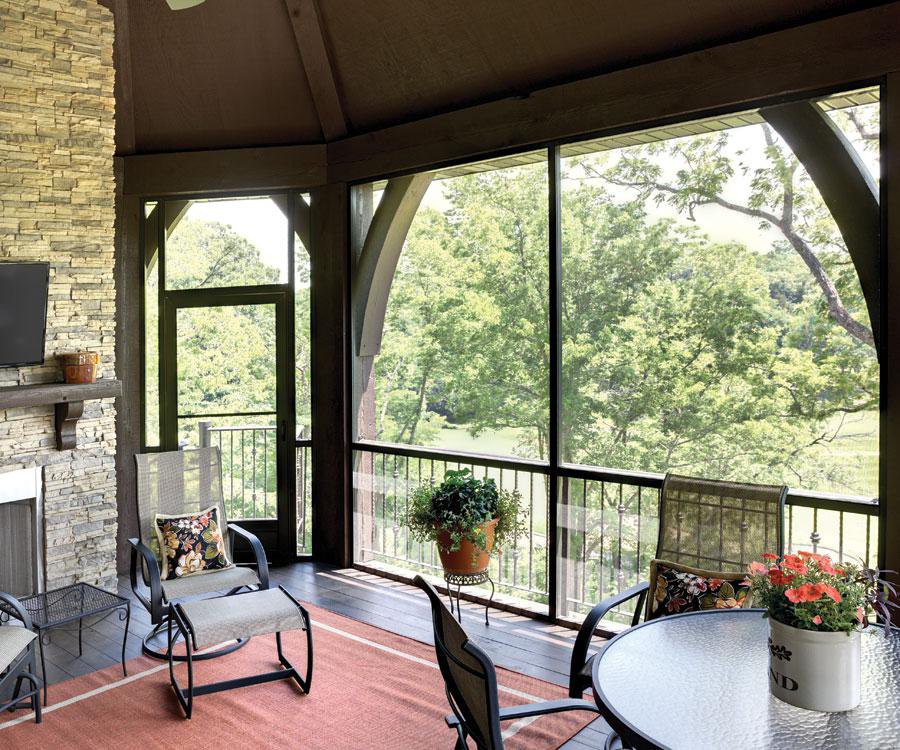 Janet and Mike Rand's screened-in porch sits up among the trees on the second story of their Millwood home, where they've brought inside-living outdoors. They take full advantage of the space with a gas fireplace that keeps them warm as the months turn chilly and a ceiling fan that helps relieve the heat of summer. The Rands designed their home to get the most out of the view, and the best seat in the house is on the porch. It looks east over the Millwood golf course and pond, and they've enjoyed many sunrises and morning cups of coffee in their outdoor space.
Dark stained wood, large cedar beams and rustic stonework comprise the space, and furniture dots the porch and can be easily moved around to accommodate a crowd—especially helpful because the Rands are avid entertainers. "The porch draws people like a magnet," Janet says. "Everyone loves being out there. One time we had 18 people on our porch because everyone wanted to be outside." The couple even has a TV mounted to the wall, so they can watch an occasional baseball game or golf tournament. Whether it's a quiet morning or a rambunctious party, if you stop by the Rands' house, there's a good chance you'll find them on the porch.