Cooking for Game Day
By Rose Marthis | Photos by Brandon Alms | Styled By Abby Gust
Sep 2015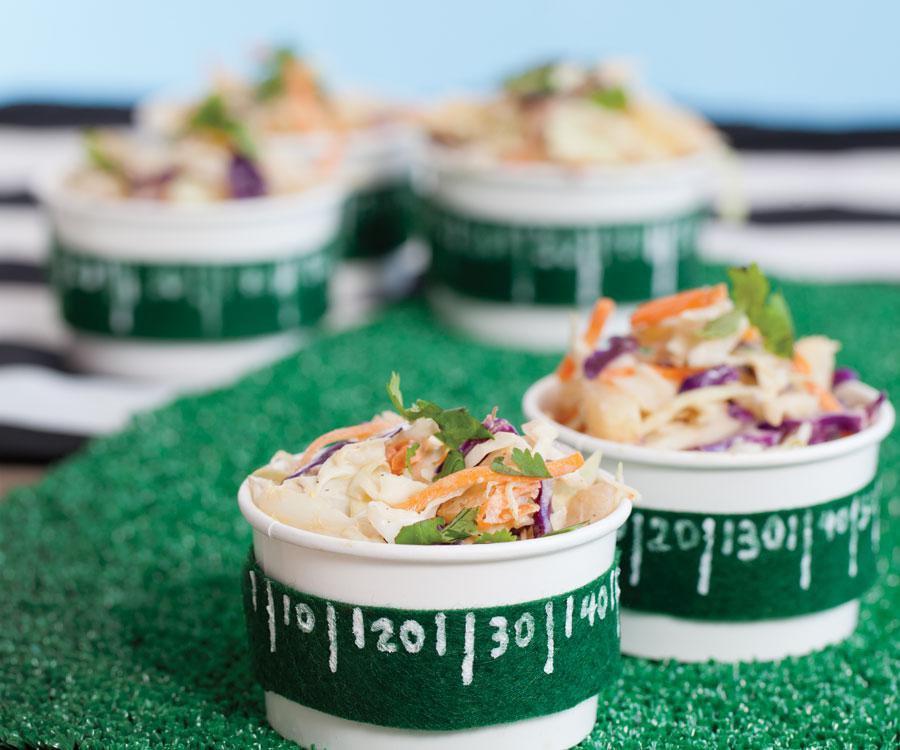 Fall is the season for football. Whether you're tailgating at the stadium or having your friends over for a watch party, an integral part of enjoying this beloved sport is the food. We worked with favorite 417-land restaurants to create a delicious spread of tailgating and watch party fare to ensure stomachs are full when the game's on the line. 
Pineapple Coleslaw
By Dugout Bar & Grill & Sports & Music
Tangy and refreshing, this pineapple coleslaw by DUGOUT Bar & Grill & Sports & Music (218 E. Trafficway St., Springfield, 417-866-2255) makes a delicious side dish to your other party fare. Learn how to make the slaw with the recipe below, or stop by Dugout Bar & Grill & Sports & Music to order it while watching the game.
Ingredients: 
1 pound slaw mix
10 ounces of crushed pineapple, with the juice
½ cup mayonnaise 
¼ cup sour cream
1 tablespoon apple cider vinegar
¾ tablespoon yellow mustard 
¼ tablespoon white sugar 
1 tablespoon sriracha
¼ tablespoon salt
1½ teaspoons black pepper 
Fresh cilantro, torn for garnish
To prepare:
Combine all of the ingredients, except cilantro, in a large mixing bowl. Once all ingredients are evenly distributed, chill for 4-6 hours. Garnish the top of the slaw with the cilantro before serving. 
Brews, too! 
Dugout Bar & Grill & Sports & Music recommends pairing your pineapple coleslaw with a brown ale, such as Piney River Brewing Company's Black Walnut Wheat. 
Bacon-Wrapped Weenies
By Harbell's Grill & Sports Bar 
Perfectly portable and bite-sized, bacon-wrapped weenies from Harbell's Grill & Sports Bar (315 Park Central West, Springfield, 417-862-0477, harbellssgf.com) are great for feeding a crowd at your tailgate party. 
Ingredients:
1 pound bacon
1 package smoked cocktail sausage links
1 pound light brown sugar
1 package of round toothpicks
To prepare:  
Heat oven to 350°F. Spray 9-by-13-inch cake pan with non-stick spray. Cut entire slab of bacon into thirds. Wrap a third of a slice of bacon around each cocktail weenie, and secure with toothpicks. Place each bacon-wrapped weenie in the cake pan, and make sure to crowd them together. (Leave an empty space in one corner of the pan for ease of basting.) Liberally cover weenies with brown sugar, leaving only the toothpicks exposed. Place weenies in hot oven. Every 10 minutes, baste weenies with sugar/bacon grease mixture, and break up any lumps of sugar. Continue until sugar is completely melted and bacon is thoroughly cooked, about 30-40 minutes. When serving, be sure to drizzle sugar/bacon grease over weenies and on the platter.
Brews, too! 
Harbell's Grill & Sports Bar recommends pairing your Bacon-Wrapped Weenies with Mother's Brewing  Company's Three Blind Mice.
Bangers and Mash
By Springfield Brewing Company
The Bangers and Mash from Springfield Brewing Company (305 S. Market Ave., Springfield, 417-832-8277, springfieldbrewingco.com) is the perfect fill-you-up dish for cool fall days. Stop by Springfield Brewing Company to pick up the house-made brats and beer, and finish the dish at home with the recipe below, or order the dish off the restaurant's fall menu. 
Ingredients:
4 house-made brats 
1 Crowler (32 ounces) of your favorite beer (Springfield Brewing Company recommends Paul's Pale Ale) 
½ cup onions, julienned 
½ cup hearty greens (Springfield Brewing Company recommends swiss chard or arugula) 
3 pounds russet potatoes 
2 cups half and half
6 cloves garlic, minced
2 tablespoons salt, then add to taste 
1 cup beef stock
1 tablespoon butter 
To prepare:
Add the brats and the beer to a crockpot, and cook till the brats reach an internal temperature of 145°F. Remove brats from beer, and sear them quickly in a pan. Add onions to caramelize. Add greens, and sauté till just tender. Boil potatoes until tender. Strain, then mash by hand with the half and half, garlic and salt. Make a sauce by deglazing the brat pan with beef stock and reduce by half. Add butter. Top mashed potatoes with a brat, onions, greens and sauce, and serve. 
Brews, too! 
Springfield Brewing Company recommends pairing your Bangers and Mash with SBC Paul's Pale Ale.