From Trash to Treasure
The Kelly brothers of Mountain Grove's Earth Outdoor Products create rustic furnishings, often from recycled pieces.
By Kaitlyn McConnell | Photos by Brandon Alms
Sep 2015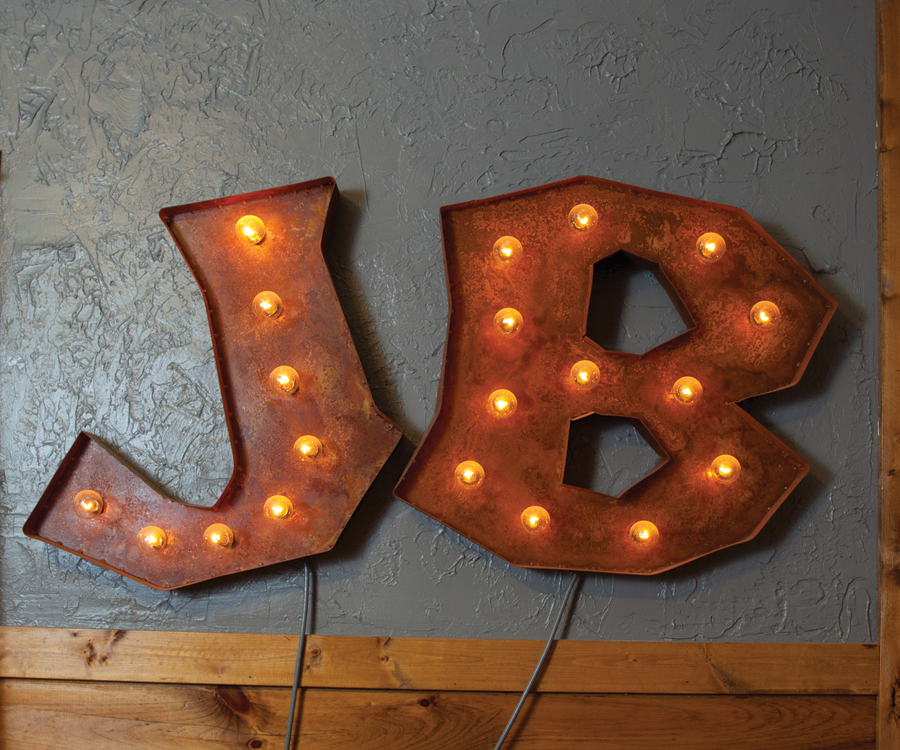 Few people's hobbies translate into a career, but Zac Kelly is an exception. President of Earth Outdoor Products (417-926-0400, earthoutdoorproducts.com), Kelly's rustic-industrial wood and steel creations are gracing an increasing number of local homes and businesses, and it all stemmed from a childhood fascination.  
"I've piddled around since I was really young, always making stuff," Kelly says. The son of an auctioneer, Kelly quickly developed a keen sense for what could be done with forgotten items. In the early days, those creations were knives and cowboys made from old horseshoes. 
Today, his projects are much larger. They're things like chandeliers made from wagon wheels and braided barbed wire, wooden doors plated in patchwork steel and even lamps made from vintage toy trucks for the kids. He also works with clients to create new items from family heirlooms. "Bring it to me and I'll turn it into something for you," says Kelly, who is open to considering any project a customer might suggest. 
When beginning a project, Kelly often visits the space where the item will reside. Next, it's important to help customers visualize what Kelly has in mind. "You have to get them to see and feel what you want to do," he says.
Then the work begins. While Kelly has final say on design, he notes that many other talented people—including a relief woodcarver–help with the production side of business. 
Of course, not all of the company's 28 employees work directly with the décor side of the operation. That's because Earth Outdoor Products, which Kelly owns along with his brothers Ben and Nathan, is much more than decorative items. The biggest part of the business actually focuses on residential outdoor wood furnaces. "That allows me the freedom to go back there and build stuff," he says. 
The "there" that he refers to is the back of the store, where many products—including a range of custom fire pits, metal signs and the décor items, among others—are produced. 


This chandelier made from an old wagon wheel is one of the trash-to-treasure home fixtures Zac Kelly, president of Earth Outdoor Products, loves to make.
Some of Kelly's design methods have involved a bit of experimentation. He recalls the time he aged steel by leaving it out in the parking lot and having employees drive over it for nearly a week. The result was steel with a wonderfully abstract look that was cut up and used to create a patchwork door. 
Although such methods might sound unorthodox, Kelly notes that one of the most important elements in success is not being afraid to fail. "If you're afraid you're going to screw it up, you can't ever do things like that," he says.