DIY
Fueling Outdoor Fun
You want a warm place to hang out this fall, but where do you begin? We asked local experts for advice on designing and purchasing the coziest room outside your house
By Matt Lemmon | Photo courtesy straitshotphotography.com
Sep 2015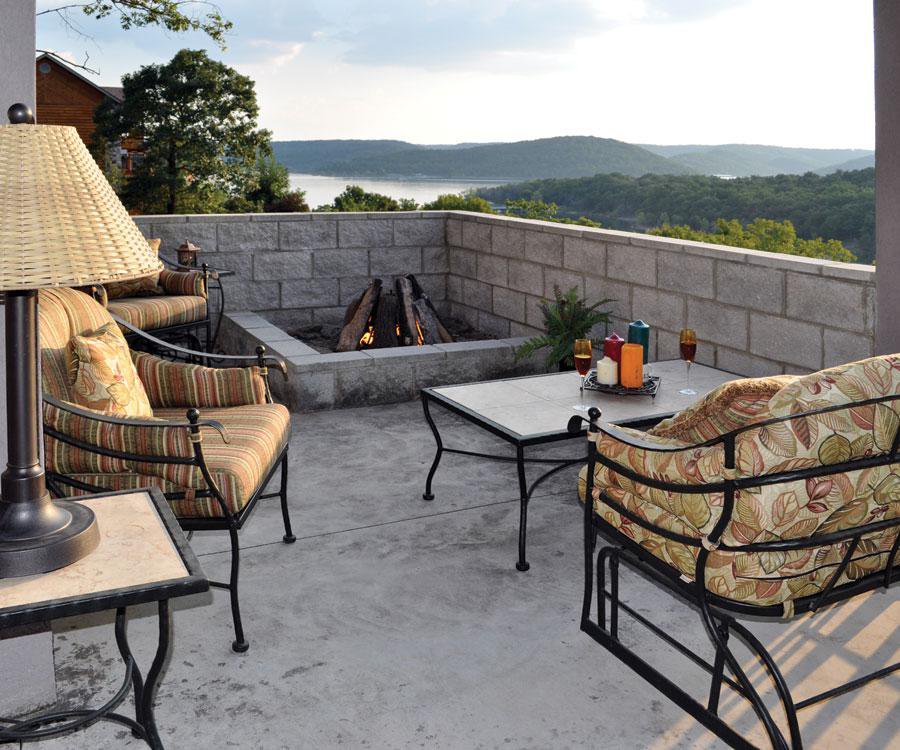 If you're thinking about installing a fire pit in your yard or home to enjoy this fall, now is the time to act. But there are a few things to think about first. We talked to 417-land experts Kevin Runyon, owner of Marshfield-based Custom Creations Landscaping & Lawn (417-840-2863, customcreationslandscapingandlawn), and Randy Renyer, owner of Outdoor Rooms by Design located in Kimberling City (417-739-1019, outdoorrooms.net), about a few of the many options homeowners have when choosing or building a fire pit.
Before you buy
The very first things to consider, Custom Creations' Kevin Runyon says, are location and safety. If installing the pit in your yard, choose a spot with plenty of room. It's important to stay away from structures and flammable landscaping materials like mulch or tall grass.
Next, think about whether you want the pit in the ground or above. In-ground pits provide a cleaner look across your property and provide slightly less access to an open flame. On the downside, Runyon says, they're harder to install and harder to light, and they're prone to seepage during periods of heavy rain, which can make starting a fire more difficult. Above-ground pits offer more design aesthetic and better accessibility. "I figure if you're going to install a fire pit, you'll want people to see it," Runyon says. 
Don't automatically assume a fire pit can't be under a roof; Outdoor Rooms by Design's Randy Renyer says gas fire pits generally can go on a patio with 8-foot ceilings. Wood or metal are fine coverings; cheap vinyl soffiting is not. You'll also want to use clean-burning propane if on a patio, or risk a sooty ceiling.
When you buy
The next question: wood or gas? Renyer says when considering wood-burning or gas, it's a matter of taste and budget. Gas provides extremely easy lighting–perfect for a 10 or 20 minute family session–without smoke, although it generally costs more and is more complicated to install. The downside: You won't have the crackling-wood sound that provides much of a fire pit's charm. (Coming this fall, Reyner says: Smokeless wood burning fire pits.)
The other decision: material. Runyon, whose company builds fire pits, says to consider the style of your home and go from there. Natural masonry can become porous and crack or pop, so it needs to be lined with firebrick and then faced with the stone of choice. Steel is easier, although metal heats with fire and can stay hot and become a hazard. (Renyer recommends a secondary ignition/shutoff valve that isn't accessible to kids, so they can't play with or bump against the knob and unwittingly start the gas.)
Accessorizing
Reyner says furniture and accessories around a fire pit are a top consideration. "We've had contractors and landscapers put really nice stone benches around one side, and chairs around the other half," he says. Runyon says landscaping and features can be as simple or as extravagant as the owner wants. Custom Creations has installed grills that rotate on and off the fire, large boulders that serve as seating, water features and chimneys that take smoke up and away. The sky's the limit when it comes to customizing the space around a fire pit.
Do It Yourself
In addition to Outdoor Rooms by Design, local stores like Outdoor Home, Maschino's, Meek's and Sutherlands sell do-it-yourself gas and wood-burning fire pits, many of them ready to light that night, others to be installed by the home owner or a landscaper. 
If you buy a ready-to-light pit, Renyer says to look for metals that will hold up when exposed to the elements. A good gauge is the weight of the material: the heavier the better. Decent options will probably cost anywhere from several hundred dollars up into the thousands.
If you purchase a metal pit that you'll want to stack masonry around, Runyon recommends Belgard brand hardscape products, which you can find at John Deere Landscapes or Fraley Masonry in Springfield. Fraley is also a good place to find stone to match your home, as is Springfield Brick. So, what are you waiting for? Purchase a pit, call up your friends and plan an unforgettable fall party.