Herbs Forever
Don't let your summertime herb bounty wither away. Use it up now, or preserve it for later with our six handy tips.
By Katie Pollock Estes | Photo by Vivian Wheeler
Sep 2015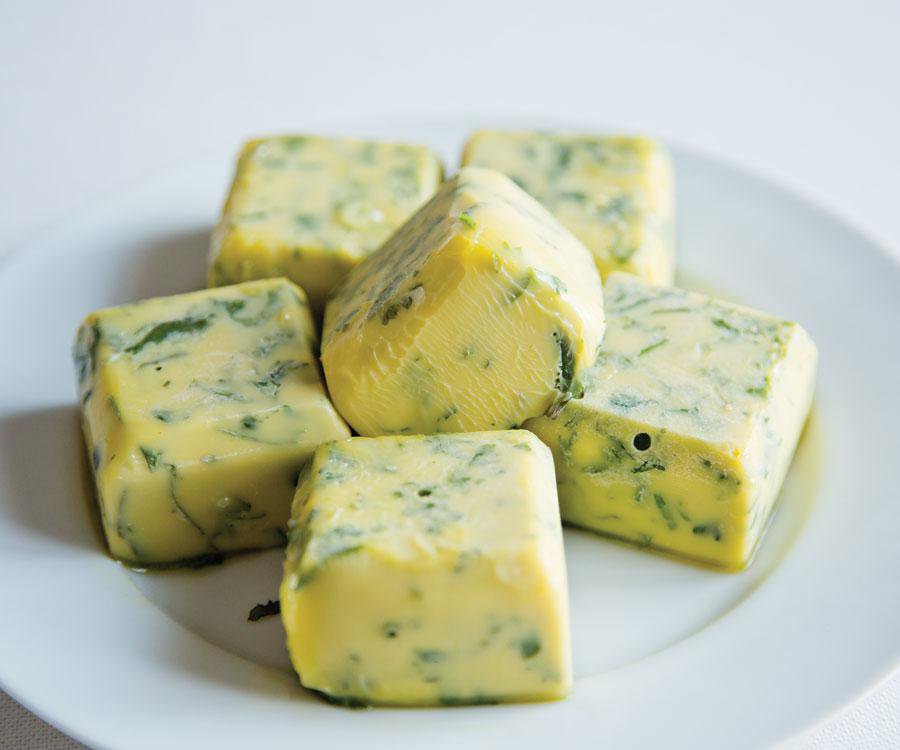 Right now, your summer herb plants are probably still full and thriving. But come winter, you'll be wishing for handfuls of basil and beautiful sprigs of dill. If you learn how to preserve these herbs, you'll be able to skip a trip to the grocery store and just reach into your freezer or pantry instead. We poked around and found a handful of ways to use up, preserve or store your herbs for a flavorful bounty you can enjoy all year long.
Dry Them in Salt
Chop your herbs and layer them in a Mason jar with some Kosher salt, then screw on the lid and store in the fridge. Now you have easy, flavorful salts to use when seasoning your food. You can do this with cilantro to make a perfect seasoning for rice on Taco Tuesday nights at home.
Make Herb Butter
This is a simple formula: Let a stick of butter rest to room temperature. Chop up any fresh herbs and other ingredients you think sound yummy. Mix it all together. Roll it into a log using parchment paper, and refrigerate to resolidify. Unroll it, and serve it in pretty round pats to your dinner guests.
Freeze Them in Olive Oil
Chop your fresh herbs, toss them into a mixing bowl, and pour some extra virgin olive oil over them until you reach your desired consistency. If you want more oil flavor, use fewer herbs. You only need enough to cover the herbs. Stir the mixture together, and scoop the concoction into a zip-top freezer bag or an ice cube tray (if you want to make little serving-size portions). Toss the cubes or chunks of frozen herbs right into the pan when you're cooking. Easy breezy. You can also use broth, melted butter or water in place of the olive oil. Just think about how you might want to use the herbs later, and plan accordingly. 
Freeze Them in Bags
This is so easy. Clean your herbs and pat them dry, then let them sit out until they've completely air dried. Stuff them into plastic zip-top freezer bags, squeeze out all the air you possibly can, seal them up, and toss them into the freezer. That's it! You don't even have to chop them up (unless you want to). When you're ready to use them, just reach in and break some off the bundle before sealing the bag right back up.
Dry Them in the Oven
Clean and dry your herbs, then spread them thinly on a baking sheet, and set them in an oven that is heated to 175°F. Crack the door, and check the herbs every 20 minutes or so until they are crispy, crumbly and totally dried. You can either store your dried herbs whole in a sealed jar, which helps retain flavor longer, or you can grind the herbs and store in a jar if you use a lot of herbs and want to have easier access while cooking. Either way, store the jars in a cool, dark place.
Make Flavored Vinegars
Fill a glass bottle with the whole herbs of your choice. Heat your favorite vinegar on the stove (but don't boil it), then add it to the bottle until the herbs are fully covered. Make sure your herbs and your jars are completely dry before you start mixing everything together, otherwise you might get mold. Let the concoction steep for a couple of days to a couple of weeks, then strain out the vinegar into a clean jar and toss the ingredients. Experiment with fun flavor combinations. Try steeping tarragon and garlic cloves in white wine vinegar. Yum!
You can do the same thing with oil instead of vinegar, but there is a risk of possible bacterial contamination, which is why it might be safer to stick to nice, astringent vinegars instead. Flavor oils at your own risk.