Spaces
Junior League of Springfield Tour of Kitchens 2015
Get a sneak peek at some of the classiest kitchens in 417-land, and support the Junior League of Springfield as it brings you tastes, tunes and much more.
By Riley de León | Photos by Brandon Alms, David Nace
Sep 2015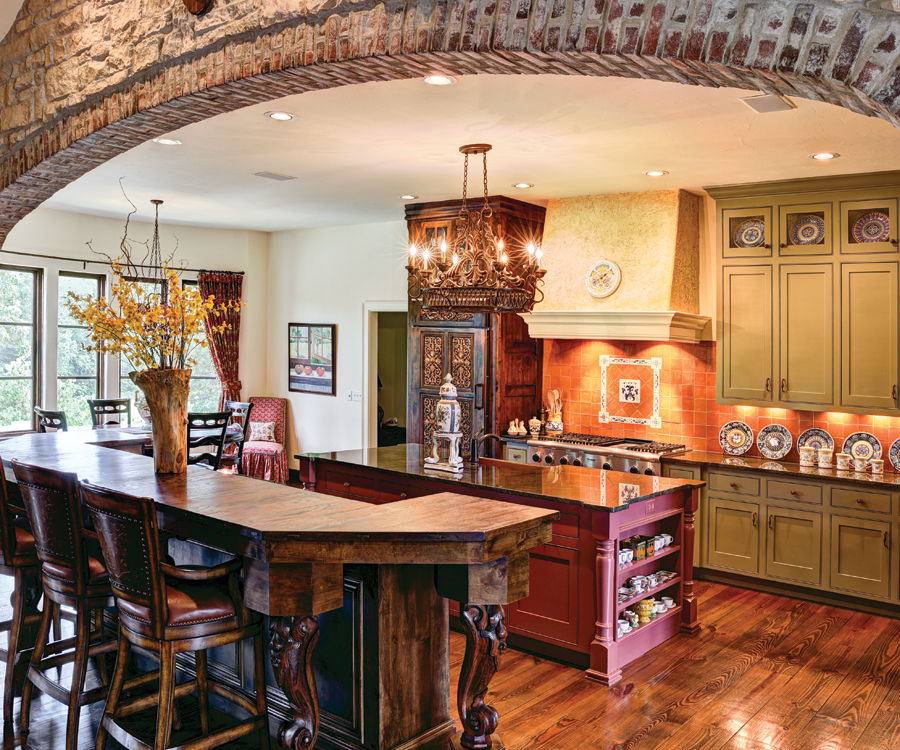 Stylish and innovative kitchens are the stars of the show at the second annual Tour of Kitchens, hosted by the Junior League of Springfield. On September 26, whether you're seeking inspiration for a DIY project, you're thinking about your own remodel or you want to see a live cooking demo, come out and enjoy the design, craftsmanship and functionality of six stylish kitchens.
From contemporary to classic, these elegant 417-land kitchens are featured on a self-guided tour fit for anyone who loves to cook or entertain. Last year's event drew more than 250 attendees, and this year's event promises just as much fun including live cooking demos from local restaurants such as Farmers Gastropub, The Traveling Chef, Nicola's Ristorante, Aviary and more. 
Profits from this event support the Junior League of Springfield's mission to promote voluntarism, develop the potential of women and improve communities. These funds combined with more than 40,000 volunteer hours help aid in the focus of preventing child abuse and neglect in 417-land. Get a preview of the kitchens here, then go see them for yourself on September 26.
The Sheppard Kitchen (above)
Step into Italy... or into the kitchen of Chip and Sylvia Sheppard. Guests are welcomed to this Mediterranean paradise by a stone and brick archway accented by wide plank pine floors that give the home a warm and welcoming atmosphere. A walnut tongue-and-groove bar is the centerpiece of the culinary oasis, and the corners of the pale red island are actually crafted from the mahogany legs of an old piano. While these features might seem eclectic, what really sets this kitchen apart is its orange backsplash made of vietri tiles imported from Ravello, Italy—a town off the southern coast known for its ceramic works.
The Ross Kitchen
The Ross kitchen maintains a clean, contemporary flair with quartz countertops, a walk-in pantry, hardwood floors and custom cabinetry. In fact, owner Kim Ross describes the functional, classic kitchen in one word: Clean. The dreamy room with versatile window treatments was designed to be open and airy, and a major goal was to maximize its natural lighting. Snowy cabinets and countertops help brighten the space, and the stainless steel appliances help make it a great spot for David and Kim to cook and entertain. And with this brand new top-of-the-line kitchen, they have no reason not to!
The Prater Kitchen
Drs. Thomas and Kim Prater helped design this room to be extra spacious: they wanted the kitchen to allow room for more than one person to help prepare a meal. But the size isn't all that's great about it. The kitchen is also gorgeous, with wood cabinets finished with a unique round-edge design and a range of top-of-the-line appliances to meet the family's needs. While you're here, also be sure to marvel over the Brazilian cherry hardwood floors, granite countertops impervious to any spill and an expansive butcher block for the largest of dinner parties. Also, don't miss the window seat where the kids hang out, which is Kim's favorite thing about the room.
The Sullivan/Morgan Kitchen
This kitchen was designed by Gary Sullivan himself and maintains a beautiful Tuscan atmosphere and traditional charm. Though everything might appear simple, it's far from plain Jane. Complete with tile flooring, custom white cabinetry and a center island big enough for a family of 10, there are plenty of beautiful features here. The spacious passageways allow for ample room when moving between the living room and the cook's room. As you make your way through the 400-square-foot space, you also find gorgeous granite countertops and a warming drawer built into the bar. 
The Johnson Kitchen
Welcome to  Mark and Patti Johnson's contemporary kitchen. Stainless steel appliances and dark walnut cabinetry highlight the simple yet elegant feel of a room that's meant to be shown off. Using a minimalistic approach, this kitchen was originally drawn out on a piece of paper by Patti Johnson herself and finished with the help of Alpine Wood Products Company. The cream-colored countertops are illuminated by natural light, and the travertine floors enhance the tonality of the backsplash. Patti admits that she and her husband eat at home a lot, but with a kitchen like this one, who wouldn't?
The Rand Kitchen
Janet Rand loves to bake, which could be the inspiration for this kitchen's giant double ovens. Other luxurious features include a warming drawer and a spacious pantry with built-in windows. From one fabulous detail to the next, the Rand kitchen pairs functionality with beauty, like the bookcases at either end of the custom dark finish cabinetry. And did we mention all of the high-end appliances in the space? With a kitchen that's sure to impress, it's obvious why Mike and Janet love to entertain. Come see why a dinner party here is one-of-a-kind.