Pumpkin Recipes
Learn how to turn your backyard into a pumpkin patch, then head to the kitchen to whip up these pumpkin-heavy recipes.
By Ettie Berneking | Photos by Kevin O'Riley, courtesy The Food Channel
Sep 2015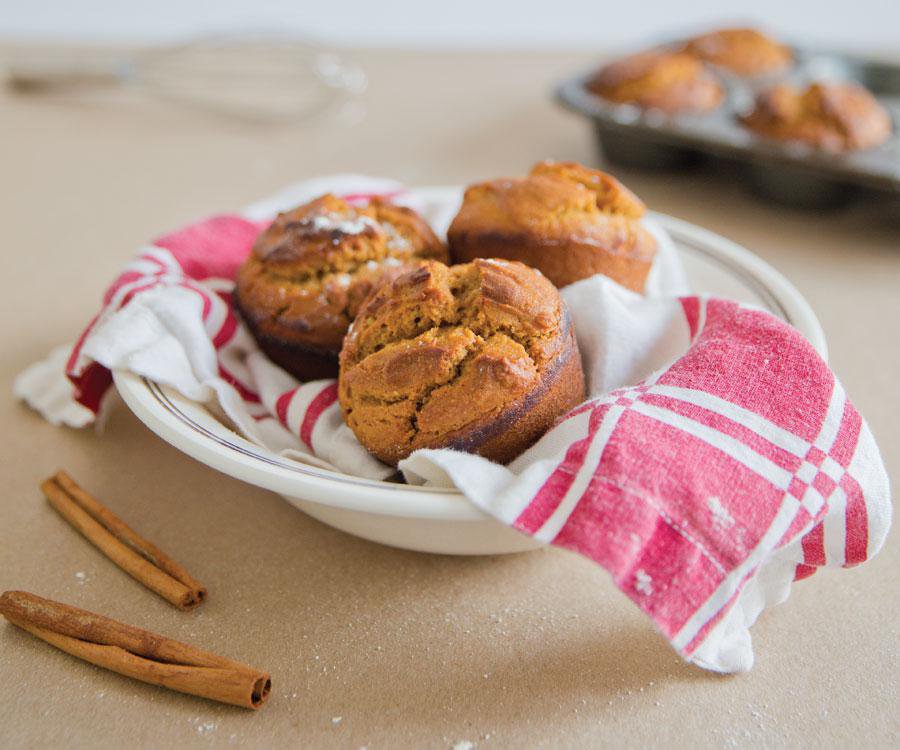 Nothing says fall like pumpkin, and pumpkin-loving crowds can't seem to get enough of this seasonal favorite. From pumpkin lattes to pumpkin cake and even pumpkin chili, this savory delight has become a cool-weather staple. That's good news for Daniel Brawn, who grows and sells his pie pumpkins at the Ozark Downtown Farmers Market. 
Brawn grows a special variety of pie pumpkins called Juane Gros de Paris. This particular line of seeds won Brawn's heart due to its resistance to disease. Even better, the small but mighty Juane Gros de Paris gets that rustic webbing on the skin once it ripens, which gives it the perfect fall look as it waits to be roasted into pies, baked into breads and stirred into soups. 
For eager gardeners who are itching to grow their own pie pumpkins, Brawn has a few words of wisdom. Good pumpkins start with good seeds. "I experimented with all kinds of seeds to see which could stand up to disease and bugs," Brawn says. "The Juane Gros are the best." Once you have your seed, it's time to plant, and that takes place in mid-April. "Pumpkins like full sun and continuously moist conditions," Brawn says. "You can even bury the stems so the plant puts down roots. Then you just have to water the vines. Try to keep the leaves dry to prevent the spread of disease."
Come fall, your pumpkins will be ready to harvest. You'll know when the time is right once the pumpkin's skin is tough. For those who missed this year's growing season, don't fret. You can find Brawn and his pumpkins at the Ozark Downtown Farmers Market on Wednesdays from 4 to 7 p.m. at the Ozark square. Store the pumpkins in a cool, dry place until you're ready to cook.
Speaking of cooking, we rounded up some of our favorite recipes from The Springfield-based Food Channel and staffer Ettie Berneking. From savory risotto to vegan pumpkin muffins, there's plenty of pumpkin to go around.


Pumpkin Purée
Heat oven to 350°F. Slice a small pie pumpkin in half. Scrape out the stringy pulp and seeds. Brush the flesh with oil. Arrange, cut sides down, on a baking sheet. Roast for one hour or until tender. Scoop out pumpkin, and purée in a food processor until smooth. 


Roasted Pumpkin Soup with Smokey Bacon
From The Food Channel
Ingredients:
2½ pounds sugar pumpkin or butternut squash, cut into large chunks
1½ tablespoons olive oil
½ pound raw bacon, chopped
½ cup onion, chopped
3 cups chicken broth
1 tablespoon kosher salt
½ tablespoon black pepper 
To Prepare:
Heat oven to 350°F. Toss the pumpkin with the olive oil. Arrange in a baking dish, and roast for 30 to 40 minutes or until tender. In a large soup pot, cook the bacon until crisp. Remove the bacon, and reserve to use as garnish. Add onions to the pot, and sauté in the bacon drippings over medium heat until tender, about 5 minutes. Add the roasted pumpkin and chicken broth to the pot, and bring to a boil. Remove the pot from the heat. Use an immersion blender to purée the soup until smooth. Return to a simmer, and season with salt and pepper. Serve in large bowls, and garnish with crumbled bacon. 


Pumpkin Lattice Tart
From The Food Channel
Ingredients:
2 9-inch refrigerated pie dough disks
1 cup pumpkin purée (roasted or canned)
¾ cup heavy cream
1 large egg, lightly beaten
½ cup dark brown sugar
1 teaspoon ground cinnamon
¼ teaspoon ground ginger
¼ teaspoon ground nutmeg
¼ teaspoon salt
2 teaspoons sanding sugar
1 teaspoon cinnamon
To Prepare:
Heat the oven to 425°F. Roll out one of the pie dough discs on a lightly floured surface until it reaches 1/8-inch thick. Press the crust into a tart pan, and prick the bottom several times with a fork. Bake for 10 to 15 minutes, or until lightly golden. Set aside to cool. Combine the pumpkin, cream, egg, brown sugar, cinnamon, ginger, nutmeg and salt until totally combined. Pour into the cooled tart shell. To make the lattice, roll out the remaining pie dough till it reaches 1/8-inch thick. Use a knife to cut 10 strips ¾-inch wide. Weave the strips along the top of the tart. Sprinkle with sanding sugar and cinnamon, and bake the tart for 15 minutes. Reduce the oven temperature to 350°F, and bake for an additional 30 to 35 minutes or until the filling is set. Cool completely before serving. 


Vegan Pumpkin Muffins
Adapted for Ettie's Eats from Veganomicon 
Ingredients:
1¾ cups flour
1¼ cups sugar
1 tablespoon baking powder
¼ teaspoon salt
1½ teaspoons ground cinnamon
½ teaspoon ground nutmeg
½ teaspoon ground ginger
⅛ teaspoon ground cloves
1 cup pumpkin purée (roasted or canned)
½ cup soy milk
½ cup vegetable oil
2 tablespoons molasses
To Prepare:
Heat the oven to 400°F. In a large bowl, sift together the dry ingredients. In a separate bowl, whisk together pumpkin, soy milk, oil and molasses. Pour the wet ingredients into the dry ingredients, and mix to combine. Lightly grease a jumbo muffin tin, and fill each muffin cup two-thirds full. Bake for 20 to 25 minutes or until the tops of the muffins start to brown.  


Pumpkin Walnut Risotto
From The Cooking Channel
Ingredients:
6–7 cups chicken stock
1 3-inch cinnamon stick
4 tablespoons unsalted butter, divided
1 tablespoon olive oil
½ cup onions, finely chopped 
15 ounces puréed pumpkin (roasted or canned)
Salt and pepper to taste
2 cups Arborio rice
1 cup dry white wine
¼ cup Parmesan-Reggiano cheese, grated
⅓ cup walnuts
2 tablespoons sugar
¼ teaspoon salt
⅔ cup chopped walnuts
To Prepare:
In a large saucepan heat chicken stock and cinnamon stick over low heat for 10 to 15 minutes. Set aside, discard cinnamon stick, and keep warm. In a medium saucepan, combine 3 tablespoons of butter and the olive oil, and heat. Add onions and sauté until soft, about 3 minutes. Add puréed pumpkin, season with salt and pepper and sauté for another 3 minutes. Combine rice with pumpkin mixture, and mix well. Add wine to the rice mixture, and stir until absorbed. Begin adding hot stock 1/2 cup at a time, stirring constantly and making sure all liquid is absorbed before the next addition. Finish with 1 tablespoon of butter and Parmesan-Reggiano. To make the caramelized walnuts for garnish, add sugar to a small skillet over medium-high heat. As the sugar starts to melt, add salt and walnuts. Stir constantly to coat, about 3 to 5 minutes. Remove the nuts, and place on a sheet pan to cool and harden. When cool enough to touch, break them into clumps and use as garnish on the risotto.


---

 
10 Ways to Use Pumpkin
Pumpkins are for more than just pie. Next time you play host, serve something new with these pumpkin-packed treats.
1. Roasted pumpkin makes a great salad dressing! Just purée 1 roasted pie pumpkin with 2 tablespoons each of apple cider vinegar and olive oil. Add 6 tablespoons of water along with a dash of garlic powder, minced onion, cinnamon, nutmeg, ginger and salt and pepper, and drizzle over a big bowl of salad greens.
2. Make a big bowl of roasted vegetables, and toss in some roasted pumpkin. Just roast pumpkin, beets, carrots and fingerling potatoes, and drizzle with olive oil, sea salt, red wine vinegar and balsamic vinegar.
3. Pumpkin crostini is a fall favorite. Simply spread warm goat cheese on toasted French bread, top with diced, roasted pumpkin, a bit of arugula and a drizzle of balsamic vinegar, and you're ready to eat!
4. For something a little more savory, go for pumpkin chili. Mix together ½ cup of canned pumpkin, ground turkey, kidney beans, diced onion and green bell pepper, diced tomatoes, a dash of pumpkin pie spice and cayenne pepper to taste.
5. Make pillowy pumpkin cookies by mixing canned pumpkin with nutmeg, cinnamon, allspice and vanilla and top with cream cheese frosting. 
6. Start your day with a pumpkin protein shake. Blend together unsweetened almond milk, pumpkin purée, honey, vanilla protein powder and some ice. 
7. Mix half a cup of pumpkin purée into your French toast batter, and add a dash of cinnamon and nutmeg to taste.
8. Toast the season with a pumpkin bourbon punch. Combine 1 ounce puréed pumpkin with 1 teaspoon each of honey and lemon juice, 2 ounces of bourbon, a pinch of ground ginger and cinnamon. Shake and strain over ice. Stir in 3 ounces of ginger beer.
9. For a party favorite, whip up some rosemary pumpkin hummus. Blend roasted garlic, olive oil, 1 can of chickpeas, 2/3 cup of pumpkin purée, a dash of honey, minced rosemary and salt to taste.
10. Spice up curry with some puréed pumpkin, roasted butternut squash and chopped roma tomatoes.