Stamped Concrete
Local experts pour on the details of stamped concrete, a floor trend that's popping up inside and outside of homes all over 417-land.
By Julie Sedenko Davis | Photos courtesy Wyrick Decorative Concrete
Sep 2015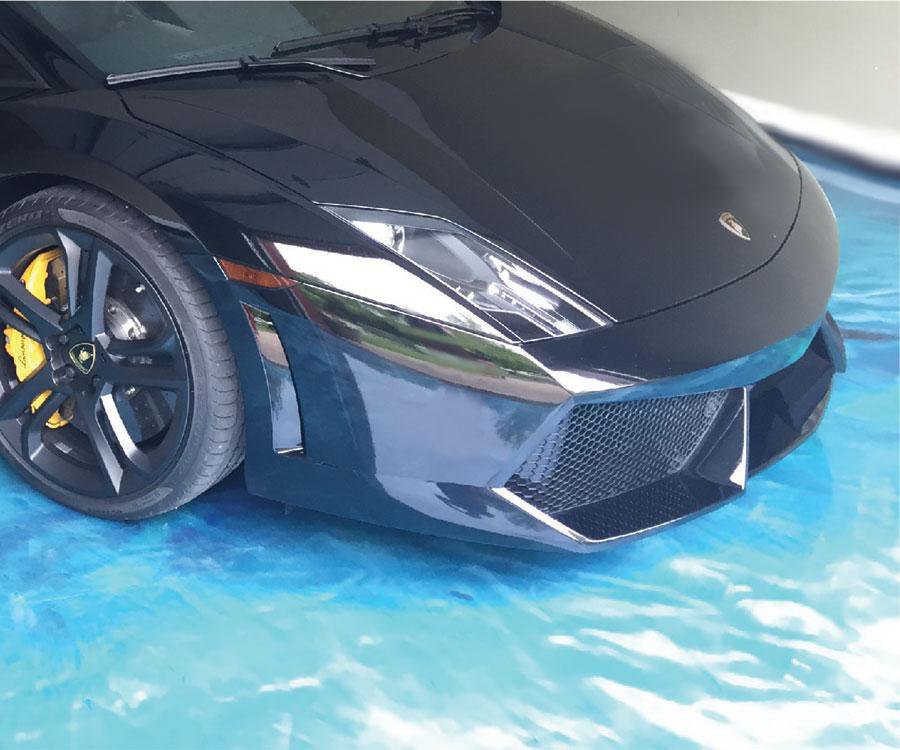 Sidewalk chalk. Once upon a time it was the only way to decorate plain, gray cement. But not anymore. Stamped concrete is giving drab driveways, patios and even basement floors a pretty impressive makeover.
It's done with rubber mats, textured on one side. They are applied to wet concrete and leave a permanent impression. Options are as wide as your imagination, especially when you add colors to the concrete. You can create flagstone or simulate grout lines to mimic tile. You can even design a logo, crest or personalized design. The options are endless.
Barbara Baker, the owner of Concrete Enhancements (Springfield, 417-887-0138, springfieldconcrete.com), says stamping concrete has grown substantially since she began in 1996. "I have a client list that builds every year," she says.
People who are catching on to the trend  and updating their garages, basements and once-unused spaces like how versatile it is. In fact, Kelvin Wyrick, owner of Wyrick Decorative Concrete (Nixa, 417-812-4777, wyrickconcrete.com), says stamped concrete is like art. "My background is in art," Wyrick says. "That's why I got into this. It makes me feel like I've done something if I can take a bag of cement and spread it out and make it look like real stone. Almost magic."
Stamped concrete is popular for patios, fire pits, outdoor kitchens and pool decks. But it's also starting to replace indoor flooring. Wyrick says cement is a great alternative because it will never mold or mildew. "Most people are trying to get rid of the carpet because it's a sponge for allergens, and they just can't keep it clean," he says. If a new owner doesn't like the look, they can just tile or carpet right over the concrete. "It doesn't have to be removed," Wyrick says.
Another benefit of stamped concrete is that it is easily maintained. After cement is dry, a sealer and clearcoat are added to deepen the color, add shine and protect the floor. Outdoors, colored cement, like anything, will eventually fade in sunlight. Baker says every three to five years she refreshes the color and reseals it. The cost is about 75 cents per square foot, which is about what you'd expect to pay to have your lawn mowed every year.
Indoors, concrete can show traffic and wear, but Wyrick says to simply apply an acrylic floor finish with a damp mop every couple of months. "If you keep an element of finish on the floor, it's always going to look brand new," he says.
All of this sounds great for someone building a new home, but what about the person whose home is surrounded by standard cement? No sledgehammer needed. The old stuff can serve as a base for a textured overlay. Baker says the overlay, which is less than an inch thick, is more durable than regular concrete.
Those with existing concrete will pay less for a textured overlay. Depending on variables, the price ranges from $3 to $10 per square foot. Those who need concrete poured will pay closer to $8 to $10 per square foot,. "It adds value to the home, and most of the time you can get your money back in that concrete," Baker says. As an added bonus, think of all the money you'll save on sidewalk chalk.