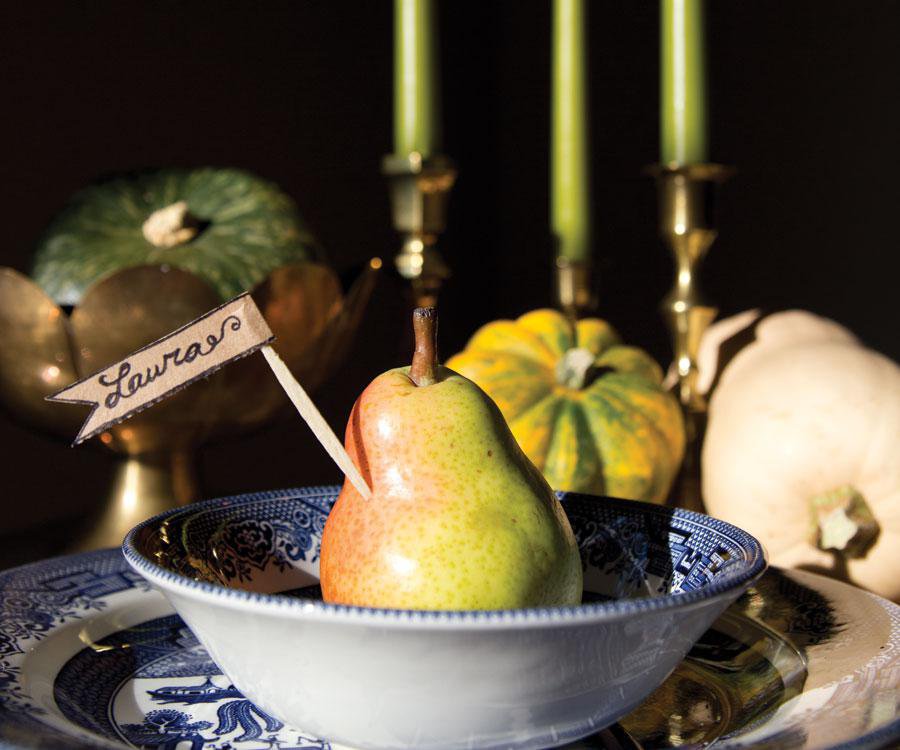 1. Plan the perfect seating chart
Don't stress about your guests mingling. Instead, put special effort into playing matchmaker with a seating chart. "I try to match people who might have something in common," says Lenette Kujawa, owner of Aflair Events, who notes most of the time such efforts result in good conversations. 
2. Integrate seasonal décor 
You don't have to come up with a whole new décor scheme for Thanksgiving. Simply play with fall yellows and oranges, as well as pumpkins, which are timeless choices and are easily accented. "You can pop things with glitter, but it's all about taste," Kujawa says, who cautions against going crazy with the sparkly stuff. When decorating, don't forget what holiday you're celebrating—save the trees for later.  
3. Stick with tradition 
Sometimes the tried-and-true delicacies can be the least stressful option. And if you don't have enough kitchen space to make all those green bean and sweet potato casseroles, bring in the troops. "That's when you ask family to help," says Samantha Richardson, owner of Ellee's Event Rental & Design. 
4. Work ahead
Don't save all the work until the day of your event. Make a list and buy non-perishable items at least one week in advance, says Richardson, who also recommends prepping as many dishes as possible one to two days before the event.  
5. Consider the cleanup 
There are easy ways to decrease stress even after the meal is done. "If there are a ton of people involved, you might be better off using plastic ware," Richardson says. "You can just pitch it all." Reducing some of the cleaning and dish washing can be a real time saver if you don't have help. 
6. Forget last-minute ideas
Once you finalize plans, don't change them radically just before the event. "The more organized you can be, the less stressful it is," Richardson says.   


 Timely Planning
Abby Mitchell, owner of Abby Mitchell Events, offers advice on how and when to begin planning the perfect Thanksgiving. 
Six weeks prior
Plan your guest list. Be sure to remember to allow 2.5 feet of space per person. "Especially at a meal like Thanksgiving, you want some elbow room," Mitchell says. 
Four weeks prior 
Begin to finalize plans. Since you should have a good idea of how many guests you'll have at this point, figure out what items you'll need to rent. Reserve those, and order things like centerpieces, table linen and the turkey. "Especially around the holidays, vendors get much busier," Mitchell says. Don't wait until the last minute to place an order. 
Two weeks prior 
If you're using a caterer, confirm your order. Plan how the meal will be laid out with regard to tables and chairs.  
One week prior 
Make sure everything for your table is ready to go. If you're using your own linens, wash, iron and store them out of the way. "It's good to make sure they're ready in advance so you can just stick them on the table," Mitchell says. 
The night before 
Assemble tables and chairs, place linens and even set the table. "Then you can just wake up and worry about food all day," says Mitchell. 
Morning, the day of 
The day will inevitably contain thoughts of food, but don't forget to give yourself some "you" time either first thing or when food is in the oven.  "Be sure to plan in some extra time to freshen up," Mitchell says. 
One hour before
Set up the drink station. This measure helps conserve energy. "That way, you don't have to run back and get a drink every time a new person arrives," Mitchell says.  
30 minutes before 
Light candles, and get ready for your guests' arrival. "Give yourself a couple of minutes to do a complete run through the house to make sure everything is how you want it," Mitchell says. 


Take-out Turkey
If you'd rather leave the cooking to the pros, here are a few 417-land places where you can purchase full Thanksgiving feasts.  
Hy-Vee (417-881-1950; hy-vee.com) offers various Thanksgiving packages with sides and whole birds. Prices were not available at press time.
Price Cutter (various locations, pricecutteronline.com) offers Thanksgiving dinner packages beginning at $49.99. 
Buckingham Smokehouse BBQ (various locations, buckinghambbq.com) offers smoked whole turkeys for Thanksgiving beginning at $29.95. Smoked salmon and sides are also available.  
Heritage Cafeteria (417-883-3033, heritagecafeteria.com) offers traditional meats and sides beginning at $66.99.