Real Parties
Burgess' House of Tunes
Barb and Phill Burgess opened their Springfield home to friends and musician Patrick Mureithi for a one-of-a-kind house concert.
By Savannah Waszczuk | Photos by Kyle Davis
Sep 2016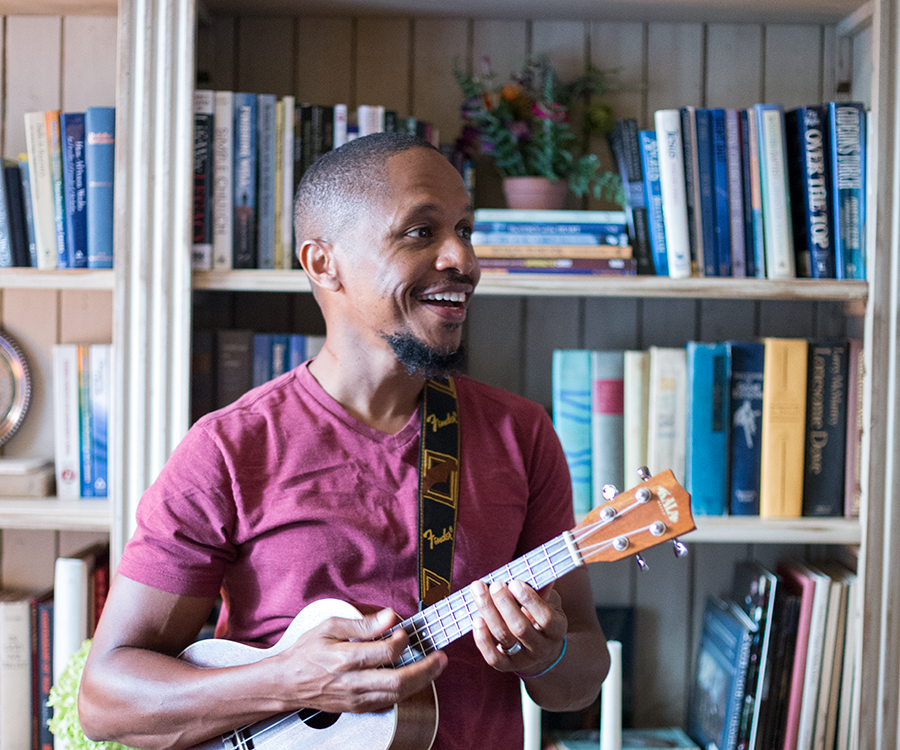 When it comes to playing host, music makes all the difference. Whether you're planning the biggest holiday blowout of the year or just preparing for an intimate gathering with friends, thinking about what band you can bring in or what tunes you can play in the background can help set the perfect scene.
Barb and Phill Burgess recently played host to a party where music was the star of the show. In fact, it was the reason for the event. "It was a house concert," Barb says. The guest of honor was Patrick Mureithi, a documentary filmmaker, musician and public speaker who is originally from Kenya and now lives in Springfield. "He had said he was really enjoying doing house concerts a while back and asked me if I would be interested in hosting," Barb says. "I was busy during the spring when he asked, so we planned it for summer when things slowed down for me a bit." 
So this past July, Barb and Phill opened the doors of their Springfield home to many friends for a night filled with hors d'oeuvres, conversation and plenty of live tunes. The fun kicked off around 7:30 p.m., when arriving guests were greeted with wine and tea to enjoy as they munched on assorted fruits, cheeses and other appetizers and got to know one another. "I invited some friends from the gym and some from church," Barb says. "It wasn't a group—it was a mish-mash of people." 
After making a few new pals, guests headed to the living room, where they cozied up on sofas and chairs around Mureithi and readied themselves for a concert. "He would tell a story about a song or his life, then play," Barb says.
As the more than 20 attendees relaxed and sank deeper into their chairs, Mureithi continued to sing and play his guitar and ukulele. The close quarters and otherwise quiet home created what Mureithi would describe as an ideal situation. "He likes the really intimate setting house concerts create," Barb says. "He likes having that connection with the audience." 
And all in attendance would likely agree they liked it, too. "I think people really enjoyed it," Barb says. "Patrick was a delight. You just feel better after you listen to his music."

Snack Time
Rather than a full meal, Barb prepared a variety of light hors d'oeuvres for the event. Guests enjoyed an assortment of fresh vegetables, cheeses, fruits and more with their choice of tea, water or wine.

Strike a Chord
Mureithi brought both his guitar and his ukulele to the event. He took breaks between songs to share stories and chat with the guests.

Gather Around
Partygoers congregated in Phill and Barb's living room for the concert portion of the evening, which lasted nearly two hours. "Him playing was definitely the highlight of the evening," Barb says. 

One-on-One Time
One of Patrick's favorite things about house concerts is being able to chat with guests, like MaryAnn Morris, in between his performances. 

Dip Some Dessert
Barb also made a S'mores dip from a recipe she found on Pinterest. The creation included chocolate and marshmallows, plus graham crackers for dipping. It turned out pretty well, Barb says, but next time she would use smaller marshmallows.

Let's Chat
A total of 23 guests showed up for the house concert. "It wasn't just one group of people," Barb says. "But what was interesting was finding out people who we didn't know knew each other did know each other!" The couple invited friends from the gym and church.