DIY
Create Your Own Rug
Finding your dream area rug doesn't have to mean nightmare prices. All you need is upholstery paint, a cheap rug and a little creativity.
By Ettie Berneking | Photo by Ettie Berneking
Sep 2016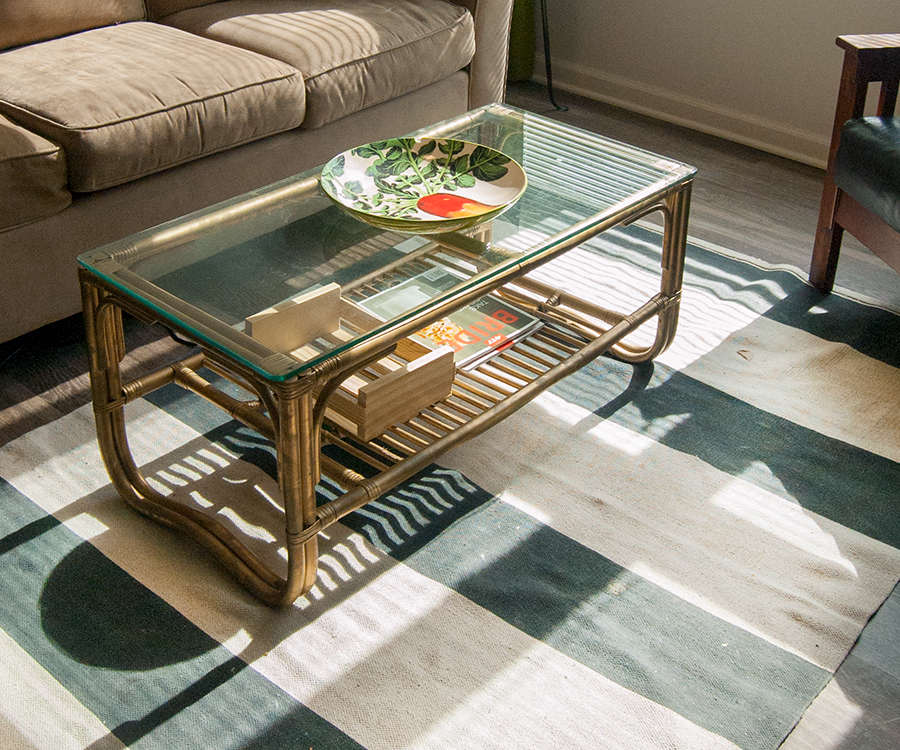 Prepare Your Rug
1. First, be sure to thoroughly wash the rug. Take your time and make sure all debris, pet hair and dirt have been removed.
2. Dry the rug. Hang the rug in a warm, sunny spot if you have one. This can take a full day, so give yourself plenty of time for this project.
3. Find a flat surface to work on. Lay the rug out with the side you want to decorate facing upward and smooth out any wrinkles.
Create Your Design
1. It's time to plan your design! This is definitely the most enjoyable step, and Pinterest is a great tool. Pin rugs you like until you find the perfect design. If you're using a stripe pattern, consider the direction of the stripes. If you want to make your room (and the rug) look longer, plan to have the stripes going horizontally down the rug.
2. Create a pattern for your design. A simple sketch on paper works great. Be sure to use a number system to indicate which sections will be colored and which will remain unpainted. For instance, the number 1 can indicate an area that will be painted while the number 2 can indicate an area that will remain neutral.
3. Get to work! Using painter's tape, mark off the pattern on your rug. Be sure to cover all areas you don't want painted with the tape. This can use up a lot of tape and be time consuming, but the end product is totally worth it.
4. Apply the paint. Moving in slow, even strokes, apply the upholstery paint to the rug and let it dry to the touch before adding a second coat.
5. Let the rug dry for at least 24 hours.
6. Roll out your new rug where you want to place it and enjoy your work!
---
Helpful Hints
Pick the right rug
Selecting the right type of rug is most important. You want a low-weave rug. Outdoor rugs work best. If there's already a pattern on one side, no problem! Just flip it over, and work on the side that's undecorated.
Use Upholstery Paint
Don't use regular wall paint for this project. Be sure to use upholstery paint, which you can pick up at most craft stores.
Give it time
Be sure to let the paint dry for at least 24 hours. If you haul the rug in too soon, everything from pet hair to your own feet will stick to the paint.
Make a pattern
This doesn't have to be a life-size pattern, but you'll save yourself a serious headache if you sketch out what you want the end product to look like.
Test your paint color
Before starting on your rug, spray or brush some of the paint on a similar colored backdrop to make sure you like the color you've chosen. As the paint dries, the color changes just a bit.
Stock up
Buy more paint than you think you will need. Upholstery paint gets used up quickly, so save yourself unnecessary trips back to the store by purchasing twice what you think you will need.
Lay out the rug
Make sure your rug is on a flat surface. Bumps and ridges will create uneven patterns in the paint.
Lay down some tape
Mark your pattern with painter's tape, but remember, it's not that simple. Upholstery paint is just like spray paint: If you're not careful, you'll end up painting everything! Basically, every part of your rug you don't want painted should be covered in tape.
Apply the paint slowly
If you move too quickly, the paint will look streaky, and it will take more coats to cover the mistake.