Home Profiles
Denise Wright's Home
With nearly 20 years of experience in residential and commercial interior design, Denise Wright of DKW Designs has perfected the art of transforming spaces. We take a look inside her home, which she describes as modern art deco with a touch of glam.
By Savannah Waszczuk | Photos by Brandon Alms
Sep 2016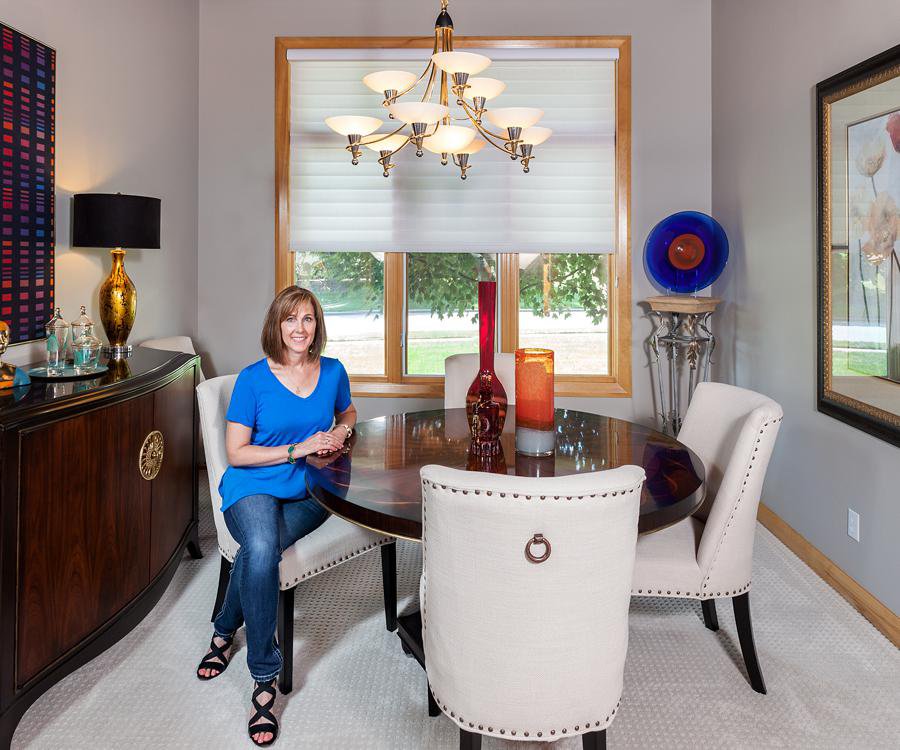 Dining Room
Denise prefers a neutral color palette, and her husband, Phillip, loves color. "In order to marry those two styles, we have a neutral palette, and I pop color with art and accessories," Wright says. A great example of this can be seen in the dining room, which features neutral gray walls, light carpet and a black ceiling. "I actually talked a client into painting her ceiling black, and I loved it so much that I came home and painted mine," she says. Color is brought in with art glass, a '60s fabric panel that hangs above the buffet and a glass plate—which is a special gift from a dear friend—that is displayed in the corner.
Great Room
The kitchen and hearth area is easily the most popular spot in the house. "This is where everything happens," Wright says. "We entertain guests and groups every month." Denise and Phillip updated the kitchen since they originally purchased the home in 2010, with new oversized porcelain tile, a new black cast iron sink and a custom island with a waterfall quartz countertop completing its look.
Personal Touches
Also in the hearth room is an intricate art deco cabinet that sits beneath an oil painting of aspen trees. "We purchased the painting while vacationing in Colorado," Wright says. "That's our favorite place to hike."