Retailers
DG Stewart Hard Goods
Dustin Stewart is a self-taught maker who produces wooden creations for innovative spaces.
By Ren Bishop | Photos courtesy Dustin Stewart; by Kevin O'Riley
Sep 2016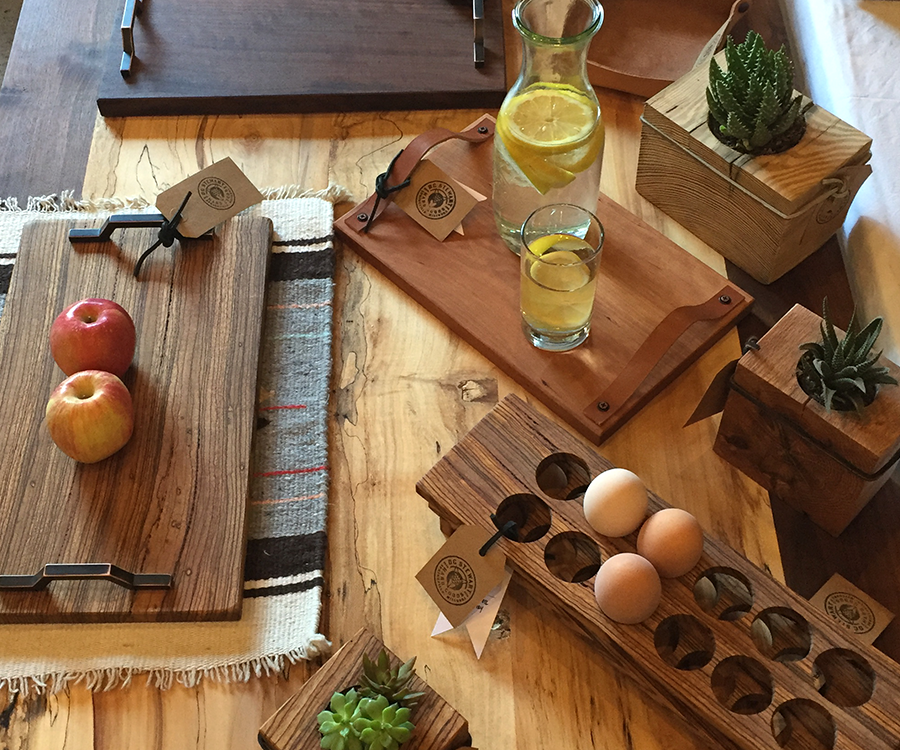 Dustin Stewart slides open the barn door that separates his workshop from his showroom on Commercial Street. Cutting boards, wooden planters and trays with metal handles sit on a long table by a window, and a headboard casually leans against a tall counter. Stewart steps over a coffee table's metal frame made by collaborator Jason Strother before he sits on a worn yellow couch.
"I've got a little bit of everything going on in here," he says. "My showroom is really to show people what's possible. It's hard for them to visualize something custom, so I can show the wood on that tray or the design of this headboard to help people see what I can do."
Since 2015, Stewart has been imagining, creating and selling furnishings out of his shop, DG Stewart Hard Goods (300 W. Commercial St., Springfield, 417-414, 7008, dgstewarthardgoods.com). Known for his custom infill commercial projects and wooden planters, Stewart brings his particular aesthetic to each custom creation.


Dustin Stewart puts his craftiness to good use by creating and selling one-of-a-kind pieces in his shop, DG Stewart Hard Goods.
The work of a self-made expert
Growing up in Dallas, Texas, Stewart watched his mother, Terri Neal, innovate with her hands. She was crafty and creative, redoing furniture and building spaces to add onto her home. At 12, Stewart began working alongside his mother, learning all he could, he says.
"Growing up, everything we did, we did ourselves," he says. "My mom was constantly working on a project. I watched her make the things she wanted. She learned how to do it all herself, and I guess I learned along with her."
As he grew older, Stewart learned more about himself. At 15, he attended a church camp in Oklahoma, which changed his life.
"I met Lacy when I was 15, and I just fell helplessly, probably stupidly, in love with her," he says. "She lived in Marshfield; I was in Texas. It just didn't work. But then we started talking again a few years later, and I moved to St. Louis to be closer to her. She joined me there, where she went to college. We were engaged in a few months. We got married and eventually moved here to be closer to family."
Originally educated to be a youth pastor, Stewart took a job at Great Circle once in Springfield. On the weekends and his weeks off, he painted houses and renovated his own home. He built the contemporary furniture he wanted but couldn't afford, and his friends started requesting their own custom work. 
"There was a while there where my creativity outweighed my skill," he says. "But I kept learning and developing my own style."

Springfield statements,  Southwest style
Stewart was learning as he went when he was commissioned to build the infill for Baseline Media's reception desk in 2014. Owner Jacob Neimeyer explained his vision of what he wanted, but Stewart was given the creative freedom to explore the possibilities, he says. 
"I had some ideas, and he just let me do it," Stewart says. "He trusted me, and that was incredible. That desk led to a lot of interest in what I was doing, and the work kept coming."
As a Texas man, Stewart designs much of his work to reflect a Southwest sensibility. Navajo designs and patterns repeat themselves in panels, and planters for succulents are some of his most popular items. Even his logo features an armadillo. But as a Southwest aesthetic sizzles at popular retailers, Stewart remains focused on creating uncommon, beautiful items.  
"I'm not about trends," he says. "I want to make things that people haven't seen before: a wooden egg tray or a coffee table that's made from just one plank of beautiful wood. It's about making a quality product made to last."