Food
Grow a Pear
Just when you thought the fresh juicy fruits of summer were gone, pears plop in to save the day. Learn about this luscious fruit and then get crackin' in the kitchen to whip up some pear-fectly delicious dishes.
By Claire Porter | Photo by Brandon Alms, Abby Gust, Courtesy The Food Channel
Sep 2016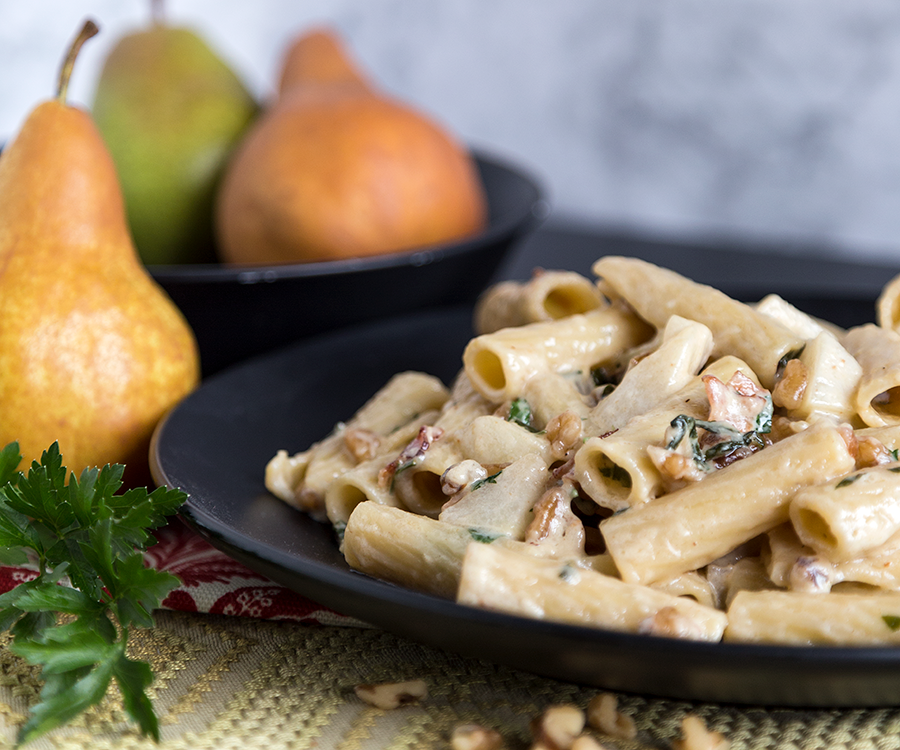 Aselage says pears aren't as popular because the finicky, fruity nature of a lot of varieties grown in the West makes them hard to grow in the Midwest. Our region's wet weather makes pear trees susceptible to fire blight, a devastating disease. The trees have a short blooming time, and have a slightly unpleasant aroma which doesn't attract a lot of pollinators—think bees and butterflies and other buzzy bugs that fertilize the flowers. Aselage grows a Magness variety of pears, which are known for having a smooth texture and a sweet, buttery flavor and were originally planted in the region by Gerber for baby food production back in the 1960s. But as the adage goes, good things (and flavors!) are worth the wait, and for the Magness variety, that wait is about 10 years before trees bear fruit. "There's a saying that goes, 'You plant pears for your heirs,'" Aselage says. 
But when the trees fruit, the flavors are unbeatable, and Aselage knows a thing or two about getting luscious flavors. "I love fruit, obviously; I grow it," he says. According to the Pear Bureau Northwest, pears, unlike most other fruit, actually ripen better off the tree. Aselage says they're typically harvested at a very high pressure—a fruit industry measure of firmness—so they can withstand storage and shipping. You don't want to eat a pear as soon as you pick it up from the store. Keep them in the fridge to slow the ripening process if you plan on waiting a while to eat them. If you want to start nibbling right away, set them out on the counter for a few days to ripen. Most people try to eat pears when they're underripe, which Aselage says is why a lot of people aren't big fans of the fruit. The ideal ripeness is when the flesh yields and bruises at the slightest pressure at the stem, which gives you a soft and drippy texture like a peach—and that is when he says the fruit achieves its fullest flavors. Some varieties of pears, like Bartletts, will even turn yellow when they've reached peak ripeness. 
Bartletts and Magness aren't the only delicious varieties you'll find on grocery shelves. Bosc, Comice Seckel and Anjou pears are also common and are what the industry labels as dessert pears, which means they can be eaten fresh and have sweet flavor and smooth texture. Some varieties also work for processing in canning, pureeing or jarring because they're slightly more crisp and mature in later fall and early winter. Whatever pear variety you choose, we've got plenty of recipes to help you gobble up this season's picks.