Designers
Masters of Glass
Discover three local artists with a unique passion for glassmaking.
By Julie Sedenko Davis | Photography by Chuck Travers
Sep 2016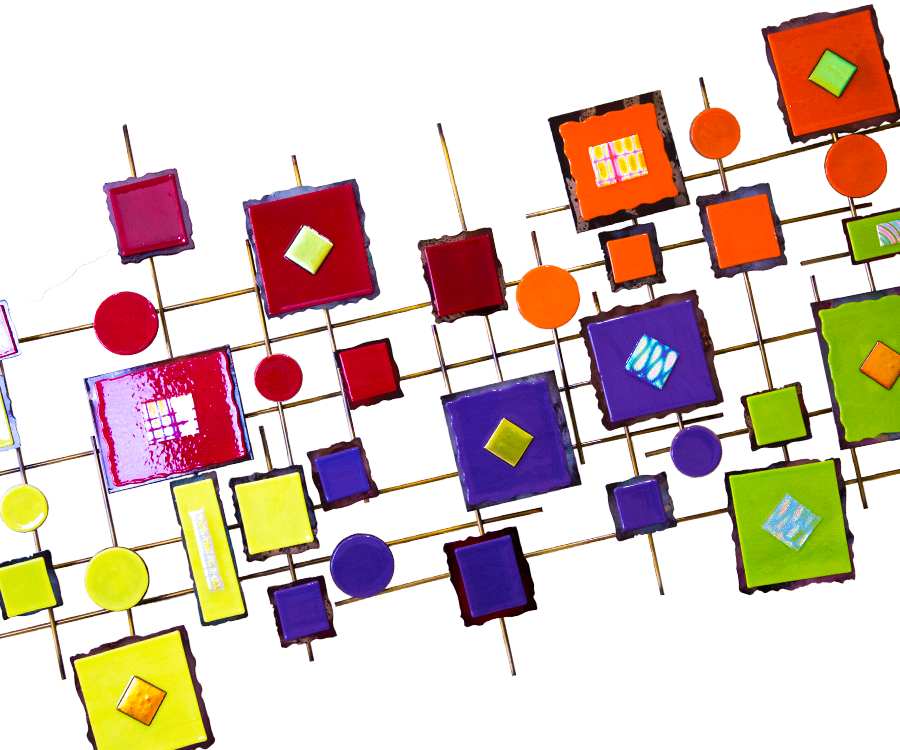 Lifelong passions are sometimes inherited. Sometimes they're discovered through years of trial and error. However it happens, true passion is all-encompassing and even life-changing. 
Meet three 417-land artists whose lives took incredible turns after witnessing—and experiencing—the art of glassmaking. Their journeys are as unique as their creations. Together they continue traditions begun thousands of years ago while inspiring others to continue this exceptional art form.

---
A Birthday to Remember
Learn how one class altered the life of a local artist.


Serving Style: Nicole Hanna's Fiesta platter was full fused and then kiln formed. You can get it for $225. 


It was Nicole Hanna's birthday gift to herself. After walking into an Omaha, Nebraska, gallery 16 years ago, she signed up for glass fusing classes. "I took that one class, and that was it," she says. "I was hooked on it. I've been doing it ever since." Hanna had tried other art forms including oil painting and watercolors. But, she says, "I didn't have anything that just grabbed me the way glass did. The glass is so mesmerizing." 
Hanna specializes in fused glass. "Most of what we do is done when glass is at room temperature," Hanna says. "Then [we put it] in a kiln where it gets hot enough so pieces fuse together." Hanna says the fused glass art fits her personality. "It lets you be a little more free, and that's how I am."



1.The Willow Tree plaque was full fused, meaning layers of glass were topped with another decorative layer. 2. Nicole demonstrates the process of full fusing glass on these soon-to-be dessert plates. 
 

3. Nicole's studio is full of raw fusing glass for whenever inspiration strikes.  



Hanna enjoys putting inclusions in her work. "You can put copper wire, or sometimes you can put small pebbles," she says. "It's fun to see what it'll do." Copper, for example, turns a beautiful, bright red. But not everything turns out. She learned the hard way that adding aluminum foil doesn't work. "It melts into a blob of gray," she says. Still, Hanna says it's fun to see what's going to come out. "I'm always open to experimenting and see what happens," she says. "I like to surprise myself. It's like Christmas every time you open the kiln." 

Fused glass may be more free-form, but it also has some science to it. "The glass has to be heated to a specific rate, and you must have a certain kind of glass together," she says. "The glass we use is tested compatible." Tested compatible glass is expensive but necessary. For instance, if you just tried to fuse glass from a couple of beer bottles, it may not work. "They may not be co-efficient together," Hanna explains. "You have to be very careful."

Hanna designs a wide variety of pieces including things you would expect, like plates and bowls, vases and trays, and more unique items like fireplace mantels, sculptures, plant markers and wall art. Hanna has a lot more pieces planned for the future. "I have a list of things I want to try that's 10 miles long," she says. "I don't think I'll ever get them done in my lifetime."

---
Guiding 
Glass
A spiritual symbol leads one couple to a new life.


Rebekah made this vessel sink in-house. It sells for $1,100. 


Rebekah Santiago wanted a cross above her front door. "Since we are a Christian household, I wanted a daily reminder of who we are and who is guiding our lives," she says.  
While visiting Durango, Colorado, she and her husband, Rafael, found a walk-in fused glass studio. She decided to make the cross herself. Her husband decided to make some dessert plates as a gift for his mother. 
The couple found themselves making the hour-long trip to the studio every week from their New Mexico home. They also flew to other studios around the country to take lessons. She admits they both became addicted. "We ended up building our own studio in our backyard so we could work when we wanted to," she says.
The Santiagos relocated to Springfield last summer. Instead of having a home studio, they opened a retail space. "We so enjoy that sense of discovery," Rebekah says. "We want people to experience that as well." They named their new business Creative Escape Glass. "It allows us to be creative, and it's a great way to escape worries of regular life," Rebekah says.

1. The jewelry made in-house sells for $10–25. 2. Add color to your table with this $75 woven plate. 


Fused glass is a medium customers can feel confident in creating. They never touch hot glass and there is plenty of room for creativity. "We've made stepping stones for gardens, flowers you can put in a bouquet; you can do intricate imagery; we've even had some people make a little picture of their pet using glass," Rebekah says. Fused glass is also durable. "It's thick and sturdy enough to put food on and use it," she says. People make plates, bowls, spoon rests, vases and jewelry. 
Trying fused glass is also affordable. The Santiagos even offer a free glass cutting tutorial. "It makes a big difference when you see and feel the glass and see what you can make," she says. "Pictures don't do it justice. Glass is a tactile thing."
The Santiagos are still writing the future when it comes to their glass passion. "We're just babies in the industry, but we've put a lot of time into it because we really enjoy it," Rebekah says. Rafael would like to see Creative Escape Glass become a franchise. "I just want someplace where people can come in and just enjoy themselves in a stress-free environment," Rebekah says. "People keep me company while I work on things." 
Whatever the future may hold, the Santiagos won't soon forget their past. Whenever they leave the house each day Rebekah's first piece of fused glass is above the door: a cross that guides their lives.
---
Generational Glassmakers
​A local father-son team keeps a dying art alive.


Gabe Bloodworth specifically uses pages from The New York Times to shape his glass pieces because he says the paper is still clay-based.


Gabe Bloodworth kept water in the bucket and brought his dad small bits of glass from the furnace. He was just 15 years old but already learning the world of glass blowing. His dad, Terry Bloodworth, worked as a production glassmaker at Silver Dollar City before opening Springfield Hot Glass. 
Gabe eventually went to work at New York's Corning Museum of Glass. While there, he was given the opportunity to demonstrate glass blowing on Celebrity Cruise ships. "I had a chance to tour all over Europe, Spain, Rome, France, Canary Islands, all over the place," he says. In addition, Gabe learned from some of the world's best glassmakers. "It was a huge gift," he says. But, being away from the shop for a large part of the year was taking a toll on his dad and Kathy McCormick, a jewelry artist, bookkeeper and assistant who has been with the family's shop since the beginning. He had to make a choice. "Either I keep working with Corning or make the family glass shop happen," Gabe says.
Gabe's choice to move back home worked out better than he thought. "I met Amy, owner of Amycakes—a pretty girl literally right around the corner," he says. Gabe and Amy married in 2014.



1. Terry Bloodworth and his son Gabe Bloodworth keep the heat in the name Springfield Hot Glass thanks to their industrial furnace. 2. Gabe created the Burrano vase in a style derived from the Burrano islands off the coast of Italy, $350 each 


Springfield Hot Glass is a blown glass studio. All of the work is done completely by hand. "I primarily focus on traditional Venetian and Scandinavian techniques," Gabe says. This involves grinding facets into the glass after it's cooled. "I enjoy the technically difficult aspects of it. The more difficult-to-execute tends to be more rewarding." And although Gabe beautifully executes incredibly technical pieces, he says there's always more to learn. "I've been making glass for 17 years, and the only thing I know is that I don't know anything," he says. 
The shop's products include vessels, platters, conversation pieces, entire lines of glass figures, Christmas ornaments and even corporate awards. "We can offer a really nice custom gift for the same amount as an acrylic award," Gabe says. They also create beautiful lighting pieces. Gabe made 92 of the light fixtures at Springfield's Hotel Vandivort. 
Today, a grown-up Gabe still assists his dad. But many times, his dad is the one assisting. "One of the best things about the job is being able to work with my father and being able to have that daily relationship," Gabe says. "We've built this business together, and we're both really proud of it."