Spaces
Oh My Gourd
Go beyond the usual pumpkin this fall and use gourds to bring a seasonal splash to your home decor.
By Savannah Waszczuk | Photo by Heather Kane
Sep 2016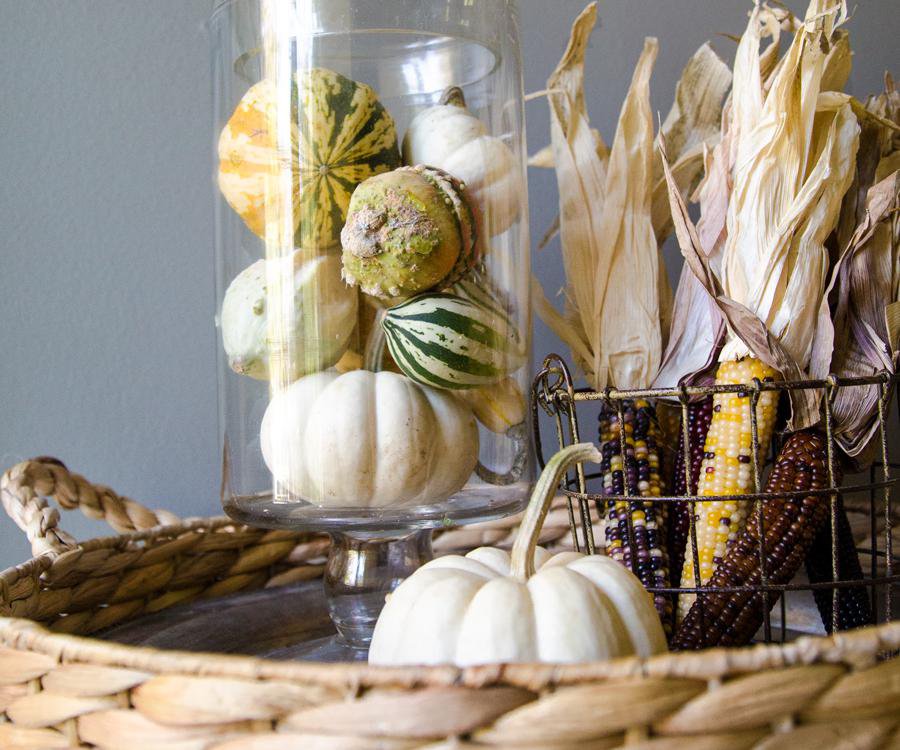 We want you to forget about pumpkins for a second and think about their close cousins: gourds. Sure, gourds may be from that weird, not-so-typical family. They're the oddballs who are always mixing atypical colors and patterns and often are covered in warts. But their colorful personalities are perhaps the biggest part of their appeal. When it comes to fall, pumpkins have always been the popular kid in class. We carve them, we paint them, we sit them on the steps of our homes. Everyone loves pumpkins, and the world knows it. But what about everything else?
"From year to year, the supply of gourds can be very different," says Nikki Petitt, nursery manager at Wickman's Garden Village. "Growers often save their own seeds where they're growing, and then there's crosspollination." That's why you never know exactly what you're going to get. But what you can expect is color and character. "You're always going to see lots of green and lots of orange," Petitt says. "You'll see some yellow. There are some that have a slight shade of bluish gray, too." Wickman's sells gourds of all colors as well as all sizes—smaller gourds that fit in your hand are among the most popular and are available in early September, and larger gourds and more varieties are up for grabs around early October.
And now for the next question—once you get these seasonal pretties, what do you do with them? "Small gourds are most popular for indoor decoration," Petitt says. "If you want something that says 'Fall is here' on your desk or your dining room table, they're great. They're that little touch of color that says we're going from the pinks, purples and blues of summer to the oranges, golds and reds of fall." Petitt also recommends piling them in a basket or glass vase with other seasonal items.
If it's not color you're after, though, gourds still shouldn't be overlooked. Just like a pumpkin, you can give a gourd a makeover. "You can paint gourds, too," says Austin Colboch, manager at Wheeler Gardens. Their one-of-a-kind shapes add a bit of fun even when they're one simple shade, or you can personalize them with things like your initial or last name, Colboch says. She also suggests displaying them outside of your flower pots outdoors, or even stacking small ones on top of the dirt inside of the flower pots to give the arrangement a little something extra. 
And when the season is over, don't just toss those gourds in the trash. If you have space, you can let them dry for a few months. "Sometimes they'll last for a couple of years," Petitt says. If you don't want to use the dried gourds for decor next year, you can cut them open, dissect the seeds and try to grow your own. "You should wait to plant them in mid-April or even early May," Petitt says. If you are attempting this, consider installing a fence for them to grow up, or allow plenty of room for them to spread out. "I've even had customers who are gardeners come in and tell me they threw their decorative gourds in their compost and now they have a harvest of their own," Petitt says. And you can, too—those oh-so-popular pumpkins will just have to sit on the sidelines for one more year.