Food
Recipes from the Past
After reminiscing about old recipes, a group of 417-land friends gathered for a throwback casserole party complete with flavors from years past.
By Savannah Waszczuk | Photo by Abby Gust
Sep 2016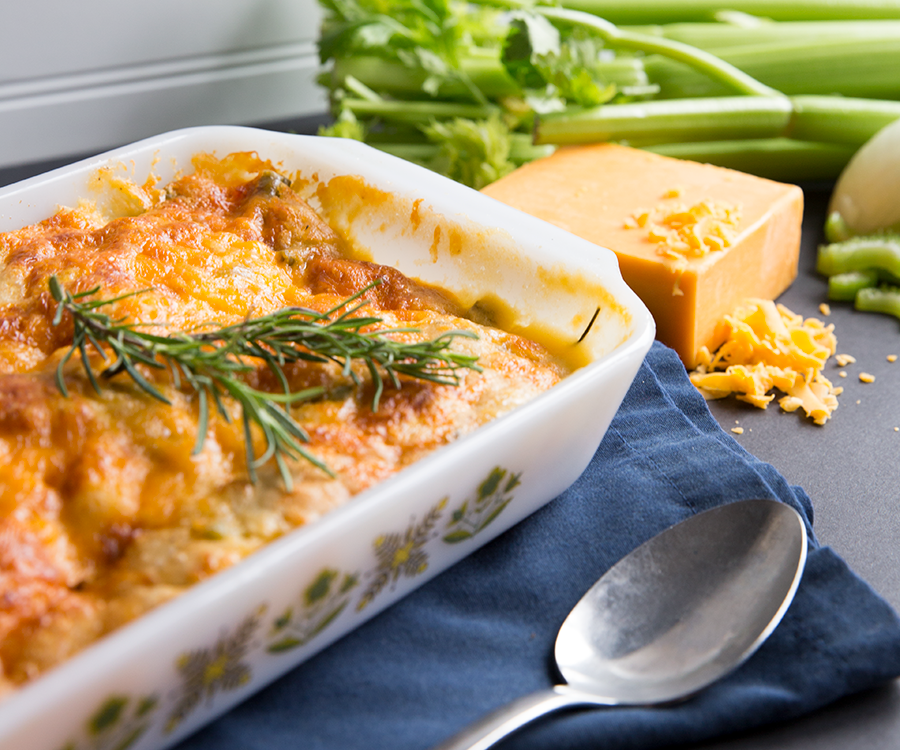 When you're hosting a dinner party today, you're likely going to think about a whole slew of things you would have never dreamed of if you hosted the same party 30 years ago. Chances are, today's event would include at least one guest who eats dairy-free, or gluten-free, or maybe even vegan. Times have changed, and people who have played host for decades—or remember the days when their parents used to host—have watched it happen. 

Susan Metzger was sitting and chatting with a group of girlfriends about this exact scenario. "We were talking about how it is so different entertaining at home today," Metzger says. "Most of us grew up in the '50s, '60s and '70s. You used to just fix a casserole back then, and everyone would eat it." This spiraled into a conversation about old casserole recipes—the kind that were sure to fill your belly with one helping and more often than not included a can of creamy Campbell's soup. 
The gals' husbands were nearby, and they liked what they heard. "All the guys were hearing us talking about these recipes," Metzger says. "They said, 'Hey, now, what's wrong with that stuff? We love that stuff! We'd love to have something like that again!'" 
And just like that, an idea was born. The group decided to host a casserole party—a special night where everyone would bring a prepared casserole that they used to eat when they were a kid, or even that they regularly made years ago, and they would indulge. "We thought it may be a fun thing to do and a fun way to entertain," Metzger says. 
As the host, Metzger determined her next step was organizing the event. After picking a date, she turned her attention to making sure the menu included a bit of variety—a tip she'd recommend to anyone planning to host a similar party. After asking people what they wanted to bring and receiving initial responses, she started telling the others what types of casseroles were still needed. "I tried to steer them so that we wouldn't end up with something like 10 green bean casseroles and nothing else," Metzger says.
The dinner took place on a cold day this past February, when guests arrived with stick-to-your-ribs main dishes, side vegetable casseroles and desserts. "We even had a JELL-O salad category, because that was a big thing once," Metzger says. "We had three of those." And because she knew her friends would want to eat some sort of salad, Metzger prepared an old layered salad recipe from the '70s—most people who were around in that era know it as that salad made with peas, bacon and sour cream. Metzger displayed old cookbooks for guests to look through as they enjoyed cocktails, and when it was time to eat, they forgot about calories for one night and treated themselves to a meal fresh from the good old days. After eating, everyone stayed around for a bit more socializing—a few guests even brought instruments, making it possible for them to end the evening playing music. "It was a very easy party to have," Metzger says. "It was a really fun way to get together with friends."