Remodels We Love 2016
Sep 2016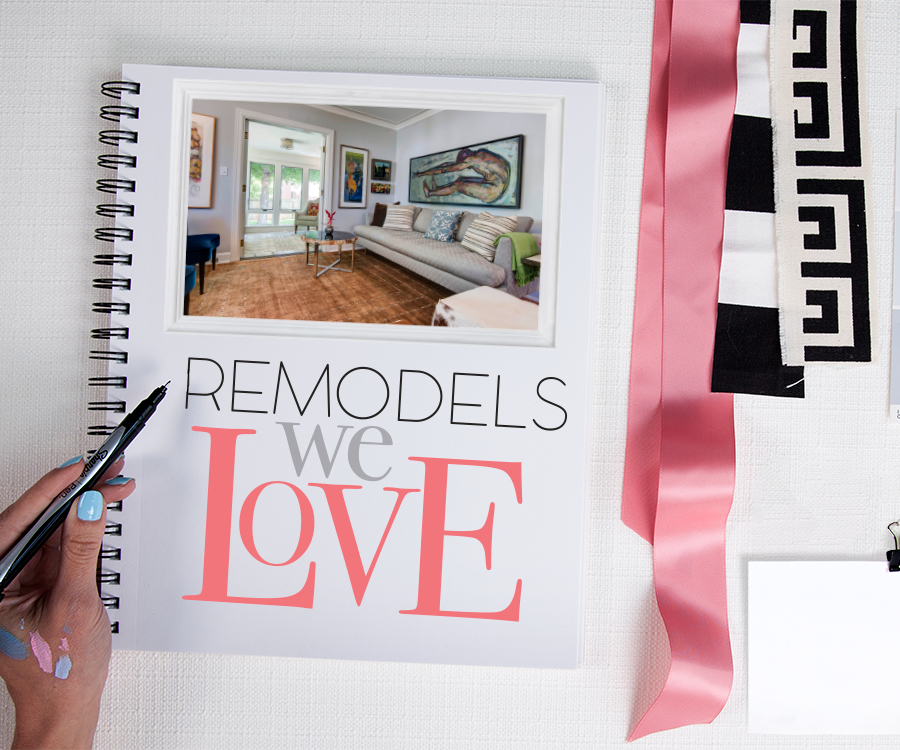 It's time for a change. If you're ready to spice up your home life, we're here to help. The following pages are filled with everything you need to know to remodel your home. Whether you're buying a fixer upper to channel your inner Chip and Joanna Gaines or you just want to update the house you're in, the experts in 417-land will tell you how to get started and how to do it right. Read the experiences of four local families who have done it all before. After this feature, you'll be ready to tackle a remodel head-on and fall in love with your home all over again.
Written by 
Rose Marthis, Savannah Waszczuk, Karlee Renkoski
Photography by
Brandon Alms, Terry Sweeney, Randy Colwell, Randy Henderson
Art Direction by 
Heather Kane

Living room: 
Martin and Lewis kept the original floors but refinished them, then Martin decorated and furnished the space. New furniture or decor pieces were chosen to complement the existing art and sculptures. "I didn't want to have someone else decorate without knowing me," she says.
Hidden Treasures
Terri Martin and Ashton Lewis modernized their 
1930'

s cottage home but made sure to keep historic details they loved while adding in tons of space-saving solutions. 

BY ROSE MARTHIS | PHOTOGRAPHY BY BRANDON ALMS AND RANDY HENDERSON | Before photos courtesy Terri Martin

 

Terri Martin loves her art. "Every piece of pottery, sculpture, painting—I know the story and the circumstances behind it," she says. "I don't put anything out that doesn't mean anything to me." Martin's appreciation for artistic detail doesn't stop within the frames, however. You can tell she put tons of thought and care into every element of her and her fiancé's remodeled home, transforming the 1935 Carthage stone house into a transitional-modern home in University Heights in central Springfield.

Martin and her fiancé, Ashton Lewis, had been looking to buy a new house for months, but nothing was fitting perfectly. They knew what they wanted: a house less than 2,000 square feet with quartz countertops, custom cabinets and closets, heated floors and high-end appliances. These requirements proved to be nearly impossible. With nothing coming close to their dream house, Martin and Lewis decided it would be easier just to remodel the house they already owned. The couple paired up with Mark Ekhause of Mark Ekhause Custom Homes and Renovations (417-886- 2732, 4651 S. MaryAnn Ave., Springfield), and worked with him for 18 months to get exactly what they wanted. They worked one room at a time to renovate, refinish and update everything in the house. The first project was a bathroom, and Martin says she learned a lot in this first room. She was there to work with Ekhause and his team every day, so she caught a lot of little things and hit her rhythm as she went. The team worked on the second bathroom and laundry room, then moved onto the screened-in porch, which was turned into a cozy sunroom. After the sunroom was completed, Martin and Lewis used it as their kitchen for six months while the actual kitchen was being remodeled. The last project was to sand and refinish the original hardwood floors. 

The couple made sure they kept the signature characteristics of their Carl Bissman cottage, such as the crown moldings, wall cherubs and leaded glass windows. Martin's goal was to make it more transitional. "I wanted to keep the design warm and have clean lines," she says. One of the most important things to Martin was having multi-functional spaces and lots of room for storage, which most older houses lack. Martin worked with her contractors to maximize storage space and functionality by creating items such as built-in drying racks and sliding doors for the bathrooms and laundry room. "In small spaces, a traditional opening door takes up too much precious space," Martin says. She says the key to her successful remodel was doing her research beforehand. "At the end, it's your house," she says. "You should do your homework first." She thought about every detail of her lifestyle, even down to her three pets, and created a home that worked for her and her family.
​
 
Sunroom: The only thing remaining from the original screened-in porch is the Carthage stone pillars, which Martin used to frame the new sunroom's windows. A mini-split was added to keep the temperature regulated.

Dining room: Martin says she likes to play with different styles and textures. This is evident in the use of the modern Philippe Starck Louis ghost chairs along with a traditional pedestal table. The couple also kept the original windows in the home but added storm windows on the exterior to help with energy costs. 
Kitchen: Martin had to figure out a way to balance adding an island without sacrificing space. She worked with the carpenters to build custom cabinets that maximize storage and create functional uses out of dead space.
Exterior: The couple worked with Myron Royce Gardens to create landscaping and rock work that made the house look like it fit into the space. 
Bathroom: Continuing to maximize function in a small space, the couple doubled the size of the shower width and raised the ceiling in both bathrooms. A sliding door was added to reduce dead space, and Martin splurged on high-end appliances and heated ceramic floors. "It's not going to add that much cost, and you will thank yourself when you're stepping on a warm toasty floor in the winter," she says.
 Family room: To create height in their small space, Martin and Lewis raised the room's ceiling and added white wash stained planks to add texture.

Kitchen: Hickory wood flooring was installed in all of the home's bedrooms and main living areas, including the kitchen. All of the room's cabinetry was reconfigured and replaced by Cabinet Concepts by Design, and it was painted a dark matte gray. White quartz countertops were also added to help provide a clean finish. Emily was thrilled to deck out the space with Frigidaire professional line appliances from Metro Appliances & More, including a refrigerator that steals the show. The island in the center features a bit of extra storage with hidden cabinetry, and it's lined with barstools that used to belong to Emily's grandmother.
Fixer Upper
From the damaged foundation and subfloor to the old popcorn ceilings, nearly every inch of Will and Emily Johnson's Hickory Hills home was remodeled, and the result is a stunning space that boasts modern industrial style.
By Savannah Waszczuk | Photography by Randy Colwell | Before photos courtesy Emily Johnson
A room with a view. That was the final factor that convinced Will and Emily Johnson to sell their former Rountree home and purchase an old ranch-style property in Hickory Hills. "We were looking for something smaller with remodeling possibilities," Emily says. "We actually stumbled across this house. We were driving around east of [Highway] 65 and saw a sign that said 'Open House.'" 
As the couple walked through the outdated two-bedroom home, they looked at it as they would look at any other space, noting the work they would have to do to make it a place of their own. But then when they walked into the living room, they were greeted with something that isn't exactly easy to come by—windows that looked out onto a water view and the second hole of the Hickory Hills Golf Course. "Whether you're in the kitchen or the great room, you have an amazing view of the golf course," Will says. "We have one of the best views on the street."
Up until recently, though, the home wasn't exactly a place to relax—it was a construction zone. After the Johnsons purchased the property in December 2015, Will and his father, Jerry Johnson, did all of the demolition work. Will and Emily also hired builder Jason Bekebrede of Monticello Custom Homes & Remodeling (417-860-7873, homesbymonticello.com) and custom home designer Jason Thompson of J.L. Thompson Design Group Inc. (417-334-3582, jlthompsondesign.com) to help transform the space. 
Changes were made from the ground up, with foundation repair being one of the many projects needed to complete the intensive remodel. A wall in the living room was removed to combine the kitchen and living room into one large, open space, and the home's two former master suites were reconfigured to become a master bedroom with a sitting room and a guest room. 
All of the parquet flooring and 20-year-old carpet was removed and replaced, and the old popcorn ceiling was scraped away and refinished. Drywall replaced much of the home's former paneling, and the kitchen ceiling was raised to flow with the living room's original vaulted ceiling. To create a truly seamless transition in this great room, they also added a custom-made cedar beam that runs between the living room and kitchen areas and replicates the existing three beams that originally lined the living room ceiling. They also built on to the home, adding a second living room with access to the backyard, and two bedrooms and a bathroom for their children: 2-year-old Silas and 4-year-old Quinn. 
Living room: The living room features its original river rock stone fireplace, and the cabinetry and shelving here were painted matte gray to match the kitchen. A 9-foot teak Danish modern table is surrounded by chairs that appear to be white leather but were actually recovered with automotive vinyl. "That's a great tip for anyone who wants the look of leather but has small children," Emily says. 
Exterior: The Johnsons painted the brick a deep gray and removed many of the former overgrown bushes to help freshen up the front of the home. They also added a flagpole. "You can't have a house without a flagpole," Will says.
Master Bedroom: The original master bedroom had an attached office with a glass double door. During the renovation they removed the door, widened the door frame and created an open, flowing space. Floors and old walls were removed and replaced, and Emily chose midcentury furnishings and accessories to complete its look. She says her mom, Suzanne Donnell, has always been great with interior
design, and she assisted with many of the home's decor ideas. "I'm thrilled that I've also inherited some of those skills," Emily says. 
Second living room: There's a fun story to tell about an item in the second living room, which was part of the home's addition: It features a chandelier that supposedly hung in Theodore Roosevelt's bedroom in the White House."We don't have proper documentation, but it was a selling point when we initially toured the home," Emily says. "True or not, it's truly beautiful and really defines the space." The room is also home to midcentury modern couch from Emily's grandmother, and its sliding doors lead to the new 400-square-foot deck. "The original house had no exit to the backyard," Emily says. "With the addition we planned for a sliding door from the living room for backyard access." 

Master Bathroom: The former master bathroom was transformed into a large closet, and the home's original guest bathroom that sat nearby was added to the room and transformed into the new master bathroom. Original chandeliers still hang in the space, and a new custom-designed clawfoot tub by Nick Burg at The Tub Connection (877-795-5684, thetubconnection.com) in Kirksville replaces what was a nearby sunken tub and adds to the space's slight nostalgic feel.  
Modern Farmhouse
Gary and Anna Hogue worked with a handful of local experts to transform an old ranch-style home in Ozark into their very own modern day farmhouse. 
By Savannah Waszczuk | Photography by Brandon Alms | Before photos courtesy Anna and Gary Hogue
Gary and Anna Hogue are no strangers to home design. Anna previously built two custom homes in Rogersville in 1997 and 2001, and then in 2011, she and Gary moved to Millwood where they purchased a home and fully remodeled it. "You wouldn't believe what that place looked like when we moved in," Anna says. Although their hard work helped them create a place they loved to call home in the popular golf course community, they dreamed of somewhere where they could spread out with their children and grandchildren.
During their last year of living in Millwood, the couple started attending life group gatherings at Curtis and Deb Cook's home in Ozark. "I always thought it was a very welcoming space," Anna says. "I loved where it sits, and I loved how it was close to town but felt like the country." They loved it so much, in fact, that they bought it for themselves. "I just loved the bones of it, and the way it sits on the land," she says. 
While they were happy with the home's location, Gary and Anna had the goal of giving the space an all-new look both inside and out. And from their previous visits, Anna already had a plan for it. "I pretty much knew exactly what I wanted to do when we moved in," she says. 
 When the couple purchased the property, the home had many interior details reminiscent of the 1970s. "It was built in the early 1970s, and it hadn't been touched much since then," Anna says. They started the extensive remodel project right away, enlisting the help of Terry Bradshaw and Shawn Cathcart of Done Right Construction (417-569-7016, donerightconstructionllc.com) and interior designer Jacque Pitts of Brashears Furniture (417-818-6882, brashears.com). They also called on Betsy Miller of 2B Organized (417-880-2325, 2b-organized.com), who helped them with demolishing, designing and decluttering after they made the purchase.
All of the home's flooring was removed and replaced, and several walls were removed to create more of an open floorplan. They changed all of the wall coverings, and they modernized the kitchen with a clean, country-meets-modern look. The bedrooms were painted and refreshed, and the stairs that led to the basement were knocked out. Helping to give the downstairs a completely different feel, the new replacement staircase was actually reversed and enters the basement from the opposite direction. The bar in the basement was also remodeled, and decks were added in both the front and back of the home's exterior. "We wanted a modern farmhouse," Anna says. And when the changes were all complete in February 2016, that's exactly what they got—and it's a place the Hogues love to call home.

Master bedroom: The layout changed to include a new doorway in the bedroom that leads to the back exterior's new expanded deck. 
Powder bath: A new powder bath was also added outside of the master bedroom. It's a small space, but lively wallpaper adds a splash of personality.
Kitchen: All of the old kitchen cabinetry was replaced, and several cabinets were even removed completely to free up space. "I was going to put open cabinets in here, but I thought that would add too much pressure," Anna says. Instead she added custom wood cabinetry by Custom Corners LLC. The new granite-topped island is longer and skinnier than the previous one, and a farmhouse sink helps complete the modern farmhouse look. The home's original wood doors were made into a sliding barn-style door that separates the kitchen from the laundry room, and tile floors with a wood-plank look flow through the room and home.
Kitchen details: Beadboard siding was added, and they hung Anna's vintage plate rack on it to display some of her favorite dishes and her jadeite collection.
Gary surprised Anna by painting this love note on the barn shed during their home remodel. 
The great room: Two walls were removed and two smaller rooms were combined to create what is now the home's great room. Its dining area (pictured) features a table for eight as well as the home's original red fireplace that is lined with photos of the couple's children and grandchildren—together they have six children, two daughters-in-law, one son-in-law and three grandchildren. The elk head in the dining room was gifted to Anna 10 years ago and formerly hung in the couple's lake house. "We love to dress him up," Anna says. "We'll put a Santa hat on him around Christmas, and maybe some silly sunglasses sometimes. We dress him seasonally."  
Basement: A former drop-in staircase was replaced by a new custom stairway that leads to the home's basement, and the stairs were reversed to open to the opposite side of the room. The basement's bar, which was given a facelift in the remodel, sits at the bottom of the space. "It wasn't exactly a bar before—it was more of a kitchenette-type thing," Anna says. Adding to the sink and refrigerator that sat in the area, they moved the kitchen's old double ovens downstairs as well, and they added custom shelving to the back wall. They also replaced all the light fixtures and added a new granite countertop. 
Exterior: A porch complete with a pergola was added to the front of the home, and it provides the perfect cozy space for the Hogues to enjoy a little outdoor living. The front door was also replaced during the remodel, and new cedar shutters were added to help complete the fresh look.  
​
Living room: The Fergusons loved the high ceilings and openness of the original home, but needed to make it fit their lifestyle more. They didn't change the configuration of the living room, but added a linear fireplace to add warmth while keeping a modern touch. The couple also designed an entirely new bar area for entertaining, but kept it cohesive by matching dark cabinets to the shelving above the fireplace and adding a dark granite countertop to match the fireplace granite.
Course-Side Living
When Jeris and John Ferguson were downsizing, they turned a traditional home in Highland Springs into their contemporary dream home with a perfect view of the golf course. 
By Rose Marthis | Photography by Terry Sweeney | Before photos courtesy Rhoads Design & Construction
In the winter of 2014, Jeris and John Ferguson were looking to downsize. The avid golfers found a home they loved in Highland Springs with a perfect view of the golf course from the living room windows. The Fergusons wanted to keep the structure of the home but change some architectural details to create a more contemporary look. That's when they called in Adrian Rhoads of Rhoads Design & Construction (417-889-6000, 1435 S. Enterprise Ave., Springfield, rhoadscompany.com). 
Rhoads and his team helped make the Fergusons' vision come to life. The home was originally very traditional and had some spaces that were more closed off than Jeris wanted. She loved the high ceilings and could see the potential of having an open-concept floorplan. Rhoads opened up the wall separating the living room and dining room, created floor-to-ceiling windows in the living room and added cut-outs in the wall between the kitchen and the stairs to create an open-air feel. 
The kitchen had the most work done with new appliances, cabinets and finishes. The Fergusons also built a bar area and created a space for entertaining. Bamboo floors were installed everywhere besides the master bedroom and upstairs. Downstairs updates included adding wallpaper to the entryway, changing the flooring and wall finishes in the powder bath and reorganizing the laundry room, where they added a stacked washer and dryer to maximize organization in the small space. Jeris and John's study is also downstairs, and the couple reconfigured the cabinets and built two desks to create a space they could both work in at the same time. Upstairs, there were no structural changes to the master bedroom, but the couple added a closed armoire, new carpet and wall covering. A linear fireplace was added to mirror the one in the living room, and tile was replaced. 
The contractor Rhoads used for the kitchen cabinets also built a pair of custom nightstands, which Jeris says she loves. In the master bathroom, Jeris made the decision to remove the sunken-in tub and replaced it with a sleek, modern tub that stands alone from the walk-in shower. She also added a wall-to-wall counter with his-and-her sinks that sit below custom mirrors also built by Rhoads's cabinet contractor. The rest of the upstairs is devoted to the Fergusons' granddaughters, with their personalities and favorite things playing a big part in the design. 
Jeris's design background really helped her when she picked out the materials, and she was able to express a clear vision for Rhoads to work with. The Fergusons trusted him to create their dream home so much that they were in and out of town during the remodel and only came back once to approve the direction Rhoads was heading. The entire process took about a year, and in the spring of 2015, the Fergusons returned home, then promptly hit the golf course. 
Kitchen: The Fergusons worked with Adrian Rhoads to complete an extensive remodel in the kitchen. Together they designed a modern geometric cut-out in the wall connecting the kitchen to the stairs. Every appliance in the kitchen was replaced, and custom cabinets were built to match the rest of the home. The Fergusons added a round table that serves as an extension of the island, and Jeris says the couple uses it a lot to eat or share a cup of coffee when it's just the two of them. 
Dining room: The layout of the dining room stayed the same along with the windows, but the Fergusons did replace the floors. Jeris also brought in the contemporary style with the table and chandelier. The Oggetti table features a glass top resting on a wooden base made with a brown and black zebra wood. Jeris had some fun with the chairs, mixing two bronze leather chairs with four fabric chairs with a metallic print. 
The view: The Fergusons fell in love with this house because of the placement on Highland Springs' golf course. To capitalize on their views, they replaced the original windows with floor-to-ceiling windows complete with modern blinds to maintain privacy and block out sunlight. The outdoor living space was also important to the couple. They replaced the floors on the deck and added modern finishes including an iron railing. When they aren't sitting outside, the Fergusons spend time at their living room table sharing a drink in the evening or playing cards with their grandchildren. The couple also uses the additional seating for dinner parties. 
Entryway: The Fergusons didn't change anything architecturally in the entryway, but Jeris did want to update the style. She replaced the front door to let more natural light in and added modern light fixtures to tie the finishes together. To add more warmth, she added a granite wallpaper that creates texture and adds depth in the space. 
First-Hand Accounts
First Time
 

Remodeler 

By Kinsey Rogers as told to Karlee Renkoski

The house was built in 1914. It was a craftsman home that had been terribly remodeled on two other occasions, so we're trying to take the house back to its original form of being a craftsman. We wanted the character of a craftsman but something that is a little more modern with an open floorplan to fit our lifestyle.

I'm probably more behind the design and [my husband is] behind the construction part of it. We're putting the crown molding back so it looks like it's original to the house and putting big modern pendants over the island. It will have the craftsman, tapered columns in front and a large dormer on the second story. I had all of the interior decided prior to starting. I'm going with gray, which is much more my style than any brown or beige that you find in these houses. I also like white, clean lines and simplicity.  

We've taken the second floor and made it our living space while we tackle the first floor and exterior. You feel so accomplished if you tackle it room by room versus everything at the same time, because you have to feel that success of completing a project.

Patience is key. Everything is probably going to take a bit longer or be done a different way than what you expected. Budget. Everything is always going to cost more than you expect. It's really rough, but completely worth it. Slowly I'm starting to see it's becoming what we envisioned what we want our home to be.
---
Projects by
Price
You have so many ideas for remodeling your home, but have a limited, specific budget. What project should come first? Whether you're looking to sell your home or simply update your style, this advice from remodeling companies puts your money to good use.
BY Karlee Renkoski
​
$5,000
One or two single upgrades with or without professional involvement is the way to go with this smaller price range. Keystone Building and Design says common, easy projects like painting rooms and updating light fixtures keep your home stylish. For the biggest overall impact on the look of your home, the living areas you spend the most time in should be your first places to make changes. These affordable, upgrade-focused projects will most likely help it sell faster. Although many of these projects can be performed by the homeowner with success, Keystone Building and Design recommends hiring a professional contractor. 
$10,000
Rock Solid Renovations says updated bathrooms and kitchens will increase the value of your home, so with this price point, a facelift in the kitchen is highly recommended. Buy new appliances, preferably stainless steel appliances, and replace your sink and faucet to update and synchronize your look. Although this budget is too small for granite countertops, new laminate countertops and backsplashes could definitely be installed. It's important to keep in mind that doing trendy finishes is not the best idea in your kitchen if you're looking to sell within a few years. They suggest timeless finishes over trendy ones. 
$15,000
Make improvements that will affect energy savings or spruce up the style aspect of your space with this budget, says Keystone Building and Design. Upgrade all windows and doors and some insulation to create a return on investment and make your home more comfortable to live in. Keystone Building and Design emphasizes that any amount you spend on energy savings will have an exponential effect on future savings. For style, upgrade your outdoor space by installing a nice deck with common treated lumber from a lumberyard and creating beautiful landscaping. 
$30,000
With this price point, Rock Solid Renovations says you have what it takes to do a full master bathroom remodel. This includes smaller upgrades such as painting the room and replacing the toilet, sink and light fixtures, as well as bigger changes like putting in custom cabinets with granite countertops and even tiling the floor. Tiled showers continue to be more popular, and Rock Solid Renovations says the bigger the shower the better if you plan to sell your home. It's also easy to find more than what you planned for in bathrooms, so be sure your budget is on point.  
---
Expect the Unexpected 
By Julie Davis as told to Karlee Renkoski​
We were renting the house for a long time, so we knew most of its issues. But it was worth having an inspector come and inspect the house so we knew everything that needs to be done for the longevity of the home. We have some mold issues in the upstairs bathroom, so that's going to be a priority. We discovered we had termites during our inspection, and that was a surprise. Why spend all this money to make your house beautiful and not know you've got something that, if not treated, is going to wreck it over time? 
We had 23 trees and we're just a standard sized lot, so one of my No. 1 things is to cut down a lot of trees through Webster County Fence. It's not been great with kids because there's no grass under their feet, just a lot of acorns. What I found is that we can't just plant something. We're going to have to bring in truckloads of soil and till, and it will take a lot of work to get our yard to grow nice, green grass. 
It seems like there are more steps involved for every project, which can be frustrating and expensive. If you just put that in your head instead of thinking this is going to be a "weekend warrior" project, you'll be a lot happier.
---
How to Live With Your Remodel
Thinking about remodeling your home but have nowhere else to go? These 417-landers have been there, done that. Use their tips to make sure remodeling your home doesn't make your lose your mind.
"Stick to your budget or it can get away from you fast. The worst words for your budget during the remodel are 'While we're at it.'"—Anna Hogue 
 "If you have young children, make sure you communicate very well to them that changes are coming and it's going to be really exciting, but it's also going to be really loud. Describe to them what it's going to look like, what it's going to sound like, and maybe give them a couple choices. Then they feel a little bit of ownership in what's going on."—Julie Davis 
"A refrigerator makes a great place to not only store groceries but all serving ware and utensils while construction is underway. Silverware kept anywhere else would be covered in dust, even if it were in a drawer."—Emily Johnson 
"Have a space that looks normal. You have to find your sanctuary to find peace. I went to storage and looked at my art. When you do one room at a time, you can go to a non-remodeled room and pretend things are normal." —Terri Martin
"It's important to have a good contractor with reliable subcontractors. Everyone we used were Adrian [Rhoads's] subs. The installation went so well because we didn't bring in outsiders. We discussed every decision before Adrian got his guys."—Jeris Ferguson
"Take time away from the project. So for us, having time to go to dinner or go on a walk and not talk about the house. I think you have to be able to step away from it, or otherwise, it will consume you." —Kinsey Rogers
---
Current Trends in Remodeling
Check out the top home remodeling styles builders are seeing around
417

-land. 

BY Karlee Renkoski 

 
Sam Butler | Craftsman Style
​From homes in the city to out in the country, the craftsman trend has been sweeping the nation. Butler says it's all about earthy tones and adding rustic accents to a modern appearance. The use of shaker style cabinets in craftsman homes is fairly consistent, and remodeling usually includes a mix of stone and siding on the exterior of the house. Butler says some additional big game changers are updating the floors, cabinets, trim and doors and using dark and light colors for a noticeable contrast.
Chad Holgerson | Industrial
Repurposing old architectural elements and antique fixtures to create an industrial style is something Holgerson is seeing on the rise. He says this is popular with homeowners because it has DIY written all over it, and it's adventurous to search for a treasure at a flea market and turn it into something personal in your home. Holgerson warns not to go overboard on this trend, though, as television shows and large manufacturers are flooding the market with items, and a lot of it will soon become dated.
Doug Pitts | Modern Farmhouse
Many traditional and ranch houses are being remodeled to create a modern farmhouse look. Pitts says this style features lighter colors and a cleaner appearance. Modern farmhouses use less staining and more painting of the cabinets, trim and walls as well as a consistent use of marble countertops. Pitts also says this trend focuses less on using distressed and reclaimed pieces in main areas, but these materials, along with dark floors can be used as accents throughout the home for a beautiful contrast.  
Rick Ramsey | Lodge
This popular style is often used to remodel houses situated on a lot of land and incorporates a restoration hardware look with industrial finishes. Ramsey says reclaimed wood, natural stone with a dry stack appearance and metal are important materials that separate lodge from other home styles. If you're going to do an exterior facelift, the biggest component is to replace the brick with wood and stone. Ramsey has experience with the Montana log look, which tends to add metal bracketry to create the natural feel a lodge-style home emanates. 
Sam Clifton | Contemporary
Taking a formal room and making it informal is a key objective in this style. It's going along with the "less is more" mentality, Clifton says. People are creating open concepts by turning three rooms into two and knocking out walls that close off rooms. You can create space rather than define it by continuing the flooring throughout rooms, he says. In kitchens, he is seeing clean lines and cabinets being customized to fit the homeowners' lifestyles by adding things such as pullouts and spice racks. White and gray painted cabinets are also popular.
Ron Hill | Mixing old and new
Instead of building a new home, make the most out of your existing home by remodeling and mixing a contemporary feel with your old house's style. Hill says this trend is eclectic and consistent in using clean lines, striking out walls to create an open space and adding attractive structural elements such as beams and arches. Black stainless steel, mixed finishes on cabinetry and LED lighting give a more powerful punch to a room's facelift. The key is to make the style social, Hill says, and spicing up a more traditional home adds valuable character.