Projects
The Patron Saint of Paint
Sometimes, it is what's on the outside that counts. We followed Brent Brooks of B Precision Painting LLC to learn the secrets of a perfect exterior paint job.
By Lillian Stone | Photos By Brandon Alms
Sep 2016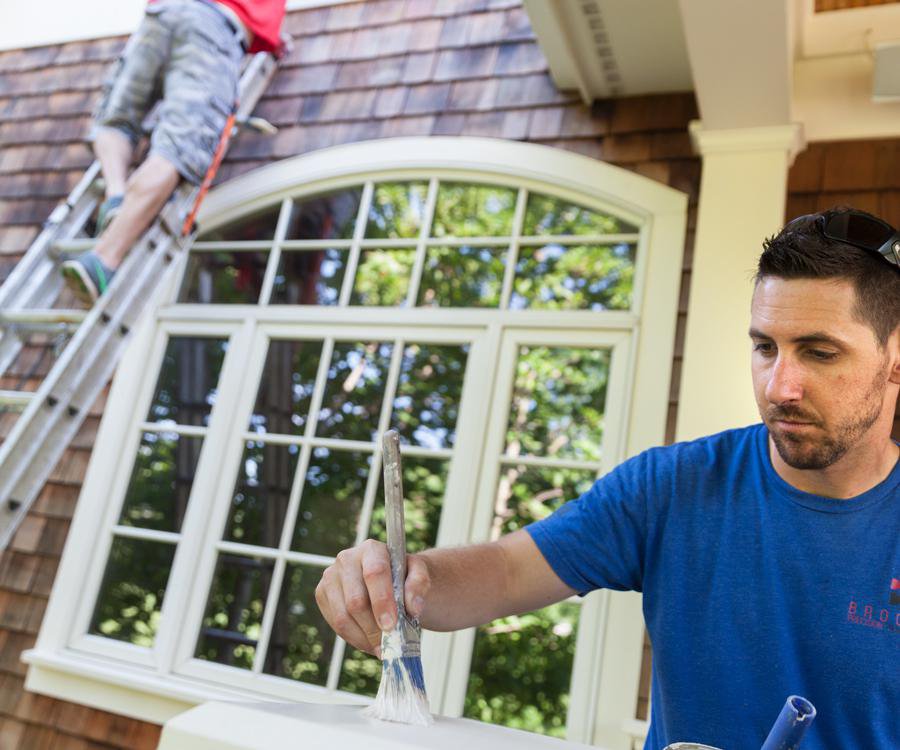 A fresh coat of paint can be truly transformative, especially when giving a home new life. Looking for some insight into the exterior painting business, I went on the clock with Brent Brooks of B Precision Painting LLC. He taught me a few tricks of the trade—and the importance of keeping up appearances.
Prep for Success
If anyone is equipped for a major exterior paint job, it's Brent Brooks and four other paint pros on his crew. He's been in the business for more than 12 years, having learned from his father, also a painter. Today, Brooks operates a storefront for his painting business in Willard, and he's proud of his loyal clientele. Although Brooks and his crew specialize in staining and refinishing wood, they complete around 15 full exterior "repaints" per year. That's no small task: A job can take between one week and two months. According to Brooks, the majority of that time is spent on prep work. The jobs Brooks was working on when I met up with him involved three weeks of preparation before the actual painting began. The first task was power-washing. Brooks had two men working to power-wash the home over a period of several days. They then carefully re-caulked the painted surfaces and filled nail holes. I caught up with Brooks and the rest of the team as they were painting the home.
Upon arrival, I took a quick lap around the impressive Highland Springs property. The home's exterior was mainly wood siding with stone accents. The crew was in the process of re-touching the home's gorgeous cream-colored wood details, of which there were many. They had to tackle each window frame, the clad exteriors, the roof trim and the home's impressive dormers—and the two massive covered decks with thick railings. Brooks says the group had already spent around 50 hours on the home's interior. They were returning to re-touch the exterior of an annual project.
Toolkit
An exterior job like this requires a few key tools. The crew came prepared with caulking guns and scrapers to remove paint and patch holes as needed, mini rollers for hand-painting, an array of heavy-duty ladders to reach the tough spots, and, of course, buckets and buckets of paint. When it comes to paint, Brooks says you get what you pay for. "Some of the lower-end paints will cost you around $25," he says. "But after a few years, you'll start to see a lot more wear. And you won't have a happy customer." This job used Benjamin Moore's Regal Select exterior paint, which Brooks prefers for its coverage. He also likes Sherwin-Williams paint.
The Perfect Finish
I initially found Brooks stabilizing a massive ladder in the back of the home. Crew member Devin DeFalco was 40 feet aloft hand-painting a section of roof trim. With the exception of cabinet work, Brooks says many of their jobs involve painting by hand. DeFalco carefully applied the cream-colored paint with a mini-roller while I chatted with Brooks below. This was the routine for most of the day's work: One crew member held a ladder while another re-painted the home's surfaces by hand. Moving the 200-pound ladder to another part of the house required at least two sets of hands. I didn't volunteer. "A job like this is pretty simple," Brooks says with a laugh. The process might be simple, but the results were stunning. The finished sections of detail work popped, giving the house's exterior a fresh, clean finish. The crew's careful prep work was obvious in the final product.
A Happy Customer
The team completes mainly residential jobs, so great customer service is a must. At the end of our day, he showed me around the home's completed interior and explained what makes his service superior. "It helps that I'm on the job," Brooks says. "I think it makes it more personal." It's fairly uncommon, he says, for the owner of a painting business to be present at every job—but he likes being there for his clients. That explains his loyal following of residential clients, many of whom hire B Precision Painting to repaint their homes year after year. Ultimately, what sets this crew's work apart? "We go over and beyond regular expectations," Brooks says.


---