Drinks
You Brew You
Why not forgo store-bought suds in favor of your own home-brewed creation? We talked to local hop heads Todd Frye of The Home Brewery and Andy Pearsall of Show-Me Brewing for their advice to get you started.
By Stephanie Towne Benoit | Photo by Chuck Travers
Sep 2016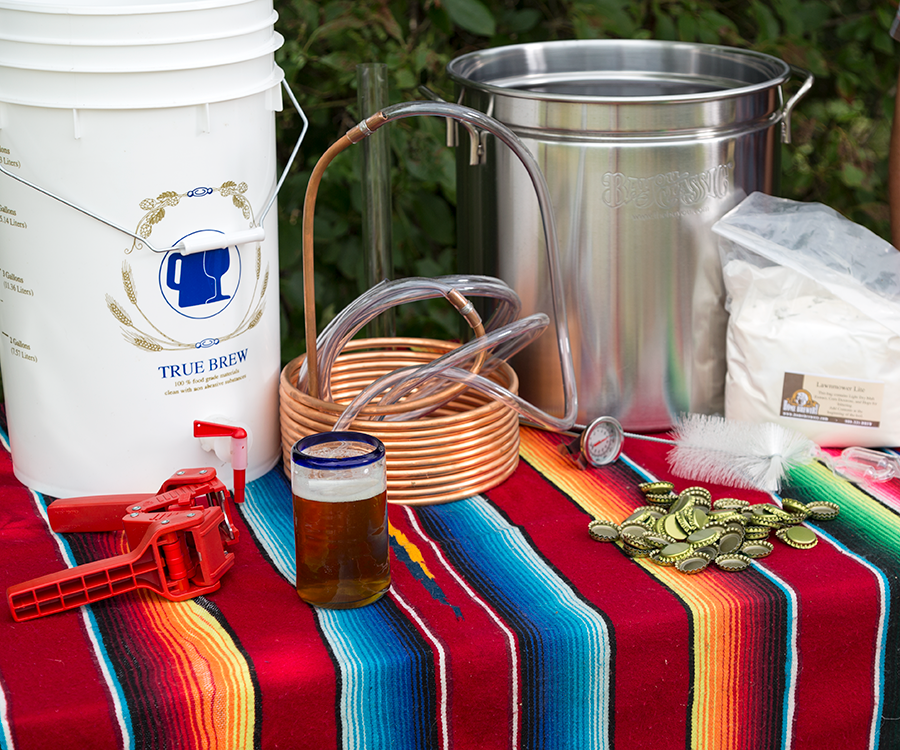 Although there are numerous helpful tools, there's only a handful of truly necessary equipment for brewing, most of which can be found in starter kits available at both The Home Brewery (1967 W. Boat St., Ozark, 417-581-0963, homebrewery.com) and Show-Me Brewing (1925 E. Bennett St., Springfield, 417-315-8617, showmebrewing.com) for less than $80. You'll also need a kettle to brew in; a large stock pot will suffice.  


2. Read Up
"It's not a complicated process, but knowing what comes in the next step makes for less stressful hobbies," Frye says. He and Pearsall both recommend The Complete Joy of Home Brewing by Charlie Papazian as a resource.


3. Clean Carefully
Although contamination isn't necessarily hazardous, keeping bacteria at bay with a good sanitizer (most starter kits have one) will prevent contaminants from affecting taste. "To get the best flavor possible, you minimize any contamination by using proper sanitation," Frye says. 


4. Gather Ingredients
Experts at spots like The Home Brewery and Show-Me Brewing can help you make countless brews by preparing custom packets containing just the right amounts of hops, grains and flavorings. "I can custom build you a kit based on whatever you are looking for alcohol-content wise or flavor wise," Pearsall says. 


5. Relax
Your first batch may not be perfect—and that's OK. With practice, your brews will improve. "The tip at the end of the day would be enjoy the process and be patient," Frye says. Patience pays off in other ways, too: Giving your brew an extra week or so to age will help the flavors smooth out over time. 
---
Get Schooled

 
Head to The Home Brewery for classes demonstrating everything from beer basics to advanced techniques. For information about upcoming classes, the next of which start in October, call 417-581-0963 or visit The Home Brewery's Facebook page or homebrewery.com.
Introduction to Homebrewing
This class gives an overview of the equipment, process and ingredients needed to make and bottle beer with the simpler extract method ($15 per person). 


Introduction to Winemaking
Ideal for beginners, this class teaches the procedures for making wine from start to finish, usually with easy-to-use wine kits ($15 per person).


Advanced Homebrewing—All Grain Brewing
This class teaches the basics of mashing barley for brewing beer, a more advanced approach than the extract method ($25 per person).


Advanced WineMaking—Fresh Grapes & Fruit
Making wine from fresh fruit rather than kits requires more steps; this class teaches skills like crushing and acid testing ($25 per person).
 
Kegging Your Homebrew
Learn to package beer and other beverages in kegs in this class teaching skills like keg cleaning, assembly, carbonation and more ($15 per person).
---
Wine Wisdom
Beer's not the only beverage that can be made at home. The Home Brewery's Todd Frye says that, like beer, tasty vino can be made at home with the right trappings and know-how. 


1. Be Patient
Patience is a virtue, especially with wine. "To get started with winemaking, probably patience would be the first main thing because it takes a little bit longer to make wine than it does to make beer, depending on the sort of wine that you want to make," Frye says. 


2. Equip Yourself
Wine starter kits provide all the necessary equipment. As for ingredients, making wine from fresh fruit requires more chemistry and process knowledge, so novices should opt for pre-prepared packs with instructions and ingredients. "Start off with a wine kit, and you can move into fresh grape or fresh fruit winemaking, and it's an easy transition," Frye says.
 
3. Don't Give Up
Resist the urge to toss a seemingly bad batch. "If you have something that you are not happy with, if you have something that doesn't taste quite right, bring it in," Frye says. "With wines, there are a lot of things that can be done to help the process, even after the fact." 
---
DIY Draft
Making your own beer has never been easier thanks to the hands-on brewing appointments available at Show-Me Brewing (showmebrewing.com).  


Interested in creating your own craft beer but hoping to avoid a do-it-yourself disaster? Head to Show-Me Brewing, which offers appointments for groups to use decked-out brewing stations under the guidance of expert brewers who oversee picking ingredients, bottling the final product and everything in between. "Most of the people who brew here have never brewed before, so I'm here to walk them and hold their hand through the whole process and explain everything as it's going," says Show-Me Brewing's co-owner Andy Pearsall. As for varieties, if you can dream it, they can help you make it, even maple-smoked bacon porter or chocolate-vanilla stouts or chai-spiced beer. "I can customize the recipe to whatever they want to make," Pearsall says. There are also monthly intro classes if you'd like additional instruction. We'll drink to that!