DIY
Love Your Laundry: Organizational and Design Hacks
We asked local experts to share trends and tips for updating your laundry room, making folding towels a task you want to tackle.
By Sony Hocklander
Sep 2017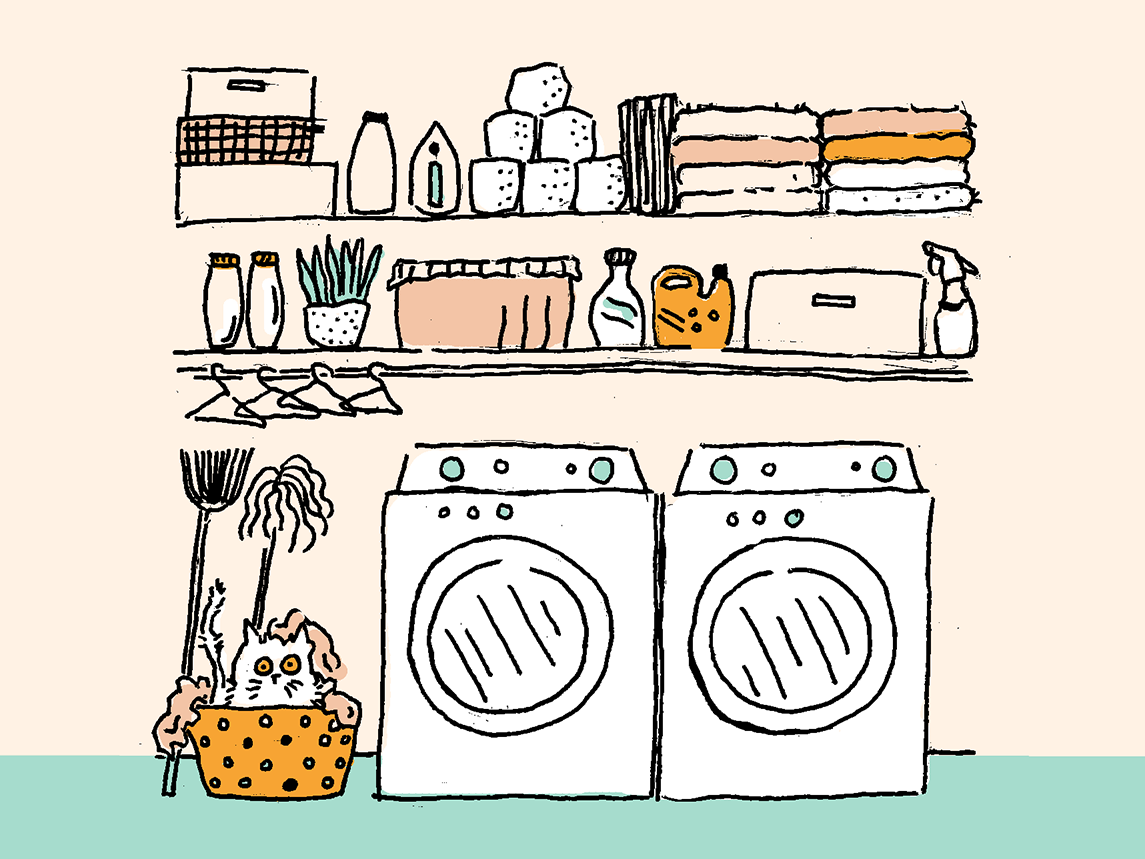 A family of four generates plenty of love, laughter and laundry. Camille Fletcher's small laundry area needed improvement, so she and her husband added a new, larger space to their home in Ozark. But they wanted more than a larger, pretty room, says Fletcher, the mother of a 6-year old and a 9-year-old. "I wanted to utilize the space well," she says. That's where Jeremiah Lee and Susie Edie of Rock Solid Renovations came in. They helped the Fletchers create a neat and efficient room using space-savers and functional organizers. "It's amazing how just a few well-placed amenities or added features can enhance the space," Lee says. He and Edie share a few tips for making the most of your laundry room space.


Fold and go
Add flat space for sorting and folding clothes, like the island countertop in Fletcher's new room. Don't have that kind of space? Lee suggests looking for a drop-leaf collapsible tabletop that folds against the wall when not in use.


Hang in a hurry
Most laundry rooms could use more hanging space. Add a bar over the washer and dryer or another counter space. 


Bountiful baskets
Sorting is a snap when you add large, open shelves to hold clothes baskets. Fletcher's are under the countertop island. Buy standard laundry baskets first and measure for size, Edie suggests. Store baskets low enough so kids can drop whites into one and towels or soccer uniforms into another.
 
Secret storage
Make use of vertical space! Add a narrow sliding shelf unit with a hidden panel. The unit rolls out, revealing open shelves to hide laundry detergent, dryer sheets, a small trashcan and more. High, open shelves that hold pretty bins can hide everyday items like irons and spray starch. Or use the space as a catch-all for hats and gloves or outdoor shoes. Hide your trash by adding a pull-out bin to a lower laundry cabinet. 
 
Dependable drawers
Consider pull-out drying drawers like Fletcher's, with dowels to hang leggings and other delicates. When not in use, they stay closed and out of the way. Another idea, Lee says, is to put drying drawers behind doors that slide into themselves, like those in a media cabinet. The doors could stay open, tucked out of the way, allowing air to circulate through drawers that can stay closed while clothes dry. (Small-space idea: Add a mesh over-the-door tiered drying shelf that can lay flat when not in use.) A bank of drawers adds needed storage for small laundry items, like bleach pens. Or turn one into a lost-sock drawer. Add an electrical outlet and USB strip to one drawer for charging mobile devices.


---
Bore Chore No More
You have to spend time in your laundry room, so you might as well make it a place you like to look at. Here are ways to make your space just as trendy as the rest of your home.

Love hot pink but reluctant to use it in a main living space? Paint your laundry room instead.
"If it's a laundry room off the side of the house that really no one goes in, you can do that as fun as you want," says color-trend expert Alison Rosebrough, who co-owns Seminole Decor Center. "Do something you wouldn't do in the rest of the house." Rosebrough offers a few tips.
• Use your laundry to reflect something you love—for instance Route 66 or a favorite vacation. If you went to Paris and it was a really good trip, hang Parisian wallpaper and a fun chandelier.
• Plaster a wall with family photos and mementos. Or add chalk board paint to one wall for family messages.
• Change the look of your laundry cabinets with popular gel stains. Seeking the latest neutral? Go with gray.
• Big, bold checks are trendy right now and brighten the chore of laundry. Tone-on-tone checks are a good choice for more subtle color.