Featured Homes
Phil and Chastin Reynolds' Refined Retro Prairie House
Phil and Chastin Reynolds spent two years searching for the perfect home. After renovating a 1965 prairie house to match their midcentury modern aesthetic, the couple couldn't be happier with their contemporary spin on the style.
By Jennifer Adamson | Photos by Brandon Alms
Sep 2017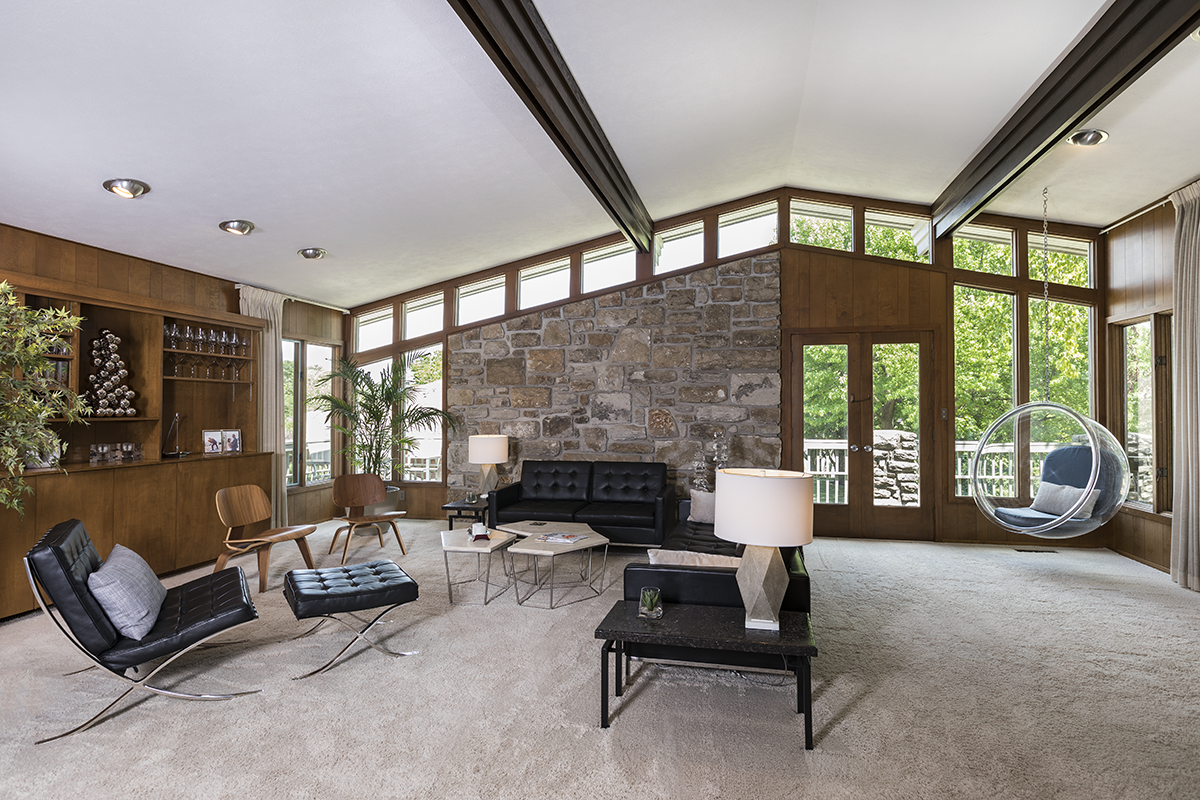 Walking into the prairie home of Phil and Chastin Reynolds used to be like walking onto the set of The Brady Bunch. Florescent lighting, dark walls and shag carpet ran throughout the interior, making the space feel more like a scene from the famous sitcom than a relaxing retreat from the couple's day-to-day hustle. 
Today, the five-bedroom, four-bathroom house showcases high-end finishes and top-of-the-line furniture—both of which have amped up the midcentury vibe enough to make Carol Brady avocado green with envy.
"We like midcentury modern, and it's got that going on in spades," Phil says. "We probably looked for a house for two years, but Springfield's famous for its vinyl-clad, brick-front neighborhoods, and we really wanted something unique, something with very high-quality craftsmanship in a very minimal form."
For Chastin, the property's architecture struck a sentimental chord and revived fond memories of her younger years. "The rock walls and ceiling beams remind me of my grandparents' house, and I spent a ton of time there growing up," she says. "It immediately felt like home."
Together, the couple agreed the 5,400-square-foot floor plan was really the property's No. 1 selling point, especially considering they each work 60 hours a week from home. 
"There aren't that many rooms, but the rooms are big," says Phil. "There was a lot of intent by the architect to create different spaces. And with the way we've decorated, we're able to move from area to area in the house and change up our scenery without ever having to leave." 
But before the homeowners could feel settled, they needed to tackle a few non-negotiable upgrades and make the place functional for their needs. Starting with boosting the infrastructure's energy efficiency, they had all the electrical wiring replaced, invested in a tankless water heater and traded most of the fluorescent lighting for LED lighting. They installed smart switches to control light activation and dimness from a connected device, as well as set up surveillance cameras around the interior and exterior so they can monitor their home at all times. 
Next, the couple moved on to painting and decorating in a way that would seamlessly combine their living and working spots, as well as mix dark and light, old and new. The repetition of strong horizontal lines, an interaction with the landscape and choosing to keep some original features accomplishes this goal and redefines the Reynolds family's home as the midcentury modern dream they always knew it could be.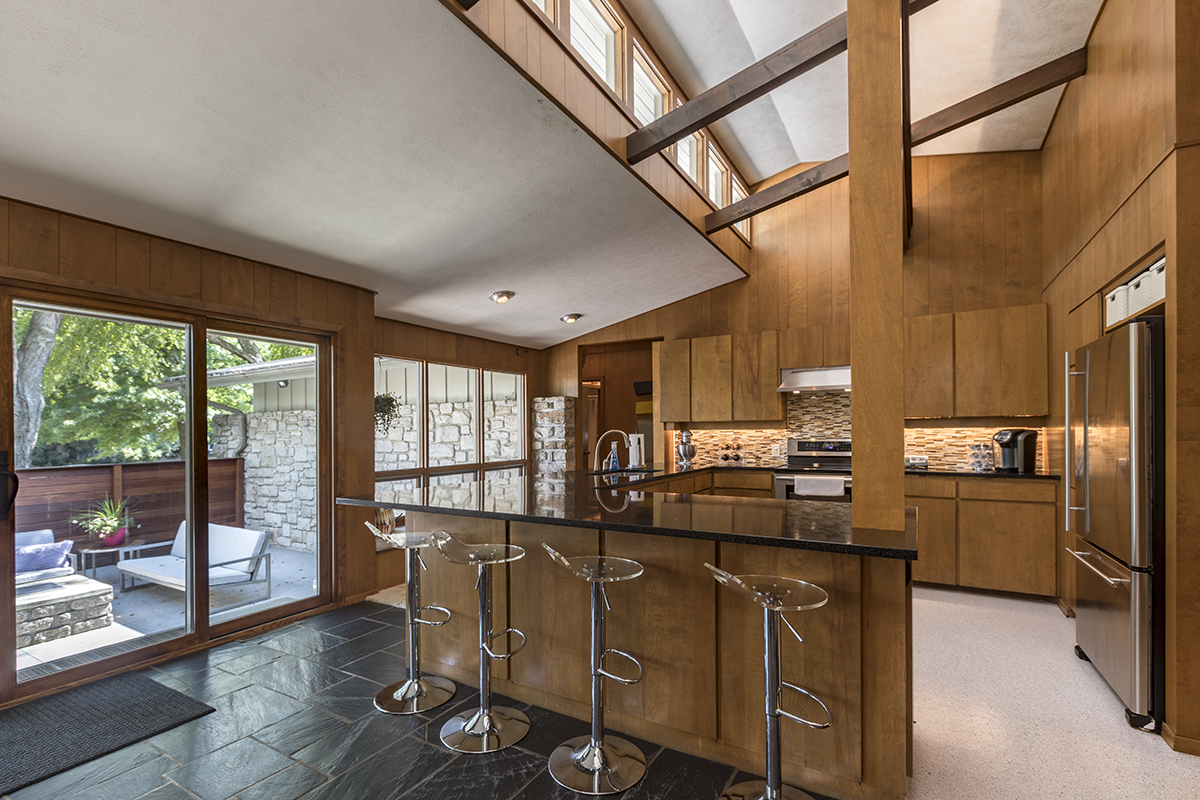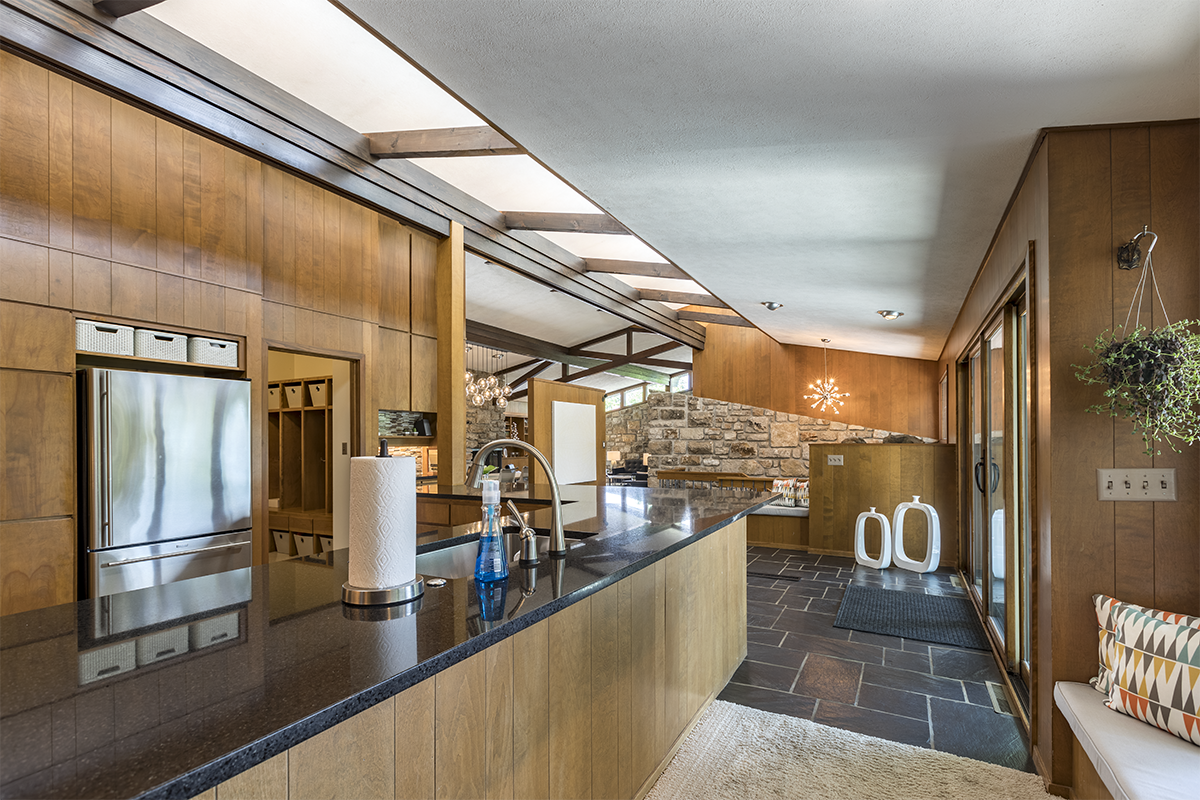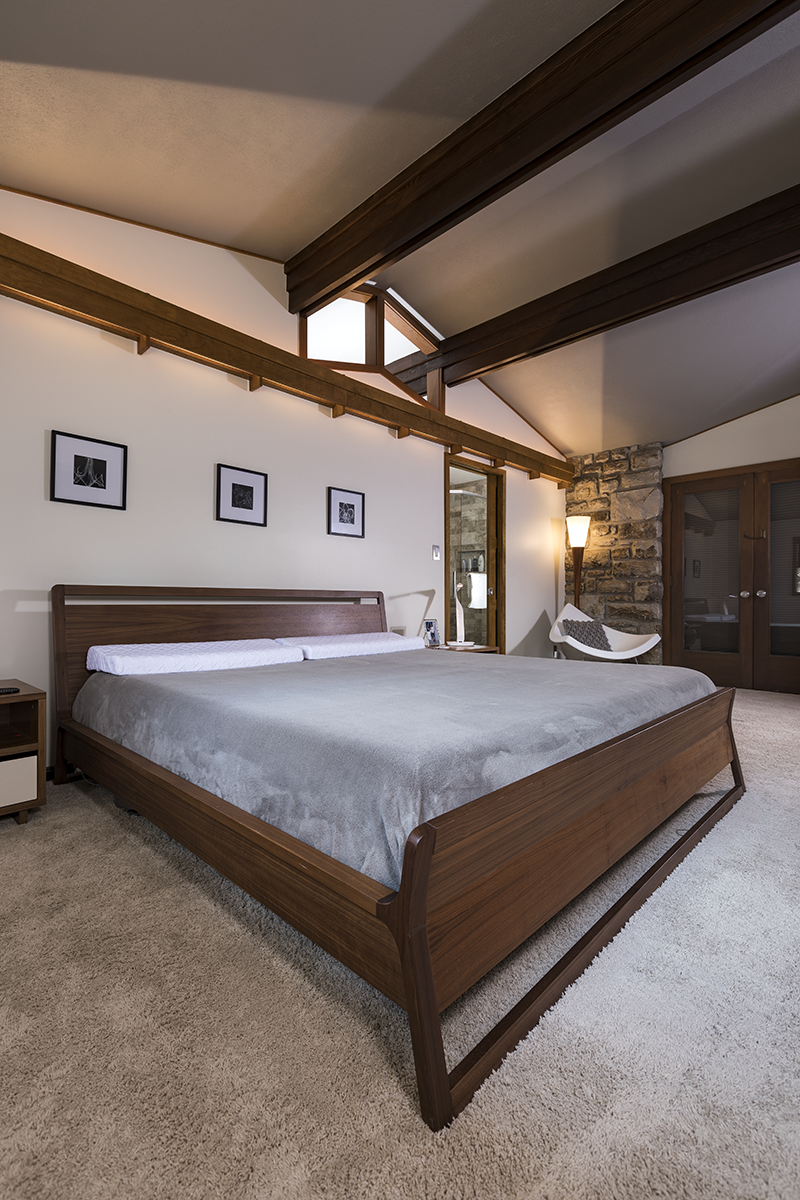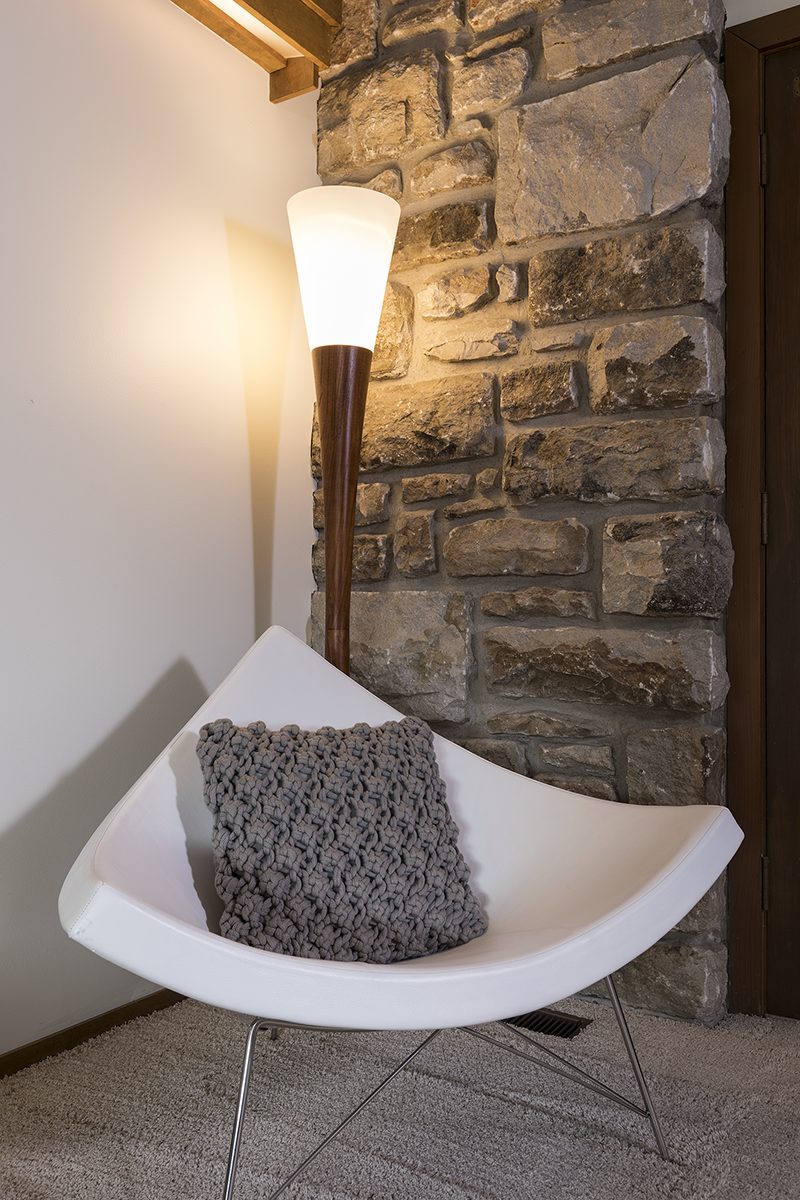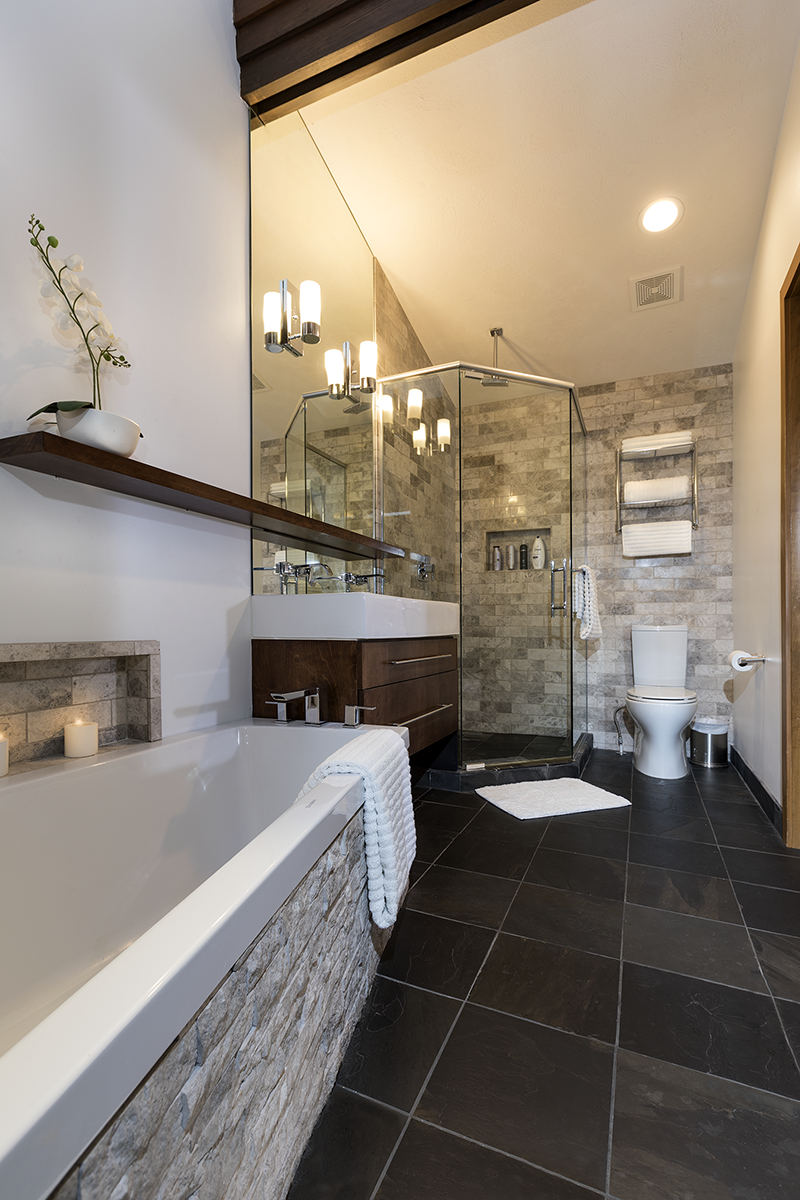 (Left) MASTER BEDROOM: To these minimalist homeowners, this bedroom is an intentionally clutter-free oasis that brings peace in its simplicity, starting with the white walls. All the furniture is from Herman Miller, including the Leaf Personal Light desk lamps, leaf lights and Nelson Coconut Chair. For decoration, the homeowners chose a starburst mirror from Obelisk Home and modest black-and-white ink and pencil drawings gifted to them from artist friends. (Middle) READING NOOK: Another original rock wall adds warmth and texture to the minimalist bedroom. A focal point in the corner is a Herman Miller Nelson Coconut Chair that perfectly fits the home's midcentury modern look. (Right) MASTER BATHROOM: While the couple can take credit for renovations elsewhere in their home, in the master bathroom, they haven't changed a thing since the day they moved in. Luckily, the former homeowners' design choices perfectly match the midcentury modern aesthetic, even including a lack of visible outlets. "They're on the wall under the cabinet," says Chastin. "It makes for a beautiful space, but it's not very functional." Eventually, the couple would like to expand the bathroom into the adjoining closet.