Trends
Up Curb Appeal with a New Garage Door
Many 417-land builders and homeowners are eschewing basic garage doors for ornate, decorative styles, bringing beauty and uniqueness to their houses' exteriors.
By Stephanie Towne Benoit
Sep 2017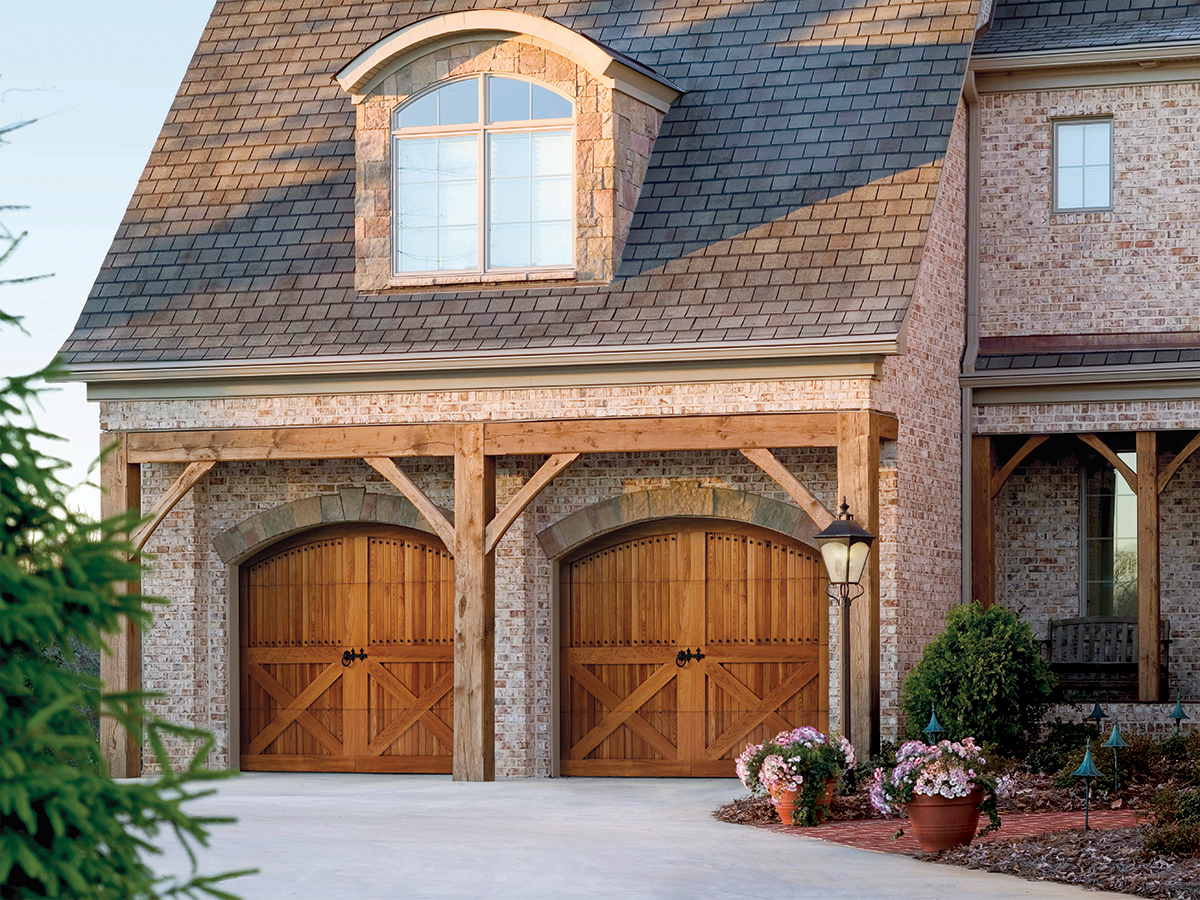 When Dr. Shachar and Debbie Tauber moved to Springfield from Connecticut 12 years ago, they settled into an English Tudor–style home in the Millwood neighborhood. They loved their house, but eventually grew tired of its trio of drab garage doors. "They were just metal garage doors that didn't look special at all—just very generic and plain," Debbie says.
Motivated by the desire to upgrade the overall appearance of their home, the couple turned to Brookline Doorworks, who installed insulated steel doors with a faux wood finish in an appealing mahogany tone, bringing richness and elegance to a feature that was once boring and nondescript. "They just add so much character to the exterior," she says.
Jeanna Callahan, a sales broker with Century 21 Integrity Group, says that such an upgrade is an effective way for homeowners to significantly improve their home's curb appeal. "It just kind of gives it a more polished look," Callahan says.
For a cost-effective way to add some of that polish, Jeremy Toth, owner of Sears Garage Door Repair & Installation, says one possibility is going with a more decorative steel door or wood grain paint job instead of a new door with custom wood overlay. "We can do a little more decorative stamp door for as little as 5 or 10 percent higher than standard [cost]," Toth says. Other options include adding a partial or full overlay to a basic metal door in real or faux wood cladding.

For those deciding to spring for a completely new door, Brookline Doorworks' Mark Folely says the current trends skew toward classic wood carriage doors or styles with darker colors and a more contemporary finish. To aid in the process of determining which look works best with an exterior, he says his technicians often use a software program through which homeowners can view mocked-up photos of their house with various door options.
Another key step is determining a price range, which can vary widely based on material and insulation value. Although a heavily insulated door can be more costly, he says the result is a door that's less noisy and allows better temperature moderation. "An insulated door is going to be a gain for the whole house," Foley says.
When determining how much to invest, Callahan advises considering the payoff down the line should a homeowner need to sell their house. She says a garage door upgrade may not result in a dollar-for-dollar increase in the home's value, but the doors' beauty and quality can make a big impact on potential buyers.  "They say a buyer takes eight seconds to make an opinion about your home," she says. "Well, guess what: How long does it take them to walk from the car to the house?"


---

Find a Pro
Want to replace or spruce up your garage doors? Here are some local pros who can help.

Brookline Doorworks 308 W. Lakewood St., Springfield, 417-883-3667, brooklinedoorworks.com
Overhead Door Company of Springfield 707 N. Grant Ave., Springfield, 417-862-9339, overheaddoorsspringfield.com
Ozarks Garage Doors 417-693-6687, ozarksgaragedoors.com
Renner Supply Garage Doors 3252 N. Glenstone Ave., Suite B-100, Springfield, 417-833-1201, rennersupply.com
Sears Garage Door Repair & Installation, Jeremy Toth 417-881-1510, searsgaragedoors.com