Designers
Behind the Brush: Q&A With Sherri Davis
As a muralist who paints everything from children's rooms to commercial spaces, Sherri Davis adds a bit of personality to each place she paints.
By Savannah Waszczuk
Mar 2011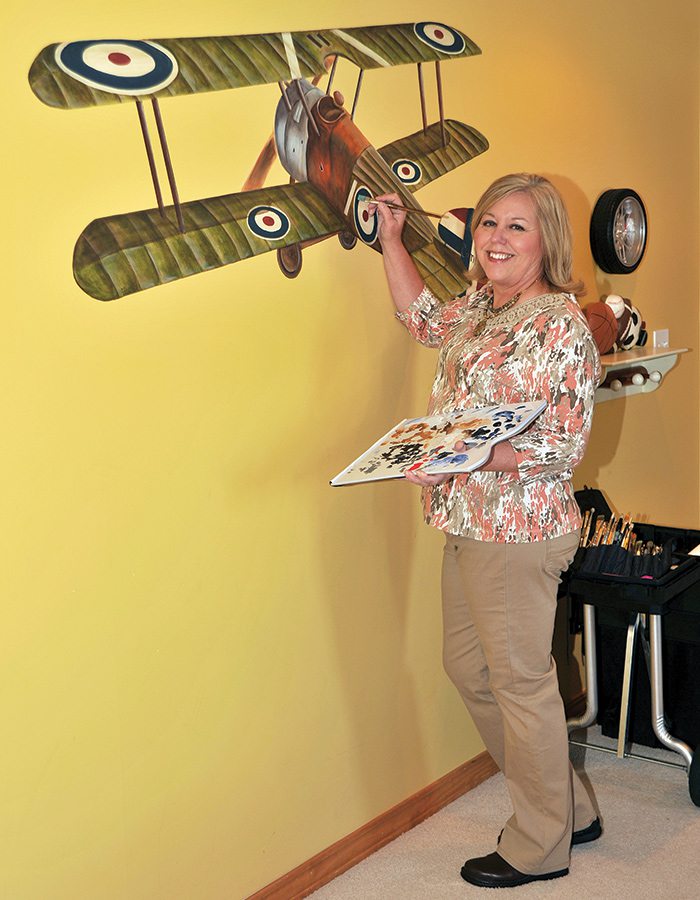 Ten years ago, Sherri Davis was asked to paint a mural on her friend's son's wall. "I was hesitant at first, but I thought, 'Well, it's only paint… we can always paint over it.'" But as she mixed, brushed and eventually created a dazzling portrait, she fell in love. "This is when I had my Oprah Aha! moment," Davis says. "I knew it was what I was supposed to do."
At the time, word-of-mouth referrals helped Davis develop a clientele, and she began painting a variety of murals in homes. Throughout the years, Davis also beefed up her portfolio with a collection of commercial work. But it wasn't until May 2010 that she left her 32-year profession as a respiratory therapist to spend all of her time operating Murals by Sherri Davis (417-838-1385, muralsbysherridavis.com), where she's able to paint full-time.
Davis says she gets her passion for it from her mother, who was an artist. And she loves her job. "Every day is truly a gift," she says. "When you get to do what you love full-time, well… nothing can be better than that."


---
A Q&A with Sherri Davis
How did you become interested in painting?
"I have loved drawing, art and painting for as long as I can remember. I won third place in an art contest in third grade for a poster, 'Safety in the Snow,' and I think that was my earliest validation of thinking I could do something with it in the future."
What is your earliest art-related memory? 
"My mother and I used to buy new crayons every time we went to the grocery store. We always wanted new, good and sharp crayons on hand."
What's the first thing you ever painted?
"I still remember painting shirts for all my friends in high school."
What's your favorite mural you've ever done?
"I guess my favorite would be the first one I ever did, the dolphins outside of a ship. It's fun and colorful, and I felt a great sense of accomplishment after I finished."
What mural have you gotten the most compliments on?
"Harter House. It's a Tuscan scene."
What's the most challenging thing you've ever painted?
"Harter House. It was a small space, and the floor was sloped, but the painting had to be level. Also, it had a person in it."
What's your favorite thing to paint?
"I love to paint animals. I like to get life into their eyes."
Where do you find inspiration?
"Everywhere. It seems like I'm constantly looking at things with an artistic point of view. I usually find it when I least expect it, like I'll look at something and think, "Wow, that would make a great painting."
What's your favorite painting tool?
"My tool box. It's filled with paint, brushes, palettes, knee pads, rulers… everything I may possibly need."