Trends
Freshen Up
Use these four tips to renew your bathroom without spending a fortune.
By Daniel Snyder
Mar 2011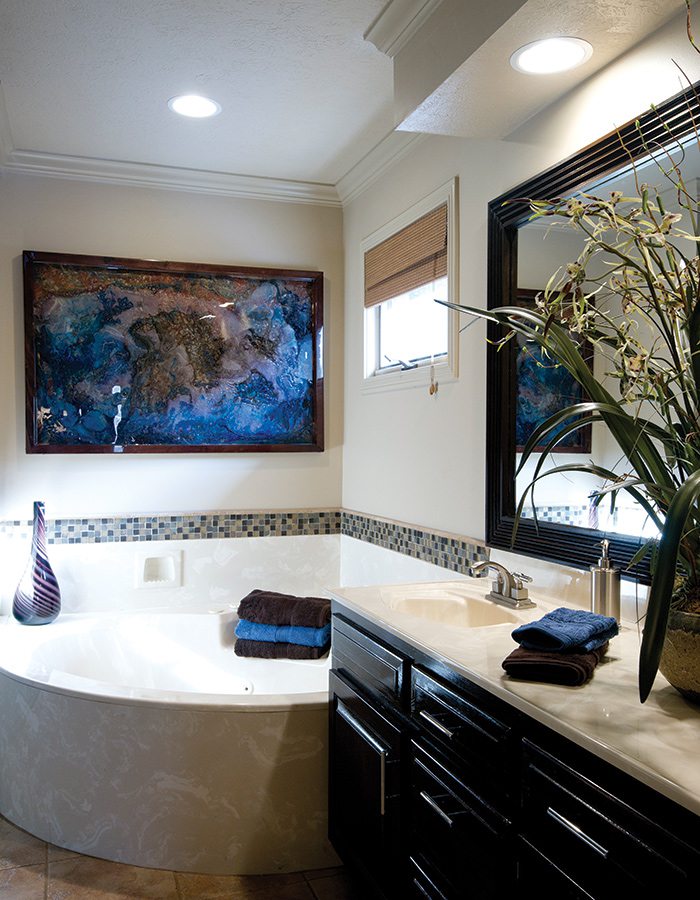 We all know the bathroom is a pretty important part of the house. If you're wondering how to make yours look better, we have some suggestions for you. We spoke to Kelly Shaw, owner of Kelly Shaw Designs (417-830-2100), which is a full-service design company that does residential and commercial work. Shaw has done everything from small space upgrades to $300,000 whole-house remodels. We also talked to Maggie Muller from the Resource Room, and Melissa Turpin, who is president of the Resource Room and Unique Tile (1364 N. Kelly Ave., Nixa, 417-725-5515), which is a wholesale distributor of designer-oriented tile and stone. The three had some great suggestions for sprucing up your space.
Paint It. ($50 or less)
Painting is a simple, inexpensive way to make a room look fresh. "As far as simple fixes go, paint is the easiest to do," says Shaw. She recommends choosing a shade that reflects your personal style and complements your existing décor.
Frame It. ($100–200)
Building a frame for your mirror is pretty simple, and they can be painted to match the vanity or furniture in any bathroom, says Shaw. Turpin agrees, and says that putting mosaic tiles around the mirror to create a frame is an easy way to refresh a bathroom. This can add some personal flair to the space, because you can mix and match all sorts of different colored tiles.
Accessorize It. ($100–250)
Replacing doorknobs and hardware fixtures in the bathroom is a great way to spruce up an otherwise dull space. "Chrome bathroom fixtures are in right now, and are a great way to make the bathroom have a little shine to it," says Shaw. And don't forget about the shower doors, or the shower curtain. If you find one that matches your paint scheme, you'll be surprised at how much it can change the room's look.
Light It. ($75–150)
"Lighting seems to get outdated quickly," Shaw says. "Instead of vanity lights, pendant lights hanging from the ceiling are a nice touch." Adding new lights can change the room's feel and can accent the other features of the room. "Consider replacing the vanity lights, adding sconces on either side of the mirror, or placing small table lamps on the counter tops," says Maggie Muller, a product specialist at the Resource Room. "Using both task and ambient lighting will allow a functional and enjoyable space."